Life in Minneapolis's Kenwood neighborhood includes everything one might hope would accompany a five-figure property-tax bill: vintage charm, secluded streets, and lakefront real estate. Despite all this, Minneapolis's toniest neighborhood has long lacked a critical community amenity: it didn't have a real restaurant. 
I know what you're thinking…First World problem, right? Water, water everywhere and not a drop of Champagne to drink. But gathering places such as taverns and cafés are essential to a community's vitality, and contribute to a neighborhood's unique sense of place. In Kenwood's one-block commercial node—the neighborhood association cutely refers to it as "downtown"—the Kenwood Café formerly played this role, even though its menu didn't get more ambitious than deli sandwiches and it only stayed open until 6 p.m. When the café's owners couldn't agree on a lease renewal last winter, a standing-room-only crowd gathered to mourn its loss.
The storefront's new tenant, Don Saunders, chef/owner of the Armatage neighborhood's well-loved In Season (and, before that, Fugaise in Northeast), took this to heart when he created a restaurant designed for regulars. The Kenwood feels classy, yet relaxed, and unlike the dinner-only In Season, it's open all day long. Because the Kenwood is the neighborhood's only dining option, it was envisioned as a place for neighbors to stop in for a latté and a pastry, conduct a business lunch, grab a sandwich with the kids, or enjoy a special-occasion dinner. Offering both burgers and brunch, plus a Captain's Wine List, the Kenwood is equal parts community café and destination restaurant.
Jim Smart, president of Smart Associates and a longtime Kenwood resident, designed the space to feel as if it could have been around for decades, rather than a few short months. The plaid wall coverings, antique oil paintings, and historic photographs made me feel like I'd stepped into a hunting or country club on the East Coast, or across the Atlantic. Like In Season, the Kenwood has cozy footprint, with a wall of square-paned windows and a view into the kitchen. The new restaurant doesn't take reservations, a decision Saunders says was partly financial, but also a conscious choice to make the place more accessible to neighbors who might spontaneously drop in. If the Kenwood is busy, diners overflow into the lounge seats and bar stools, where they might be treated to a gratis nibble or two.
The cuisine at In Season and the Kenwood feels similar, as both focus on contemporary scratch cooking that changes with the seasons. Although some of Saunders's favorite proteins, including underappreciated seafood such as skate and monkfish, have made appearances on both menus, their preparations are variations on a theme. The most direct overlap I noticed at the Kenwood was an appetizer I'd loved at In Season—a fried oyster/glazed pork belly combo—deliciously recreated in sandwich form, paired with a whole-grain mustard aioli and sweet-and-sour cabbage.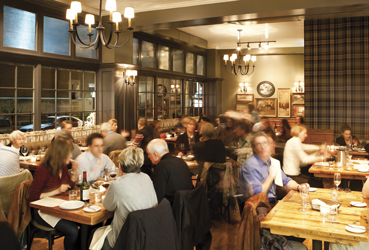 Photo by K. Smith/Sidecar
Saunders debuts several newcomers on the Kenwood's small-plates list, including the duck offal "cigars": a Fat Cat's eggroll of rich duck confit, heart, liver, and gizzard rolled into layers of crisp pastry shell. (The kitchen buys whole ducks from Wild Acres and serves the rest of the bird as an entrée.) But my favorite new plate is the elegant beef tataki, a Japanese-style preparation of marinated beef that's immaculately garnished with a brushstroke of soy sauce, black sesame seeds, Japanese mayonnaise, and quick-pickled vegetables.
Saunders nails classic entrées, such as sautéed skate with brown butter and capers, but he also innovates. The Swiss-chard cake—a blend of greens, bread crumbs, pine nuts, and pecorino cheese—is essentially a fancy veggie burger served with chanterelle mushrooms, sweet corn, and, the secret to its success, a tangy blend of sour green sorrel and yogurt. I loved the monkfish, which is poached in white wine with mussels and rapini for its light, clarion, understated flavors, though the bitterness of the broth will likely keep it from having mass appeal. That honor goes to the burgers, including one richly topped with a fried egg and a slab of pork belly.
Saunders and his crew have a knack for layering familiar foods with fresh flavors, for turning the simple into the sublime. The kitchen smartly pairs potato gnocchi with cilantro-pumpkin seed pesto, roasted-apple purée, and a refreshing apple/arugula salad. During brunch, humble cheddar grits are luxuriously topped with blue prawns and a tart-hot tomato-Andouille ragout. Huevos rancheros presents Berkshire pork shoulder, cured and braised until it pulls into ropes, with fried egg and potatoes, pickled jalapenos, harissa, and delicate chili threads. The dish was so perfect that its one flaw—a small brown bruise on an avocado slice—stood out like a zit on a supermodel. At the Kenwood, even an unassuming pancake becomes a thing of wonder. Between the cake's textbook texture and subtle sweetness, the black-walnut butter and maple syrup are hardly necessary.
The Kenwood covers all its bases: it's the neighborhood's cafeteria. Where In Season regulars might come in for dinner once a week, the Kenwood's regulars stop by three or four times as often. Some are lured by the cool-kid children's menu of fish tacos, chicken-noodle soup, and, for the budding Alex P. Keaton, steak and fries. For others, it's the creamy bread pudding with rich custard and caramel, tempered by a hint of stout beer.
Saunders says he believes good ingredients keep people coming back—which is why he makes his burgers with heritage-breed beef and Patisserie 46 brioche buns. "So what if the food costs are a little higher than you want, if the seats are packed," he says. But I think the skill with which Saunders and his team prepare and serve these ingredients deserves a lot of credit, too.
 
The Thirty-Second Scoop
Don Saunders brings inventive flavors and scratch cooking to Kenwood. Ideal Meal: Have a late brunch of huevos rancheros, then linger through dinner for the beef tataki. Tip: The Captain's List isn't cheap, but it is a good value. The most expensive bottle has the same markup as the least, encouraging diners to splurge.
The Details
Hours: Tues.–Thurs., 8 a.m.–9 p.m.; Fri. –Sat., 8 a.m.–10 p.m.; Sun., 8 a.m.–2 p.m.
Prices: Appetizers $4–$14; entrées $16–$26; brunch $9–$16
Address: 2115 W. 21st St., Mpls., 612-377-3695,
thekenwoodrestaurant.com