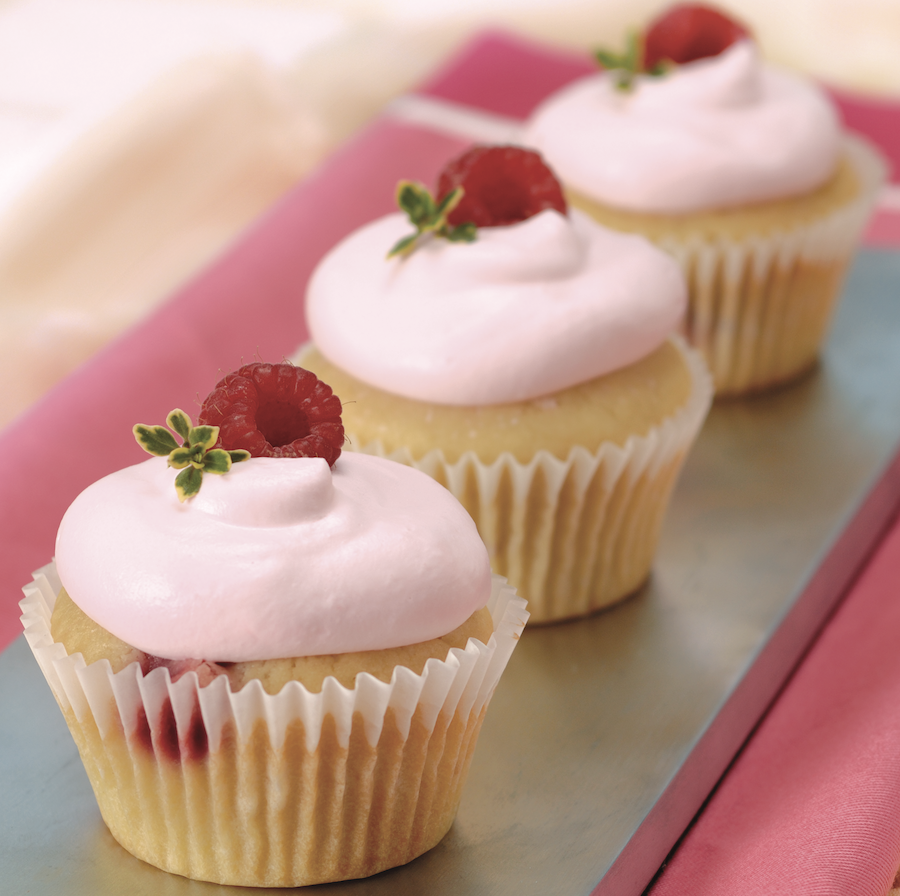 It's a great time to make a batch of homemade cupcakes on the rainy weekend ahead or anytime you want to try baking with a natural sweetener, such as honey, rather than regular white granulated sugar.
What makes a sweetener "natural"? White granulated sugar is natural, after all, but made from refining sugar cane, sugar beets, or corn, so it is processed, and therefore further removed from its natural state. Other sweeteners such as honey, as well as coconut sugar and maple syrup, also come from natural sources but have not been refined or processed as much as sugar.
A Bit About Honey
Bees know how to make our lives sweeter. Often the least-processed natural sweetener, honey has some additional health benefits including immune-boosting and anti-inflammatory properties. Plus, a spoonful of it can be used to soothe a sore throat or cough. (But keep in mind you should avoid giving this golden sweetener to children one year and younger, since it can potentially contain spores that are harmful to little ones.) It's cholesterol free, gluten free, sodium free, and fat free.
Enjoy natural honey in this recipe, which appeared in Real Food, and is courtesy of the National Honey Board. Cheers to bees!
Lemon and Raspberry Cupcakes
Makes 12 to 14 Cupcakes | Recipe National Honey Board
2 cups unbleached all-purpose flour
½ teaspoon baking soda
½ teaspoon baking powder
½ teaspoon salt
Zest and juice of 1 lemon (about ¼ cup)
¾ cup buttermilk
½ cup butter, softened
¾ cup honey
2 large eggs
½ pint raspberries
Raspberries, for garnish (optional)
For the Honey Raspberry Whipped Cream
1 cup whipping cream
1 tablespoon honey
2 tablespoons seedless raspberry jam
Heat oven to 350°F.
Sift together flour, baking soda, baking powder, and salt; set aside.
In a liquid measure, combine lemon zest, juice, and buttermilk; set aside.
In a mixing bowl, cream butter until fluffy. Add honey and mix well. Add eggs one at a time and mix. Add half of the reserved dry ingredients to the butter mixture; mix on low until just combined. With the mixer running on low, slowly add the lemon mixture. Add remaining dry ingredients until combined. Gently fold in raspberries.
Fill paper-lined muffin tins 2/3 full. Bake 18 to 22 minutes, or until a toothpick inserted in center of a muffin comes out clean. Remove from oven and transfer to wire rack to cool.
While cupcakes are cooling, make the Honey Raspberry Whipped Cream, if desired. In a mixing bowl, combine whipping cream, honey, and jam. Beat until peaks form. When cupcakes are completely cooled, frost tops. Garnish with a fresh raspberry, if desired.