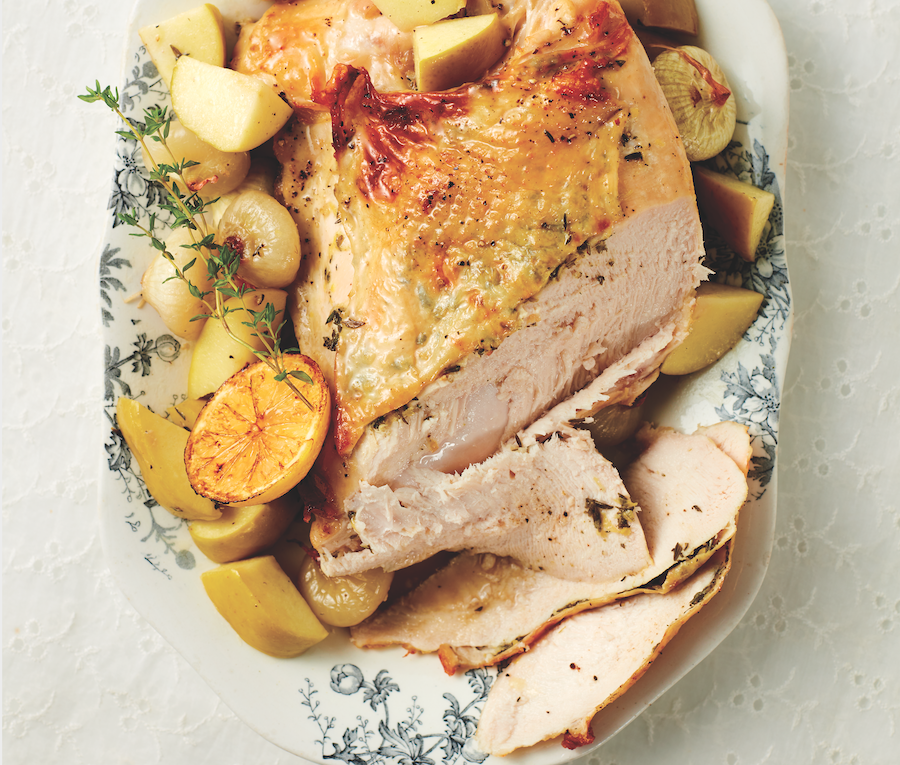 A split turkey breast is the perfect holiday roast for a small group. If you are new to roasting turkey, it's also an easy option if you don't want to tackle roasting a whole bird. You can also double (or triple) the recipe to feed more—or if you want to guarantee leftovers for turkey sandwiches, says chef and cookbook author Molly Stevens, who created this recipe for Real Food. If you prefer dark meat or want to add some to the mix, that's an option, too. (She provides instructions in the Cook's Notes.) The roasted apples and onions caramelize into a sweet-tangy accompaniment.
Plus, check out more ideas and links to turkey tips and recipes below.
Lemon-Thyme Turkey Breast Roasted with Apples and Onions
Makes 3 to 4 Servings
3 tablespoons unsalted butter, divided (1½ tablespoons softened, 1½ tablespoons melted)
2 teaspoons chopped fresh thyme, plus a few sprigs
1 teaspoon freshly grated lemon zest
salt and pepper, to taste
1 (3- to 4-pound) bone-in, split turkey breast
2 medium Granny Smith apples, cored and cut into 2-inch chunks
8 ounces cipollini onions, small shallots or pearl onions, peeled
1½ tablespoons fresh lemon juice
½ cup low-sodium chicken broth
In a small bowl, combine the 1½ tablespoons softened butter with the chopped thyme, lemon zest, and a little salt and pepper. Mix with a wooden spoon until smooth. Gently loosen the skin on the turkey breast at either end (without releasing it completely) and rub the seasoned butter under the skin. Smooth the skin back in place and brush the top with about 1 teaspoon of the melted butter. Season with salt and pepper. (The turkey breast may be prepared to this point up to 2 days before roasting.)
Heat the oven to 450°F with an oven rack near the center.
Place the apples, onions, thyme sprigs, remaining melted butter, lemon juice and broth in a small roasting pan or baking dish. Season with salt and pepper and mix to combine. Place the turkey on top. Slide the pan into the oven and immediately lower the oven temperature to 325°F. Roast until an instant-read thermometer inserted into the thickest part of the breast registers 165°F, 1½ to 2 hours, depending on the size of the turkey breast.
Transfer the turkey to a carving board and tent with foil to rest for 10 to 15 minutes. Stir the apples and onions. If they aren't well browned, increase the oven temperature to 475°F and return the pan to the oven for another few minutes, watching that they don't burn.
Carve the turkey and serve with the apples and onions.
Cook's Notes:
• This recipe is easily multiplied; simply choose a roasting pan large enough to accommodate the turkey breast(s) without crowding. You can also use a whole bone-in turkey breast (the 2 breast halves intact) to serve 6 to 8; the roasting time will be about the same.
• Alternatively, if you prefer dark meat, substitute fresh turkey legs and/or thighs for the breast, and roast until they reach an internal temperature of 175°F, 2 to 2½ hours. The onions and apples will collapse a bit more, and they will be infused with rich turkey flavor.
Nutrition info Lemon-Thyme Turkey Breast Roasted with Apples and Onions (per serving): Calories 586; Fat 27 (Sat. 10g); Chol 201mg; Sodium 221mg; Carb 18g; Fiber 3g; Added Sugars 0g; Protein 67g
Hungry for More Turkey Dinner Tips?
If you want to roast a whole bird or would like more ideas for smaller portions, check out these posts:
Turkey Tips
Prepare and roast a whole bird with ease or choose smaller portions throughout the holiday season. Also includes links to Herb-Roasted Turkey Breast with Creamed Gravy, Turkey Roulade with Mushroom-Pancetta Stuffing and Turkey Potpie with Sweet-Potato Biscuits recipes.
Talkin' Turkey
Forget brining and get even better results with a flavorful spice-rubbed roast turkey recipe.
Building a Better Gravy
Transform turkey drippings into a deliciously decadent gravy with expert tips and a recipe from Twin Cities chef and culinary instructor Jason Ross.
Facebook Comments