At a holiday potluck this week, I snagged a slice of sausage that has a unique history in the Twin Cities─Lindquist Family Christmas Sausage. It's a seasonal sausage link made in St. Paul, and its secret recipe is a Twin Cities legend.
The story goes that the sausage recipe was handed through generations of family members of Harry Lindquist, who was a butcher in north Minneapolis from the 1920s to the 1960s. I had an opportunity to speak with Dave Hansen, Harry Lindquist's grandson (Hansen is a prolific photographer with the University of Minnesota's Experiment Station and also operates the Hansen Family Tree Farm). According to Hansen, Harry Lindquist made and sold the Swedish-style sausage at his butcher shop during the holiday season. The Christmas sausage links he created became a yuletide tradition for his family, so much so that he continued making sausage for his family even after he retired. 
Years went by, and Harry's sons and grandsons were brought into the sausage-making fold, learning the recipe and techniques from Harry himself. By the mid-1990s, however, the family's sausage makers could no longer keep up with the expanding family's demand for the holiday sausage. So they consulted with a nearby sausage maker at Tim & Tom's Speedy Market─Tim and Tom agreed not only to take on the task of making the family's treasured sausage recipe, they also agreed to keep the secret recipe safe.
The sausage is so popular among family members that Hansen's cousin in Reno, Nev. receives an express shipment every year. Hansen lovingly told the tale of his daughter, Britta, who requested Christmas Sausage for her only Christmas gift when she was serving in the Peace Corps in Bolivia. The family obliged, carefully packing and transporting some Christmas Sausage to Bolivia, where they cheerfully dined on it for three days.
These days, family members and the public can purchase the yuletide sausage links at just one market in the Twin Cities: Tim & Tom's Speedy Market in St. Paul, where they're making a mere 2,000 pounds of the Lindquist Family Christmas Sausage this year. It's available for a limited time, and die-hard fans know that it sells fast, since it's so cherished by many in and outside the family.
Lindquist Family Christmas Sausage is a lean Swedish-style sausage made with pork and a bit of beef. It's sparsely flavored with salt and allspice and wrapped in hog casing. Dave Hansen served it to me as his mother served it to him─baked at 350 degrees for an hour in the oven, and sliced on a plate without condiments. Hansen says it can be served on a bun, but he never─NEVER!─ate it that way at home.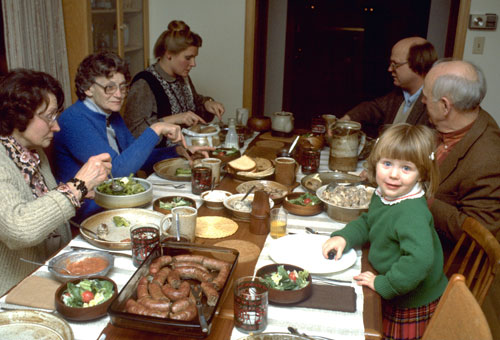 Photo: Christmas dinner at David Hansen's house, 1986. The family gathers around a pan of The Lindquist Family Christmas Sausage. From Left to right: Alice (Lindquist) Lundblad, Charlotte (Lindquist) Hansen, Janet (Lundblad) VanFossan, Trygg Hansen, Henry Hansen, Britta Hansen. Photo by David Hansen.
 
Tim & Tom's Speedy Market
2310 Como Avenue, St. Paul
timandtomsspeedymarket.com
Facebook Comments