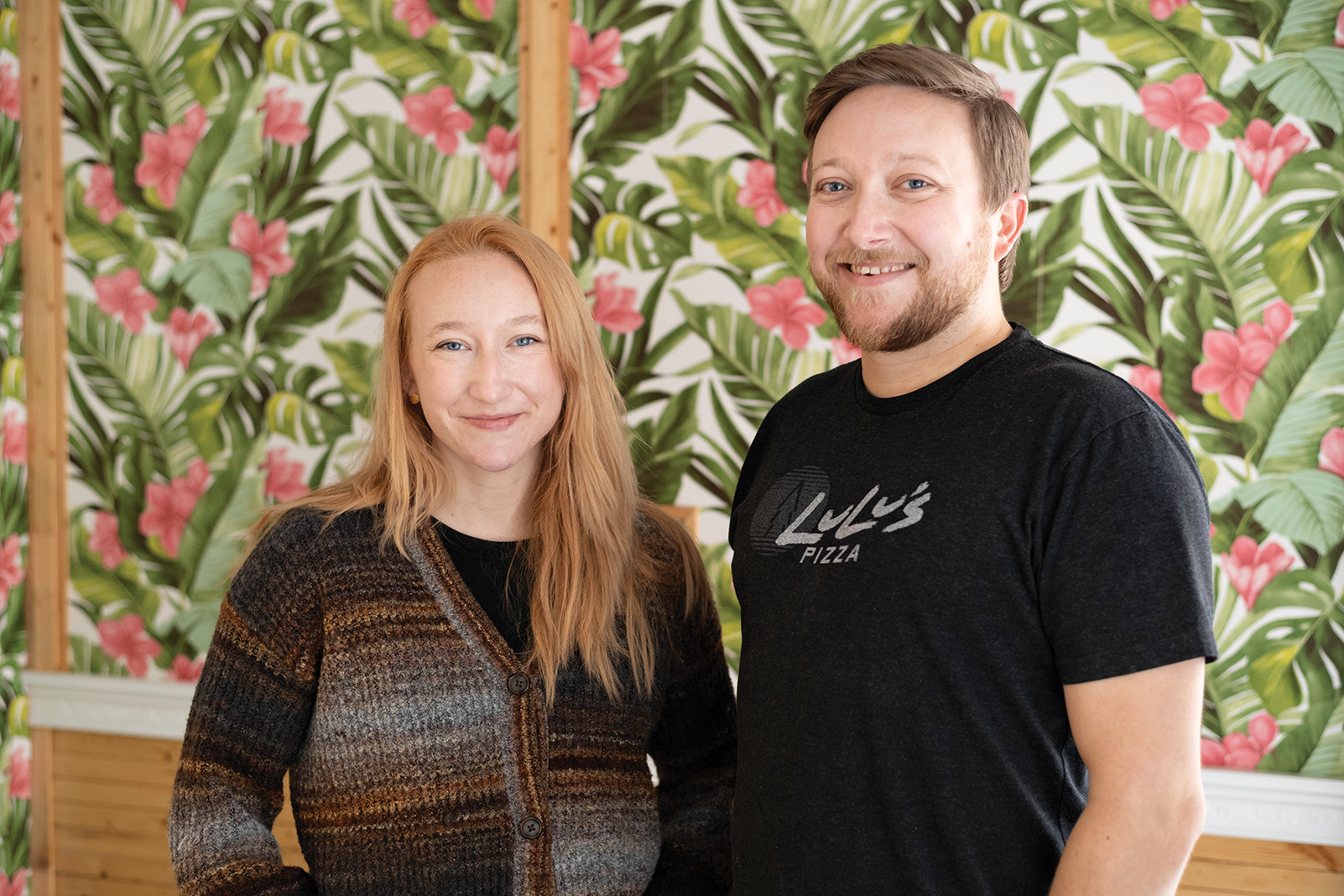 Connor Riley and Lucy Stoyke-Riley didn't plan on opening a pizza joint two weeks before the pandemic. An unforeseen opportunity simply presented itself in late 2019—the shuttering of a Duluth space called Pizza Man and the sale of its equipment—and the siblings couldn't help but seize it.
Redesigning the dining room and developing the menu took months, however, leaving them with little choice but to swing the low-key doors of LuLu's Pizza open right before Minnesota's first lockdown. That's when Connor's experience of running Amazing Grace Cafe + Grocery kicked in (he bought it from his mother, Marcie, in 2016), along with the pair's past lives in Minneapolis. (Connor worked at Linden Hills Co-op, Loring Pasta Bar, and Tracy's Saloon; Lucy spent more than a decade at several co-ops.)
"I'd like to say it's been good for us, since it seems like pizza is a bit pandemic-proof," says Connor. "But I'll be able to give a better answer when this is all over. It's definitely surreal when we look back and wonder how busy a certain day will be … since we've really only existed during a pandemic so far. That's kinda rad, though—pandemic pizza."
LuLu's isn't just tailor-made for takeout; there's really no other North Shore pizza restaurant quite like it. Yes, that includes Sven & Ole's. According to Lucy, the closest analogs to their unconventional toppings and chewy sourdough crust are at Pizzeria Lola and Black Sheep in the Twin Cities.
LuLu's excels at experimentation, too—namely international combos like the Banh Mi-Za, Tandoori Tikka, and a personal favorite, the Lamb Shop. A master class in Mediterranean flavors, it revolves around ras el hanout seasoning, hummus, roasted garlic, red onion, feta, mozzarella, olive oil, parsley, and roasted lamb.
"Almost everything is better on a sourdough crust covered in cheese," explains Lucy. "The possibilities are endless."
In the following interview, LuLu's co-owners—and, up until recently, its only employees—discuss everything from chewy sourdough crust and progressive flavor profiles to the other pivot Connor put in motion over the past few months, Amazing Grace's second life as a small-batch grocery store.
Did you help around the house a lot when you were kids, or did you both get into baking/cooking/eating good food later in life?
Connor: I am a classic case of "got bit by the restaurant bug." For as long as I can remember, the restaurant industry felt larger than life and so attractive. There really is no better feeling than cooking for people. 
Lucy: It's a similar story for me. I grew up working at a restaurant, so when I moved to Minneapolis these were the easiest and most enjoyable jobs for me to have.
What restaurants did each of you work at before starting your own?
Connor: I worked at the Linden Hills Co-op, Loring Pasta Bar, Varsity Theater, and Tracy's Saloon. I've stayed good friends with its owner Sanjaya. He's been kind of a mentor to me and had a lot to do with [me] wanting to own my own place. 
Lucy: I was mostly drawn to co-ops rather than restaurants. I like the sustainability [aspect] and working with farmers. I was at Linden Hills for three years, then I was at Seward for nine. The last two I was there, I was kitchen manager. 
What's one of your earliest food-related memories? 
Connor: One of my earliest food-related memories is learning how to cook a red sauce for spaghetti with my dad. He also used a similar recipe as a base for his chili. That's when I realized you can and need to make your own food. There's no reason for jar sauces when you can make your own. 
Lucy: I do remember my dad cooking quite a bit growing up. He made a mean chili. With my mom, it was a lot of fresh vegetables and fruit, but I also remember being quite a picky eater—lots of mac and cheese and broccoli.
Did either of you help out with Amazing Grace before you bought the business?
Connor: I "helped" as an obnoxious teenager for a summer or two. Many years later I worked as kind of a general manager for two years leading up to purchasing the Grace from my mom. 
Lucy: I started in the dish pit when I was around 10. I remember my stepdad giving my best friend and I crisp 100-dollar bills to help out during Grandma's Marathon weekend. As I got older, I was mainly a barista and made sandwiches. I was never confident enough to be a server. I felt more comfortable in the back of the house.
Why did you decide to take over? Was your mother going to close it otherwise?
Connor: My mom, Marcie, was ready to retire after running the Grace for the previous eight years. She didn't plan on being a restaurant owner, but her husband and founder of Amazing Grace, Chip, died from cancer. Marcie said she took over because she didn't want "all those nice kids to lose their jobs." And so the Grace kept going and thriving.
I was excited for the opportunity, and the timing seemed right, although it was a tough decision to move from our beloved Minneapolis. My wife was just finishing up her master's in special education, and we just had our first child. It felt like a good time for us to make the leap and start our little family adventures in Duluth.
Did you make any major changes to the business at first, or did you keep most of the same menu items and maintain a similar vibe? 
Connor: I made some pretty big changes to the breakfast menu right away, and we kept the classics untouched, like the giant oatmeal buttermilk pancakes and made-from-scratch hash browns. I was fortunate to pull together a fantastic kitchen team to build out a menu that better represented where we wanted to go with our food. 
The overall feeling of the dining room remained; we kept the focus on music and community, though the vibe did get a bit brighter. 
I've recently decided to stop trying to pretend like the Grace isn't a reflection of my own personality. For a while it felt like I should be able to almost distance or disconnect myself from it. I think ever since I learned that you can make your own jar sauce I've had a difficult time removing my personality from my projects.
You added a grocery store element to the cafe during the pandemic. What are some local or regional products you carry there that you really dig? 
Connor: The grocery store element and remodel have been fantastic! My management team and I did the work on it together; we built the furniture, laid the tile, painted so many things, and developed a new Amazing Grace. I'm so proud of everything we've done. 
I had absolutely no idea how to stock a good grocery store. It started with searching for products and makers that I couldn't find in Duluth. We have some terrific honey from our friends at Bolton Bees, great pork products from Y-ker Acres, ground beef from Davis Acres Ranch, and eggs from Locally Laid. There are so many more local makers I'd love to tap into. I also really like getting products from all over the world. The more bizarre, the better. Our shelves are ever evolving!
Shifting things back to LuLu's—why pizza? Did you simply see a need for Neapolitan-style pies within the Duluth area, or had you always wanted to own your own pizzeria? 
Connor: Oh, geez, I wish I had a great story for this. A friend of mine called to say that there's a pizza shop nobody wants anymore and wondered if I was interested. I don't think I even let him finish and laughed it off. 
A couple weeks of thinking went by, and I convinced my sister to move to Duluth from Minneapolis to buy and start a new pizza shop with me. We never really made pizza together before. But I know that we work well together and our creativity feeds off one another's. 
We got to work; I redesigned the dining room and put it together, and Lucy and I worked through all the new possibilities of pizza flavors. We worked with my head baker at Amazing Grace (Joe Gulan) to perfect our pizza dough recipe, and our friend Tommy at Medium Control to develop our brand identity as LuLu's Pizza. We opened on February 25, 2020 … then there was a pandemic a couple weeks later. 
What kind of pizza did the old spot in your space make? 
Connor: It wasn't the style of pizza we were comfortable with; it was more meat-and-potatoes.
Lucy: It was pretty classic chain-restaurant pizza. Not bad, but nothing special. All of the equipment was part of the sale, which was a big selling point for us. It was basically ready to go; we just had to rearrange to our liking. Connor spent the first three months remodeling the entire dining room.
What was your favorite pizza place when you were a kid? 
Connor: Honestly, I don't really have a pizza memory for this. We were pretty poor growing up and had quite a bit of frozen pizza.
Lucy: The only pizza memories I have are of the Pizza Ranch in our small town LeSueur, and they aren't necessarily the fondest pizza memories.
I'm sorry to hear that. Did you have a favorite frozen pizza at least?
Lucy: Sure did—Bellatoria. 
Connor: I didn't mean for that to be a total sob story—yikes! I remember having a lot of Jack's Supreme frozen pizza.
Given your limited hours, I assume you and Lucy have been running things all by yourselves for most of the pandemic. Is that still the case? 
Connor: Yes, indeed; it is the case, haha. We just hired up a bit and will now be open until 10 p.m. on Fridays and Saturdays! That feels great! 
How many people did you hire to help out? 
Connor: We've hired two people in the last few months, so we've doubled our team. Hooray!
Can you talk about what each of you brings to the table, and how your similarities and differences helped shape LuLu's over the past year? 
Connor: I think my sister is a tad more skeptical than I am in general. I tend to dive in, then figure it out; she likes to plan a bit. Those differences lend to a creative process for us that is really pretty fluid. Either one of us will think of a flavor or cuisine or scent and build on it together from there. 
Lucy: I'd say we're on the same page, creativity-wise. We're usually really excited about any new idea or combination of flavors the other comes up with. It's been a really nice give-and-take.
Lucy's the head baker right? Had she baked pizza professionally before LuLu's or was it more of a hobby before the pandemic? Does she bake at Amazing Grace at all, too? 
Connor: No, she's no longer in charge of dough. In mid-2020, Lucy was diagnosed with celiac disease, so I'm the dough guy now. She doesn't bake at Amazing Grace, but she did learn how to bake and care for dough from my head baker there. 
Lucy: I had almost zero baking experience going into the pizza shop. Like Connor said, I spent a good amount of time with his baker at the Grace, but a lot of perfecting the dough came from countless hours of trial and error. We really wanted to use the sourdough from the Grace, so building a good crust recipe around that was key. 
Did you discover your diagnosis because you were suddenly around gluten so much and having a reaction? 
Lucy: Yes, I had been struggling with stomach problems since I had my daughter. I never really looked into it until it was more of an extreme fatigue sort of situation. It got pretty bad about a year into making dough and working at the shop, and then I was diagnosed.  
For people who haven't had it before, what makes your scratch-made, sourdough crust a little different than a typical pizza? 
Connor: Our crust has this delightful, crisp chewiness to it. I don't know if that is doing it justice; it's not annoyingly chewy. There's just something about it that people really dig. 
Is the sourdough starter from Amazing Grace something that's been in the family business from the very beginning? Does it have a distinct flavor? 
Connor:  Yes, we started with a piece of the sourdough mother from Grace. It does make for a more involved crust process, but it's totally worth it. Sourdoughs are so neat; there are no two sourdough mothers that are the same. It lends to a more flavorful, almost tangy flavor of crust.
I stumbled upon your shop during a trip to Duluth and was really psyched to try the Banh Mi-Za and Lamb Shop pies. Was that a major goal from the beginning—to offer both classic styles and ones that are a little more experimental? 
Connor: Yeah, that kind of happened right out of the gate. Looking back, it's kind of a wild leap to say, "Naw, we're not really gonna do many pizzas with red sauce. Let's do a banh mi pizza!" The Lamb Shop [pizza] popped into my head after I found out about the spice ras el hanout; I really wanted something to utilize that flavor. 
What's another example of a pizza that started with an unconventional ingredient and went from there?
Connor: The La Chiva is pretty unconventional—roasted beets, caramelized onions, mozzarella and goat cheese, roasted garlic, olive oil, and a balsamic reduction. That started with "Beets are good—you don't see that on pizza."
Did you have to do a lot of menu testing before you opened to make sure all of the competing flavors in your unconventional pizzas would be balanced and complementary? 
Connor: We tested all of the pizzas on our patient families. I remember trying to explain these unconventional pizza flavors to friends and family; they were skeptical. "Pickled carrots on a pizza? Oh man…." But when they took a bite, they were hooked. 
Lu and I got so much support from our friends and family. There is a turning point, I think, or a type of ta-dah moment you get, when you're able to share all the weird stuff you like and other people are like, "Oh, I get it."
Is your pizza inspired by travel at all? Or are they simply reflective of what you both like to eat—a blend of many different cultures and cuisines?
Connor: The traveling I've done has really inspired my sense of what's possible with food. Not necessarily one single dish or cuisine, but a more comprehensive inspiration. 
Lucy: During my time in Minneapolis, I spent the majority of my work experience with people from other cultures. I absolutely fell in love with their flavors and traditions surrounding food. It honestly made me realize what I was missing my whole life, and made me really fall in love with food. 
So going into this, I wanted to bring some of that authenticity and love and real flavors without completely whitewashing all of it. I would say some of the combinations and use of spices are influenced and inspired by those beautiful, talented people.
What are some specific examples of flavor profiles and cuisines you discovered through co-workers? 
Lucy: My true love is Ethiopian food. I would love to bring those flavors to the shop, but I want to do it in the right way. I cannot make Doro Wot like they can. Seward Co-op was really good at highlighting different kinds of cuisines, so I was exposed to a lot during my time there—Vietnamese, Indian, Jamaican….
What are a few of your favorite pies at LuLu's and why?
Connor: I love the Jerk. The jerk sauce for the chicken Lucy came up with is amazing. It should be bottled and put on everything. 
Lucy: The Banh Mi-Za is my favorite. I am by no means vegetarian, but there's something about the texture of the mock duck that is so satisfying. And I put the banh mi sauce on everything.
How about one that people don't normally order and you're really proud of? 
Connor: The Lamb Shop is maybe our most bizzare. Hummus on a pizza?! Lamb?! Those that get it really love it. I recently had a regular Lamb Shop customer tell me that it's their favorite because it makes their car smell delicious. I really love our customers. 
Lucy: Lamb Shop, for sure. 
Did you originally plan on having people eat pizza in-house, and have that plan derailed by the pandemic, or was takeout/delivery supposed to be your focus all along? 
Connor: Yeah, we were slinging it by the slice in the early days. That stopped pretty abruptly when lunches died. We'd be down to bring them back sometime, though. We've grown into our space pretty comfortably and find that it's really built to be a takeout joint. We love having folks sit and eat, but it's a pretty small dining room and, well—the pandemic.
Has your downtown location been your biggest challenge since it's away from Duluth's touristy stretch and many people are working from home right now? Or have you benefited from being close to places like Bent Paddle? (I definitely enjoyed bringing your food over there!)
Connor: Hey, that's great to hear! Thanks for taking our pizzas to fun places! It's a pretty sweet spot; it's really easy to get to it from anywhere in town. As a Canal Park business owner, I know how anxious parking and traffic can make some folks. We've had some chats with our friends in the beverage business and would like to get our menus into their places. Hopefully soon. 
What are your other goals for Amazing Grace and LuLu's heading into 2022?
Connor: Don't die. LOL. Just kidding…kinda. We'd like to build up our staff so we can keep expanding our hours; start sandwiches again (we had a killer meatball sub before we had to cut our lunch hours); keep coming up with new flavors; and get a new sign put up. Apparently it's pretty "ratty," according to my wife. We actually have the new sign, but I'm afraid of heights so I've been putting it off. 
At Amazing Grace, I'm working on expanding our AG line of housemade grocery items. We're also beginning to expand our wholesale bread sales; that's been super great. We send a lot of bread to both of the coops in town—I deliver it myself!