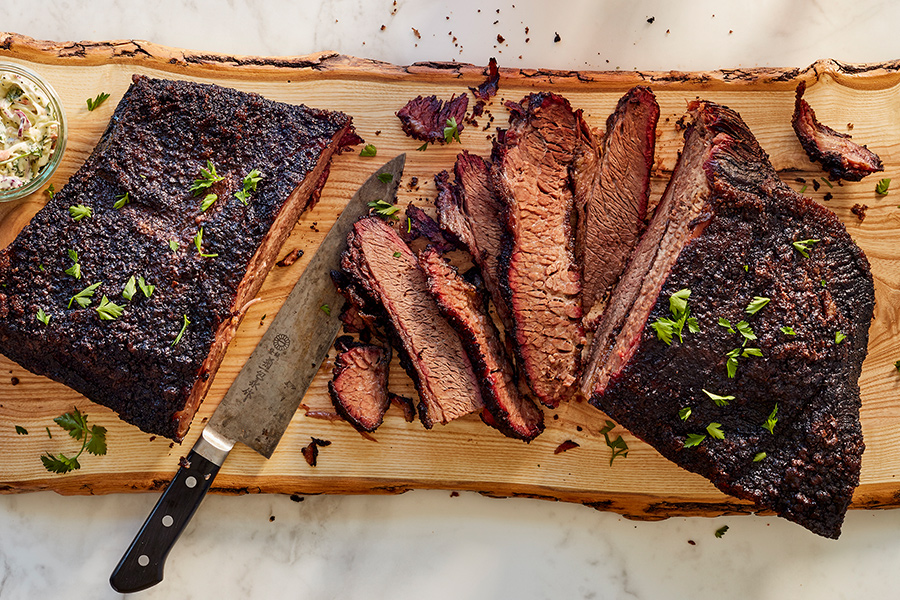 Surly's brisket
photo by terry brennan; styled by lara miklasevics
---
Chef Shack Ranch's Smoked Beef Brisket
When Carrie Summer smokes her glorious beef brisket, it stops traffic. Literally. Picture the fragrant smoke wafting from Chef Shack Ranch in the Seward neighborhood of Minneapolis. "I snap a few selfies here and there because I love my smoker," she says, laughing.
Summer and her partner Lisa Carlson started one of the Twin Cities' first food trucks (and got famous for cardamom-ginger-cinnamon mini-doughnuts), and they're both world-class talents. Carlson was a semifinalist for the James Beard Award Best Chef: Midwest award, while Summer trained with Jean George in New York City and Vincent Francoual in Minneapolis.
"Our brisket has gone through a little bit of an evolution," Summer says. She started out using grass-fed, but it proved less than ideal for the rich, juicy flavor of barbecued brisket. "They're small, really lean, and that's a challenge," she says.
Now she uses beef with no added hormones or antibiotics, does a minor trim of the fat cat, and then gets her rub on, Texas-style. Add salt, pepper, a little love, and then a targeted amount of smoke. "I really am passionate about the smoke technique. I like fruit wood chips: pecan, cherry wood, and apple," she says.
Balance is the goal. Summer does almost a cold smoke, keeping her Oklahoma Joe smoker at 150 degrees for about 90 minutes. "I use a natural charcoal with zero petroleum products, which yields a really nice, clean fire," she says. "It's more subtle, less aggressive."
After the initial smoke, Summer isn't too different from a Minnesotan at home: She moves her barbecue to a Big Green Egg and slow roasts at 200 degrees for up to 10 hours.
The result is tender, juicy, with a lovely pink smoke ring and enough chew to let you know you're eating high-quality beef. "I don't make my bark (the cooked meat's outer layer) real dark or real black because I like to have more flavor and more juiciness," she says. "It's a delicate science if you're gonna go for just the bark. I want flavor and moisture."
The fat essentially turns to caramel, melting the bark into the beef, and reminding you Chef Shack Ranch's whimsical decor and vibe doesn't mean the culinary team is playing around."If you go low and slow long enough, it's gold. It's money. It's so nice," Summer says, laughing. Money, indeed. -J.D.
3025 E. Franklin Ave., Minneapolis | 612-354-2575 | chefshackranch.com
---
Surly Beer Hall & Restaurant
Big, bold beers and a behemoth brewery deserve boldly flavored food. As much as people come for the place's serious cult following—and all the beer—the insanely tender beef brisket is reason enough to make the trip. -J.S.
520 Malcolm Ave. SE, Minneapolis | 763-999-4040 | surlybrewing.com
Black Market STP 
It's a countdown until Friday during warm months because that's the only day to snag Black Market StP's otherworldly, tender beef brisket. Order at 4 p.m. and the food rolls out about an hour later. Everything is smoked over locally cut, black-cherry wood, and that sweet, soft flavor is in every bite. -J.S.
220 Isabel St. W., St. Paul | 651-560-0227 | blackmarketbarbecue.com
Firebox Deli
The smoky pride of the Camden neighborhood, FireBox Deli coats its brisket in a secret, black-peppery spice blend, and then it's slow-cooked until the fat melts into the meat. Try it over a side of sticky rice for a non-traditional twist. This small, nondescript shop has exactly the vibe barbecue lovers relish. -J.S.
4707 Lyndale Ave. N., Minneapolis | 612-521-8206 | fireboxdeli.com
Facebook Comments