Residents in Northeast Minneapolis might notice some action this winter on the corner of Lowry and Stinson. Mother Earth Gardens, a popular South Minneapolis garden center specializing in organic gardening, sustainably-grown plants, and earth-friendly products, is working on the variance procedures to add a second store in the Windom Park neighborhood.
Paige Pelini and Karen O'Connor own and operate Mother Earth Gardens. They purchased the South Minneapolis business in 2007 and hope to open their Northeast location in April 2013, "even if it's just a soft opening," according to O'Connor. The Northeast location will have two buildings (a two-story building with retail and residential space and a single-story building with multiple retail spaces), currently occupying 2358 Stinson Parkway and 2314-2318 Lowry Avenue.
"I actually used to live in Northeast," said O'Connor. "We have a lot of existing customers who live in Northeast. It's a similar demographic to our customer base in South─it's an active community that supports the arts, gardening, and local businesses."
So what can Northeast green thumbs expect from Mother Earth Gardens? O'Connor says their philosophy of sourcing and selling plants and products that have been grown, produced, and delivered in a sustainable manner will carry through to the new store. During the planting season, they'll have as many as 50 varieties of heirloom tomatoes, extensive options of unusual edible and medicinal herbs, native plants, and rain garden plants. Their selection of annual and perennials will be sourced from local growers like Rush Creek Growers, Green Earth Growers, and Glacial Ridge Growers.
The indoor retail space at the Northeast location will be larger than the indoor space at their South location─on top of traditional garden center supplies and gifts, O'Connor says they hope to fill that extra indoor space with more supplies for urban farmers, from beekeeping supplies to backyard chicken supplies. And just in case you thought garden centers were only good for visiting in warm months, Mother Earth Gardens also hopes to offer free winter seminars, possibly partnering with the Eastside Food Co-op.
Pictured above: Honey Grape organic heirloom cherry tomato (plant purchased at Mother Earth Gardens).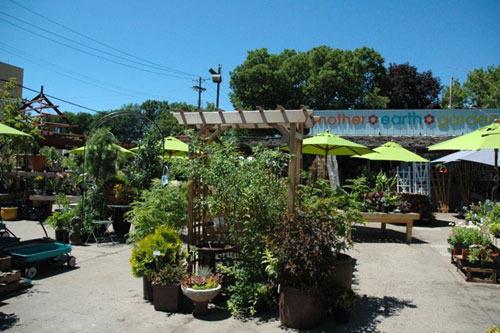 Mother Earth Gardens, South Minneapolis location.
 Photos courtesy of Mother Earth Gardens, by Karen O'Connor