Food trucks! Food trucks! With so many awesome choices this year, it hasn't been easy to select which truck to patronize. But the truck that keeps me coming back, the truck that consistently satisfies and delights, and the truck that has me daydreaming about griddled cornmeal dough patties overflowing with local meat, veggies, and spicy sauces is Hola Arepa.
What's an arepa? Popular in Colombia, Venezuela, and (now) Minneapolis, an arepa is a flat, round, unleavened patty made of cornmeal which is cooked and stuffed with all kinds of meat, cheeses, and garnishes. Hola Arepa grills theirs until they are slightly browned and crunchy on the outside and tender and soft on the inside. Then, they split and stuff the cornmeal patties with locally-sourced, sustainable ingredients like slow roasted Fischer Farms pork, shredded Kadejan chicken, Thousand Hills braised beef, and co-op partners' warehouse produce.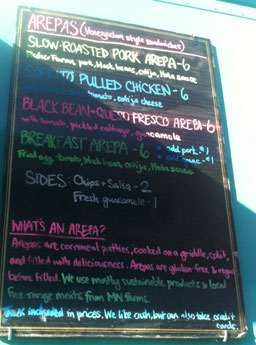 The arepa recipes vary daily, but generally speaking:
• The slow-roasted pork arepa is stuffed with saucy shredded pork, black beans, and cotija cheese.
• The pulled chicken arepa is stuffed with saucy shredded chicken, black beans, tomatoes, and cotija cheese.
• The breakfast arepa is stuffed with fried eggs, tomatoes, black beans, cotija cheese and Hola Sauce.
• The vegetarian option is usually stuffed with black beans, pickled cabbage or pickled onion, and avocado.
• The Cuban arepa is stuffed with roasted pork, ham, swiss cheese, pickles, mustard, and spicy aioli.
You may or may not see pickled cabbage or pickled onion on your arepa, and you may or may not see aioli or queso fresco, but the combinations are posted daily on a board outside of the truck, so you'll know what you're getting ahead of time.  While the sauces of the slow-cooked meats are bold and spicy, they're not hot, unless you add one of their signature hot sauces. I like their mild Hola Sauce, made with mangoes, yellow peppers, and other "super secret" herbs and spices. The arepas are pretty big, but if you're really hungry, you can order chips and salsa and fresh guacamole on the side.
Generally, you can find them for lunch in downtown Minneapolis Monday through Friday, for brunch in Uptown on Sundays, and quite often at the Midtown Farmers' Market on Saturdays. Faithful fans follow them on Twitter (@holaarepa) or check their website for their daily locations. They're on 2nd Avenue between 6th and 7th streets in downtown Minneapolis today! Look for the bright turquoise truck.
 
Facebook Comments