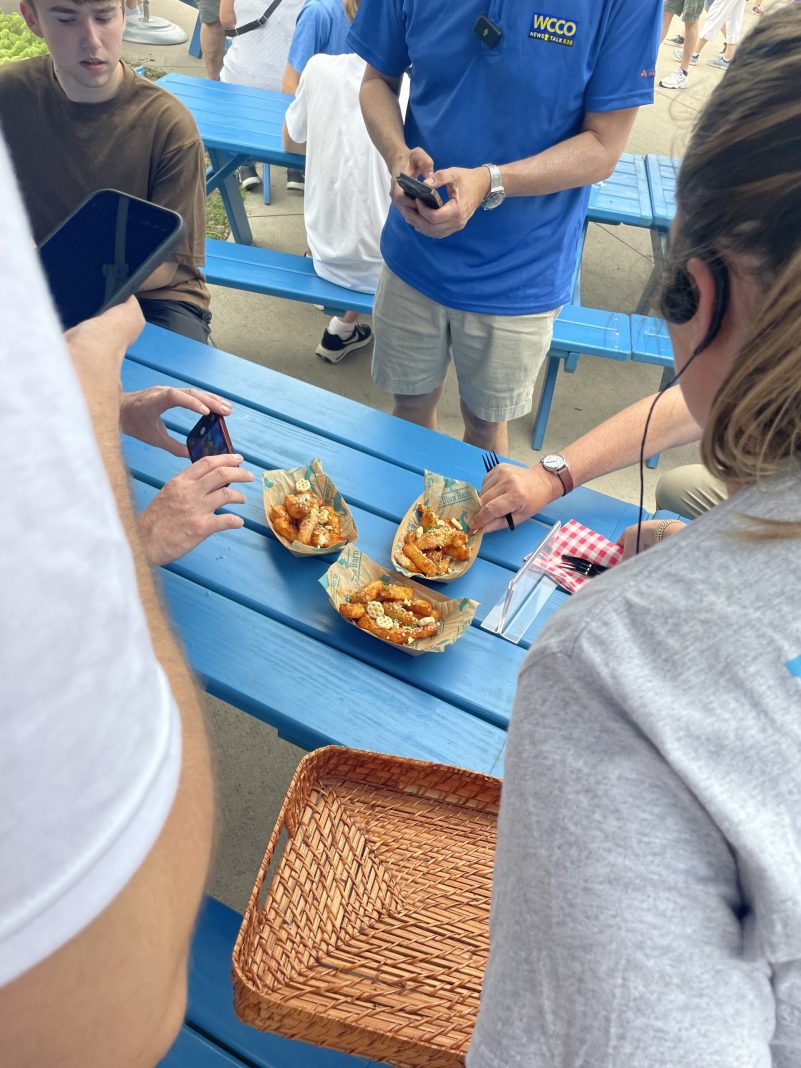 Get 10 people together, taste a couple dozen new Minnesota State Fair foods, and try to see if we can all agree. We mostly agree!
I'll give my rankings in a minute, but in no particular order, some of the things our taste-testers put in their top three: Irish Butter Ice Cream over Cinnamon toast at Blue Moon, Huli-Huli ribs from RC's BBQ, fried cheesecake from LuLu's Public House, the fried haloumi with hot honey from Blue Barn, and the Taco Hummus bowl from Babas. (Huge thanks to editor Amy Nelson, Managing Editor Erik Tormoen, my oldest child, Seth DeRusha, Minnesota Monthly reader and contest winner Bob Moffit, WCCO radio auction winner Barry Zelickson and the host of Fun Across America on YouTube, Nate Reinhart for joining me on the tasting journey!)
The controversial take: Some of us loved the Nordic Waffles Hot Dog, some were mad at the cheese in it. Some loved the Betty & Earl's biscuits at Lulu's, others thought they were too sweet. Without dispute: The lutefisk sliders from Shanghai Henry's were gross. Slimy, fishy, no no no. (actually, turns out there was a dispute – one of our tasters after the fact, fessed up that they liked it! So another example of – you need to follow your heart! Try what you like!)
These foods are ranked in order, so the first food was my favorite, the last food was my least favorite. We didn't get to everything, so this list will be updated as the fair continues.
BLUE RIBBON: Say yes to these new Fair foods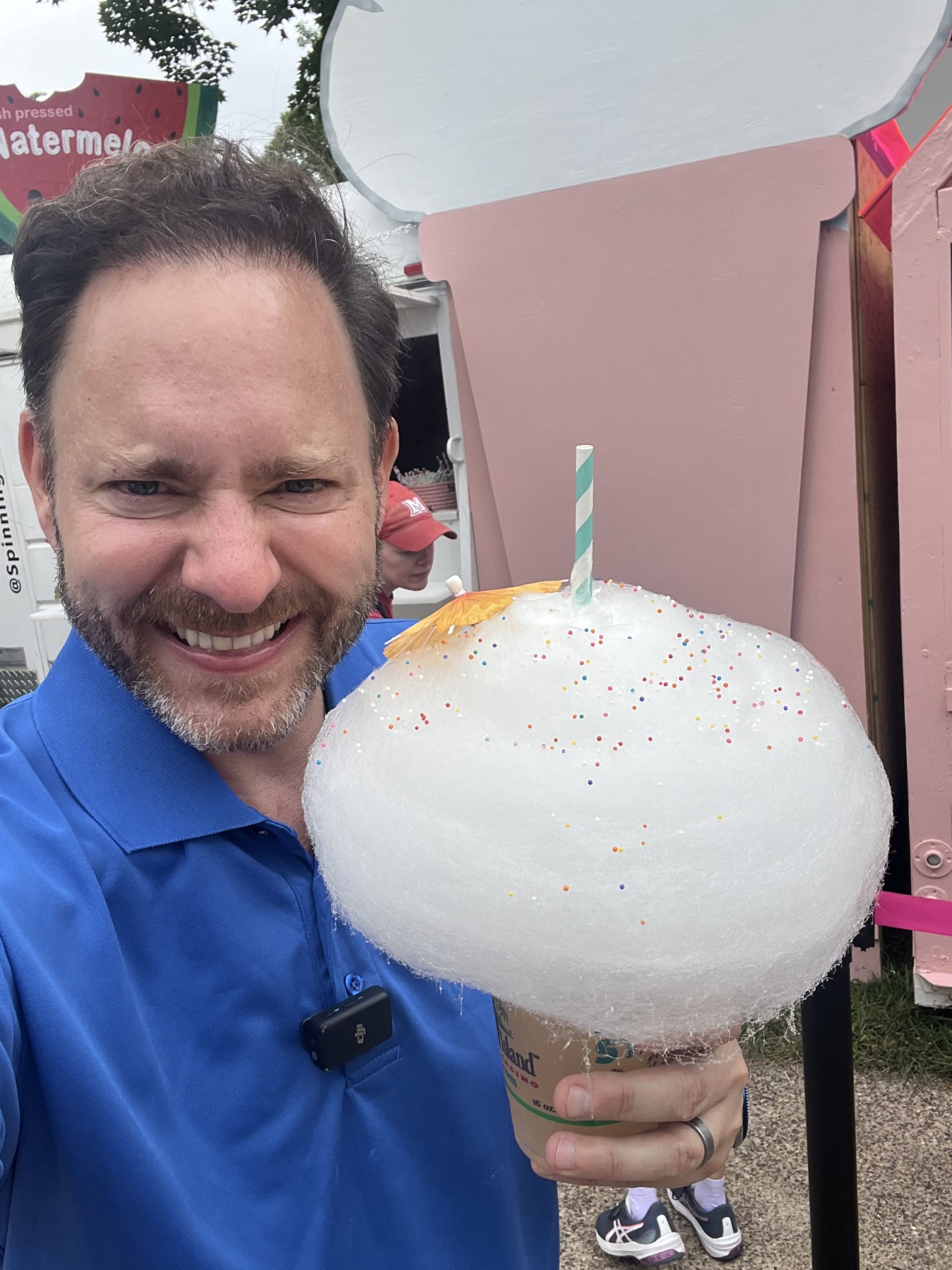 Cloud Coolers at Spinning Wylde: Am I going soft in my old age? Am I picking an Instagrammable gimmick as my favorite food of the fair? Yes, I am. Spinning Wylde freshly spins cotton candy around the straw and then inserts that in a fabulous lemonade. The huckleberry lemonade was wonderful- balanced, not too sweet, alive! The cotton candy truly had an intense blackberry jam flavor. This made me smile, it made everyone in line smile, it's fabulous and you should get it and not apologize. It is the Barbie equivalent of the fair. $12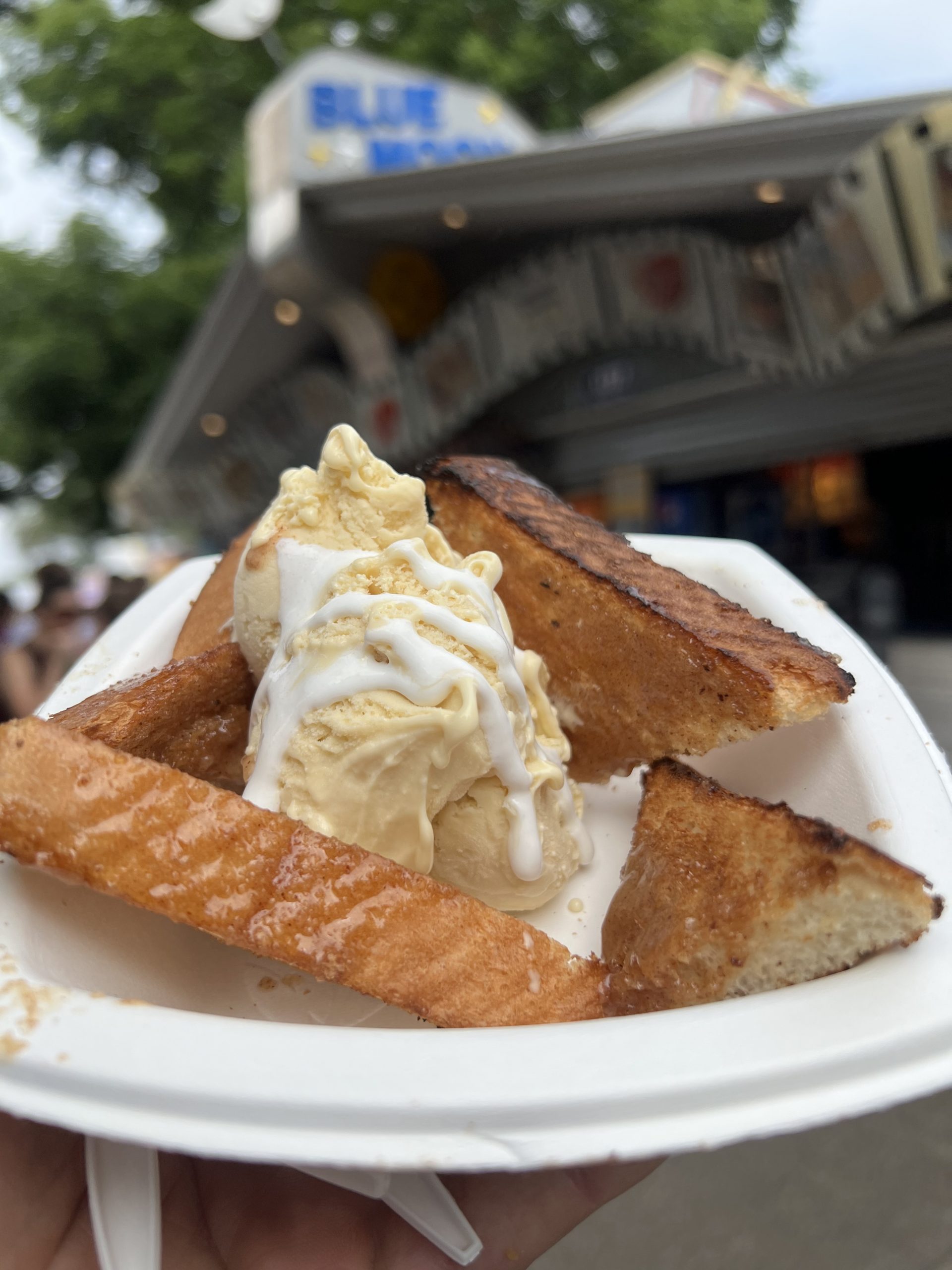 Irish Butter Ice Cream Over Brown Sugar Cinnamon Toast at Blue Moon Drive-in Theater: Wow! This was a joy and we all need to have butter-flavored ice cream with our sugared toast. The toast is cut in quarters, and you need to use it to dip that ice cream. Oh the ice cream is so good, created by the Minnesota Dairy Lab. Would get again. $9 
Maui-Sota Sticky Ribs at RC's BBQ: No time like now to think about the people of Maui, and RC's BBQ created this while on the island. The rib is perfect—nice chew, nice tenderness, the sauce is sweeter than my palate prefers, but that's huli-huli. Pineapple, soy, ginger is held together with a hint of BBQ sauce and seasoned with furikake, green onion, and cilantro. $13
Cheesecake Curds at Lulu's: These fried cheesecake pieces melted in my mouth. They were hot, crispy, covered with sweet funnel cake batter, powdered sugar and served with a strawberry dipping sauce. They were way better than I expected, sharable and fun. $9
Galabao at Union Hmong Kitchen: The sauce is the real magic here, I could bathe in it. Chef Yia Vang's giant Hmong dumpling is mostly dough, although there's a large egg in there and herby ground pork. Cut this thing in sixths, dip it in the Kua Txob Hot Pepper Sauce, and enjoy. So big, and a great value for $12.
Hot Honey Cheese Sticks at Blue Barn: (see disclosure at the end)  Most everyone in our group loved the hot honey sauce, although some thought hot honey has run its course. On these, the heat was real and lingering, and the sweetness of the honey was a perfect balance. Haloumi cheese is firm—almost tofu-like in consistency—so some of our tasters wanted more of a melty fried cheese stick experience, but we liked the flavor on these. The honeycomb cereal provides crunch and is a nice nod to Minnesota-owned Post Cereal. $11
Fried Green Tomato BLT at Minnesota Farmer's Union: I confess I liked this sandwich better when it was a giant, fresh, perfectly-in-season Minnesota tomato, but there's zero wrong with this fried green tomato version. Cornmeal crust perfectly crisped up, just delightful. $15
Al Taco Baba at Baba's Hummus: Baba's has been in my top 10 for the two years they've been at the fair and I can't help myself, I love it. The impossibly creamy hummus, the harissa beef barbacoa and hot sauce, it all works so nicely. The real excellence comes in the fried pita puffs a great vessel for sopping up hummus. $12 
Amish Donuts at Peachey's Baking Company: There are hints of Sweet Martha with this operation – the team at Peachey's is using recipes handed down from the Amish, making and rolling out the dough in their trailer, proofing it, shaping it, frying the donuts and then hanging them from racks. There's a freshness to it, a yeastiness to the flavor, it's a cool fair food. $5 for a glazed donut.
Holey Hamloaf Breakfast Sandwich at Hamline Church Dining Hall: Breakfast all-day, it's way more sandwich than anyone could need. Huge. The balance on this is quite well-done, Al's Breakfast in Dinkytown helped create this one. Thin slice of glazed hamloaf, topped with caramelized onions and cheese, with a little hold in the middle of it for a fried egg. Thumbs up. $13
Pickle Paleta at Hamline Church Dining Hall: For whatever reason, we didn't get to too many pickle items at the fair, so maybe that's why I enjoyed the pickle paleta. A paleta is a Mexican frozen treats on-a-stick, these are made by a local paleta shop, La Michoacana Rose. It's Dill Pickle Lemonade – lemon is the dominant flavor, there are some dill pickle slices, and a hint of dill. Delightful. $5.
HONORABLE MENTION: Pretty, pretty, pretty good
Basil Hummus With Spicy Walnut Topping at Holy Land: The basil flavor was fairly muted in this Holy Land hummus, which probably makes sense, but it provides the bright green, springy color. The magic for me is the spicy mix of crushed walnut, red chili pepper, garlic and olive oil. I'd buy a jar of that tomorrow. Served with garlic parmesan chips. $10
Not Your Madre's Biscuit and Gravy at LuLu's: An unlisted new fair food, the jalapeno chorizo gave great spice, the cheese sauce was reminiscent of Velveeta, the cheese wasn't my favorite part of this dish, but I loved the flavor. Great for breakfast, it's very filling for $9.
Cowboy Texas Toast at Blue Barn: Savory eggs, jalapeño cheddar Cheetos crunch give great flavor but it's hard to get at the bread. This is a terrific option for those of you who are at the fair at 7 or 8 a.m. $14
Beef Sambusas at Afro Deli: I love Afro Deli, and much like the dosas at MomoDosa, if the fair is your first exposure to a Sambusa, awesome. I am spoiled, and get to enjoy Afro Deli on the regular, and thus this is a solid sambusa. Mine were a little soggy, it was a humid day, so if you see them coming fresh out of the fryer, go for it. The Basbaas, a spicy Somali dipping sauce, is a great addition.
Bacon-Wrapped Waffle Dog at Nordic Waffle: OK, I loved this hot dog. It's from Kramarczuk's, with great snap, great flavor, grilled on a flat top and wrapped with bacon. The unmelted cheddar cheese was my only negative. I think the waffle as a sweet vessel for the dog worked, the caramelized onion, with a little hint of burger sauce worked, but not everyone agreed. $12
Chicken Momo With Tomato Chutney from MomoDosa at Midtown Global Market: You should go to MomoDosa and enjoy this chicken momo, it's good! The tomato chutney was solid, the steamed dumpling is filled with a hearty amount of ground chicken, cabbage and onion, it's good. $13 for 6 pieces
Walleye Fritter Pops at Giggle's Campfire Grill: Bonus points for this on-a-stick food, Giggles does a solid job here with sort of a lighter version of a walleye cake. These feature smoked walleye, creamy cheeses, and dill pickle relish served with comeback sauce. $12
THANKS FOR PLAYING: These are a no for me, dawg
Fruity Cereal Milk Biscuit at Lulu's Public House: This dish is too sweet for me. I enjoyed one bit but that's all I'd want. It's cool how Betty and Earl's Biscuit Kitchen uses cereal milk in the biscuit dough along with bits of cereal, but then it's covered with icing, topped with pieces of cereal, and it's a little much for me. $8
Loaded Lobster Fries at Cafe Caribe: Sometimes at the fair you have something that's pretty good but you're left with the question, Why? That's how I feel about this Maine version of poutine. Warm lobster and bacon are served on fries covered with a chipotle mayonnaise, green onion, and Old Bay seasoning. It was very salty, but an OK dish. I'm just not sure why you'd want this at the fair. $15 
Cheese Curd Stuffed Pizza Pretzel at Green Mill: There's nothing wrong with essentially a calzone shaped like a pretzel, but again I'd ask you, Why? The dough is stuffed with cheese curds and pepperoni topped with diced pepperoni, Italian spices, and parmesan cheese. Dip it in pizza sauce if you must. 
Crispy Lutefisk Steam Bun at Shanghai Henry's: This is the worst thing I had at the fair today. But a 80-year-old man next to me was raving and thrilled because he loves lutefisk. (edit: one of our tasters contacted me after publication to tell me they liked the lutefisk, and thought people were being overdramatic in their dislike. They said it mostly tasted like the sauce, and it was good.) Brined then baked lutefisk in a lotus bun but not covered with nearly enough yum yum sauce to conceal the extraordinarily fishy flavor and slimy texture. It's not gelatinous like I'm told traditional lutefisk is (I've never had it until today), but it is also a little slimy on the inside. $14.25 gets you 4 buns, it's an aggressive serving, but it does allow 10 people to take credit for trying Lutefisk at the fair.
We didn't get to try everything this first day and will keep adding to this list. What are your favorites?
Read more:
*Disclosure: Jason is a paid endorser for Blue Plate Restaurant Company on WCCO-AM radio. This section of this food round-up was written by Minnesota Monthly editor Amy Nelson.