State Fair 2022: It's more diverse, has more excellent chefs, and has more on-a-stick selections. These are all great things, but I must say I struggled to find a runaway, obvious, best of the Fair this year because so many things were solid. Not much totally blew me away, and that's not a bad thing either. Quality has been up for a long time now. Consistency is the challenge, of course. This list will grow during the Fair as I get to try more food and drink. If there are things you're curious about, let me know in the comments or hit me up on @DeRushaEats on Twitter. 
How do we do this? It takes a team. Editor Amy Nelson and managing editor Erik Tormoen joined me as we waited in lines and worked our way through the Fairgrounds. It was a busy day, but we were able to try more than 25 of the 38 new items.
EAT IT! IT'S A WINNER!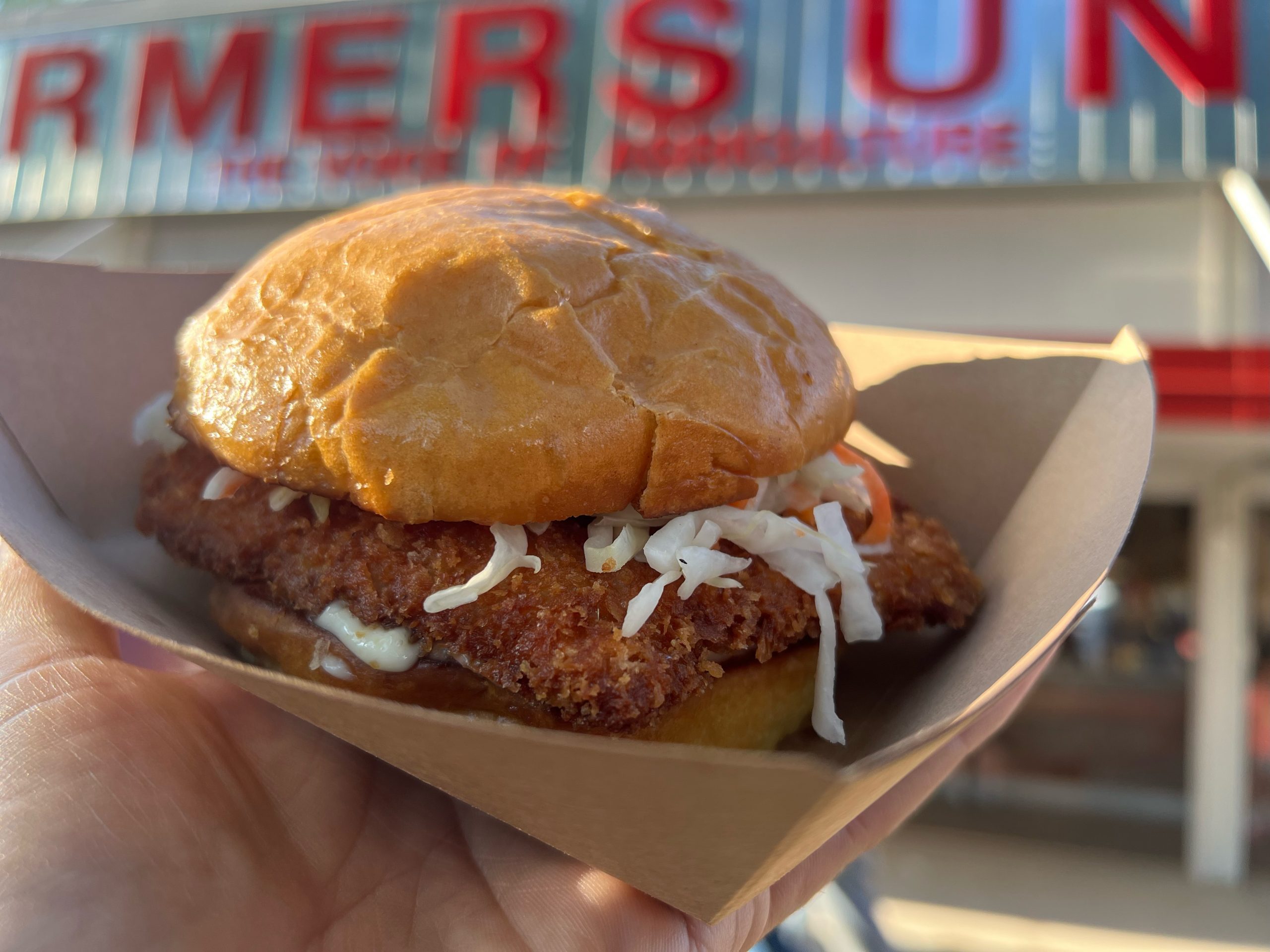 Pork Schnitzel Sandwich at Minnesota Farmers Union ($14): I don't like schnitzel and I loved this sandwich. Forget what you expect: this is the opposite of an overly-thin, aggressively-pounded pork cutlet. Instead it's a beautiful, thicker-than-thin pork from two amazing Minnesota pig farms, Hidden Stream and Pastures a Plenty. It's juicy, it's crunchy, it's a fabulous sandwich. The pickled cabbage has a very welcome hint of carraway, and the spicy brown mustard/mayo on brioche put the whole thing over the top. 
Tot Dog at Lulu's Public House ($7): A thin layer of corn dog batter is topped with minced tater tots, onion, and cheese. You get a hash brown-like effect. It's really crispy and tasty. The cheese sauce on the side doesn't add much, but the dog itself is so good it doesn't matter.'
Soulsicle by Soul Bowl ($9): A friend of mine at the Fair wondered why there isn't more fried chicken out here: It can be heavy, no fun to share, and messy. So Gerard Klass put his fried chicken on a stick. The breading is thick, and our soulsicle was mostly breading at the top of it, with overly dry chicken. But bites two and three were juicy, full-of-flavor, great stuff. There's some clever engineering with candied yam sauce acting as a glue to hold down cheese, green onions, cornbread crumble and hot sauce. For some of you there will be too much going on here, but I dug it.
Mov + Nqaij Rice + Meat at Union Hmong Kitchen ($14 for chicken): It's difficult not to love the story: Yia Vang arrives in Minnesota at age 5, his family escaping the refugee camp after the Vietnam war. Today, he's our most famous Hmong chef not because he's incredible at telling his story, but because he's celebrating his culture's food and adding to its story with things that Hmong people grow in Minnesota. He's added to that story by putting Hilltribe chicken on a stick and selling it to people who've never experienced his food truck or spot at Graze. Pick chicken, Hmong sausage, or tofu, pick your sauce (we did chili oil), sample the sticky rice it sits atop, and taste a true part of Minnesota.
Lobster Roll at New Scenic Cafe ($20): OK this was about as perfect as a lobster roll gets, and that $20 price point is eye-popping relative to the $12 to $14 range we're seeing for most foods. BUT a lobster roll at Smack Shack is $33. So that's what lobster costs. And you get a lot of lobster on this sandwich on a griddled split-top hot dog bun, and the micro cilantro gives a great pop of herby goodness. Do you want lobster at the Fair? For adult date night, yes.
Sweet Potato Poutine at Blue Barn ($13.75): I do radio ads for my friends at Blue Barn, so take that for what it is. I'm a fan. And I really enjoyed this riff on poutine with these really solid sweet potato waffle fries. The Beyond chorizo sausage is a great entree-point for meat eaters who are plant-curious. I loved the fresh herbs and turmeric gravy, giving a lightness to this very sharable dish. Because I work with Blue Barn, I asked Amy and Erik to give their opinions.
Amy: I'm a poutine purist, so I expect cheese curds, fries, and gravy. This was a good mix of waffle fries with the impressive vegetarian meat that could use more cheese curds, but  thumbs up to the Beyond Chorizo. 
Erik: I liked it, too. You did have to dig through to find the elements. The cheese curds were buried.
Breakfast Gnocchi at Blue Barn ($11.75): Fried potato gnocchi along with a punch of pesto cream is a great way to start the day. Topped with scrambled eggs and nice juicy chunks of bacon, it's rich and easy to share. There's a great balance of flavors here, but it could have used a little more eggs on top.
Amy: I love it as a breakfast food; the gnocchi as a potato alternative is clever. With the egg and pork belly, it's a good serving that will fill you up.
Erik: Both Blue Barn foods are filling but not gut-bombs. Thumbs up!
Reuben Rolls at O'Gara's ($10): These are very good! I was impressed at how many big chunks of corned beef there were. Maybe you've had the Reuben bites before at O'Garas– these rolls are exponentially better. With Swiss cheese and sauerkraut in an egg roll wrapper, dip it in a side of Thousand Island made with the same recipe O'Gara's made at the restaurant.
Paletas at Hamline Church Dining Hall ($5): The birthday cake is the exclusive – only at the State Fair- so it's the official new food (La Michoacana Rose has a storefront in Crystal). All of these are tremendous- paletas are a Mexican frozen dessert on a stick. We tried the Oreo cookie which was creamy and Oreoy and fabulous. Birthday cake is made with chunks of cake, sprinkles, and a vanilla extract base, specially created by locally owned La Michoacana Rose to celebrate Hamline Church Dining Hall's 125th year at the Fair.

GOOD! I LIKE!
Minne Hot Hot at RC's BBQ ($12): Smoked rib tips tossed in Nashville Hot Sauce, served with Comeback Sauce. Here's the problem with rib tips: they're chewy and they have the hunk of rib bone inside. The hot sauce here has a slow burn. I found it to be spicy in a really pleasant way. You can dip the rib in the sauce (sort of a ranch), which cools it down. RC's features the work of one of the best pit masters in the state, and these are perfectly smoked rib tips. So this is really a matter of whether you like tips or not.
Beauty and the Buffalo at Baba's Hummus ($13): Last year Baba's chili baba hummus bowl was my favorite new food of the Fair. The new one this year isn't as good as last year (you can never compare to your first time) but I still really enjoyed the buffalo chicken hummus. A big bowl of ranch hummus with a fairly traditional buffalo chicken (bleu cheese, sauce, a little dust) served with those magical pita puffs. Fried and airy, these are the perfect vessel for hummus.
Sweet Cheese Blintz at iPierogi ($5): This was really nice! I could do without the powdered sugar, mainly because it's messy and also because I hate powdered sugar. But this soft crepe is filled with the perfect vanilla cream cheese. It's actually cream cheese, mascarpone cheese, whipped cream, and vanilla, which all combine for a softer sweetness than I expected.
Belly Full Waffle at Nordic Waffles ($12): When you put something in a waffle there's the risk of something being overly sweet. Pork belly can lean sweet, jalapeno jam sounds sweet, and yet there's an acidicness that I really enjoyed. Warning: because this pork belly is really slowly cooked in the Norwegian tradition it looks very white, so aesthetically, this thing isn't a beauty. Stine Aasland told me she was inspired by Yia Vang's food: the jalapeno jam and cabbage slaw combo almost fooled me into thinking it was a vinaigrette.
Vanilla Dream waffle at Nordic Waffles ($8): This version is a waffle coated with cinnamon and sugar, and filled with Norwegian vanilla custard cream. Simple, sweet, classic. Stine's grandmother's recipe for vanilla custard cream.
Concha Bacon Burger at Aldo's ($12): This one was a shocker to me! This is sort of like a donut burger–remember when that was a thing–but better. Mexican conchas are a sweet-bread-roll used here as the burger bun. The pink concha surrounds a really well-seasoned all-beef patty. This could have used more pickled jalapenos and crispier bacon, but this was surprisingly good. The burger especially was great, and it wasn't as overly sweet as I feared. I'd recommend eating it upside down as the top of the roll is stronger than the bottom, to keep in the juicy burger.
Nauti Bowl at Nautical Bowls ($12): It's been fun to watch Nautical Bowls go from one store near Lake Minnetonka to 19 in the Twin Cities. They're franchising all over the country. The selections at the Fair are the same as at the store, and the execution is great. Our bowl had layers of açaí, pitaya, and granola, topped with slices of banana, cacao nibs, and peanut butter that's freshly ground right on top of your bowl. It's good stuff.
Gray Duck Sundae at Bridgeman's ($9): Many of you know this, but it was my first time trying Bridgeman's black licorice ice cream. Some of you hate black licorice and you people are wrong. This ice cream is perfect, but the rest of this sundae was unremarkable. I didn't get much marshmallow cream, and didn't need the crunchy mini marshmallows, but the whipped cream and cherry were fine.
Tirokroketes at Dino's Gyros ($7): I liked the texture of the crunchy gluten-free panko on the outside and the creamy spicy feta, cream cheese, and mozzarella with a hint of Greek seasoning inside. I didn't detect much lemon juice on the outside, as promised, and I would have enjoyed a more assertive spiciness (maybe less cream cheese) but if you want a cheese curd alternative, I enjoyed these. (This is gluten-free, vegetarian.)
Indian Ice Cream at Hot Indian Foods ($5): This new treat comes in three flavors, and we tried the Thandai, which is almond, cashew and pistachio.  It's a prepackaged frozen bar, Hot Indian doesn't make this, which disappointed me at first. Maybe it was supposed to be rolled in a topping, the publicity pictures for the fair looked more like that. We were just handed a packaged bar. But, the notes of star anise and black pepper and the texture of this popsicle worked for me. So it's a toss-up.
I MEAN LIVE YOUR LIFE BUT IT'S NOT MY THING
Molotes at Andy's Garage (2 for $10; Aug. 25-30 only): These started off promising, the deep-fried corn masa empanadas were great. But the fillings were a fail: the shredded chicken was so dry the chipotle sour cream topping couldn't save it. And the roasted corn was just weird. An empanada filled with giant kernels of corn? Not appetizing.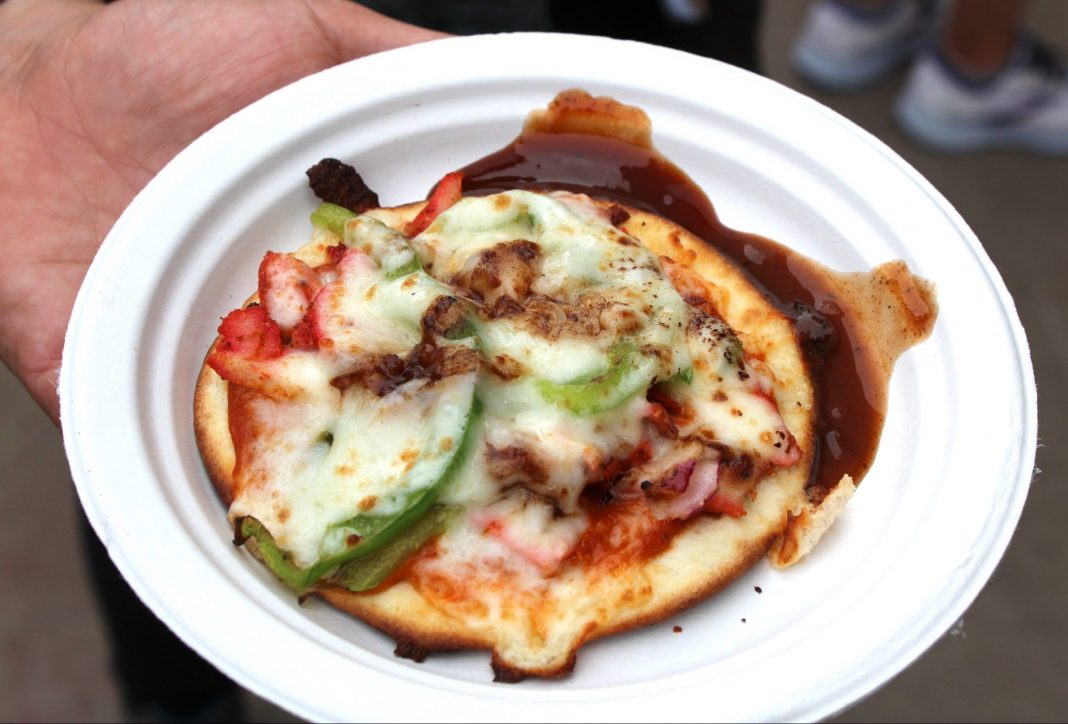 Tandoor-Fired Jerk Chicken Mini'zza at West Indies Soul Food ($7): "Mini" is an accurate description of this saucer-sized pizza. The naan crust is made by Pizza Karma, the Indian-inspired pizza restaurants around town, and it's a crispy crust. The best thing about this was the terrific Jamaican Jerk Sauce, which brought big flavor to the chicken and peppers on top. But this dish is too small and competes with too many more tasty things at West Indies Soul.
Chicken Tandoori Rolls at Holy Land ($12): The paratha flatbread was great, and you get a large serving at Holy Land, but our chicken tandoori had a mealy, off-putting texture and very mild flavor from the spices. Nope.
Chick N Swiss Sausage at Gas Station Grill ($8): Of the chicken sausages I tasted, this was the best, with a nice snap and flavor. In the sausage mix (made by Center Cut Meats in Rogers), there are chunks of Swiss cheese, asparagus, pineapple, bacon, and jalapenos. Do you want a chunk of asparagus in your sausage? If so, enjoy!
Vegan Corn Dog at Daryl's Dog House ($7). A plant-based vegan hot dog dipped in a plant-based vegan corn dog batter. The dog tasted like the cheap grocery store hot dogs of my childhood, but the batter was pretty good. If you're a vegan and always dreamed of what a corn dog would taste like, this is for you. For the rest of us, why would you eat this?
Buzz'n Chicken Sausage and Biscuit at Sausage Sister & Me ($11): With the background that I'm not a huge fan of hot honey (drizzled on top, it's sweet, it's spicy, it's usually unnecessary), this left me wanting something more. Slices of chicken sausage that weren't very flavorful alternate with a decent chunk of tasty cornmeal biscuit.  This is served on a bed of coleslaw. Sausage Sister has much better options.