The Big A$$ Tots
Photos by Zach Morin
---
What do people want in Uptown? Upscale Italian didn't work—Scena and Parella both flopped in Calhoun Square. Upscale organic pioneer Lucia's just closed, and the spot that used to be Old Chicago has housed four different concepts over the past four years. But Kaskaid Hospitality (the team behind Crave) and the owner of the Hennepin Avenue South building are hoping that burgers and wings will be the ticket.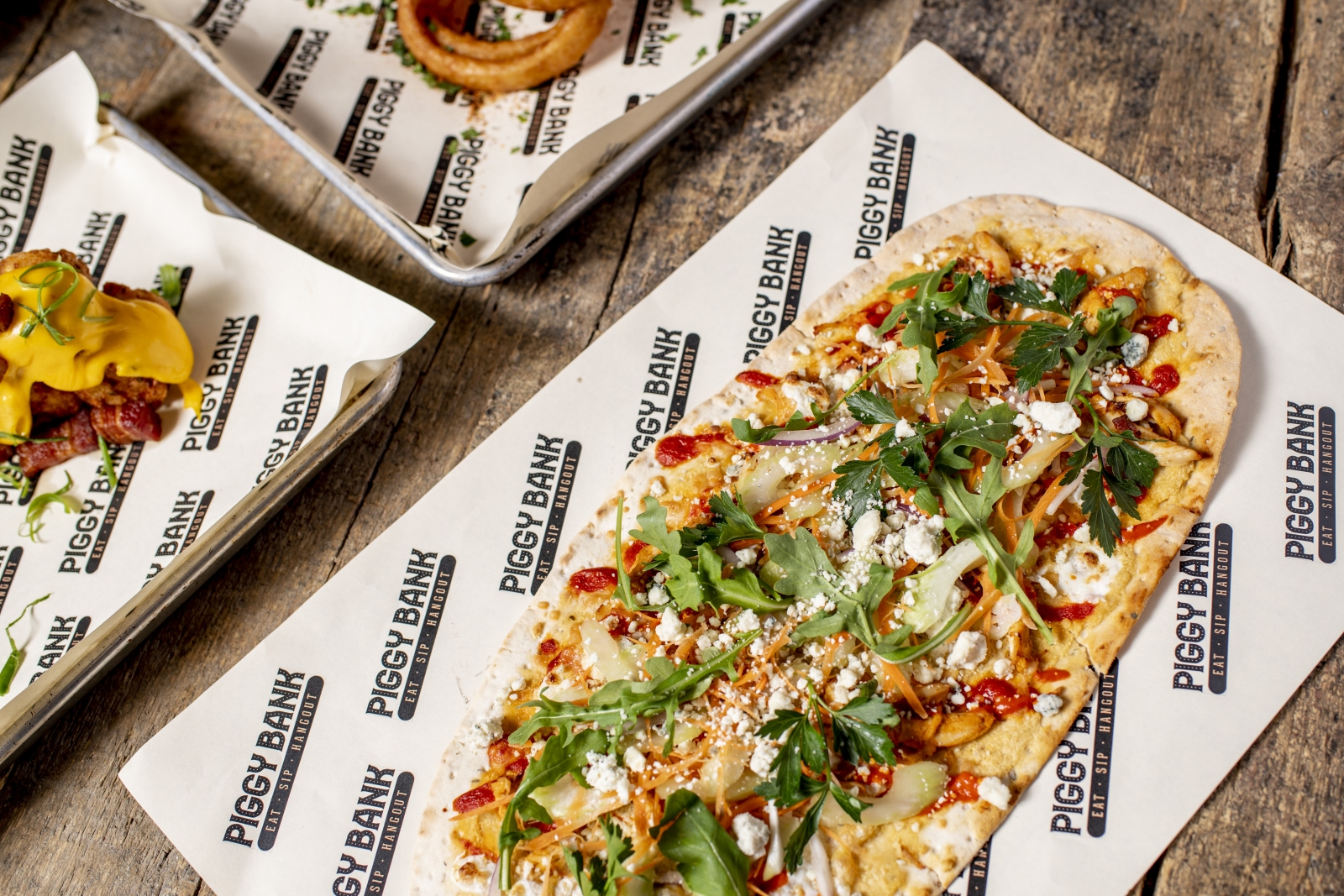 The flatbread at Piggy Bank
---
Piggy Bank opens Friday, December 14, replacing Lotus Vietnamese, which replaced Game Sports Bar, which replaced Salsa a la Salsa, which replaced Boneyard. It's a really big building, and it does have parking, which seems to set it up nicely for success. But nothing has stuck. "Uptown has continued to evolve, and guests provided us a clear understanding of what they want in an Uptown restaurant," says Kam Talebi, founding CEO of Kaskaid Hospitality. According to Talebi, Uptown wants value, quality, and "fresh ingredients at an affordable price point." That magic number is $10. Almost everything on the menu is $9.95. If you add fries, it's another $4, but they'll be enough for a couple at least.

The Jackpot Challenge Burger
---
I've been a fan of Kaskaid's Burger Burger at Mall of America, and some of that burger experience clearly inspired Piggy Bank. "We wanted to build on top of that by extending the menu beyond burgers to a broader selection of handheld offerings, along with a deeper offering in appetizers and shareables," Talebi says. There are six regular burgers, a pulled-pork sandwich, a loose-meat sandwich, a turkey burger, and a fried or grilled chicken sandwich. Then there's a huge menu of vegan and plant-based items, clearly betting that the move toward meat-free products is more than a trend. You can get nachos with pulled pork for $9, but vegan nachos with vegan cheese and sausage are also just $9.
Cocktails at Piggy Bank
---
I've always wondered why a Buffalo Wild Wings never set up in Uptown, as the beer-wings-burgers concept seems tailor-made for the younger crowd that lives and hangs out there. Maybe Piggy Bank can get that done. "Bring your friends, even cheap ones!" Talebi laughs.
---
Piggy Bank
Opens Friday, December 14
2841 Hennepin Ave. S., Minneapolis
---
Menus:
Facebook Comments