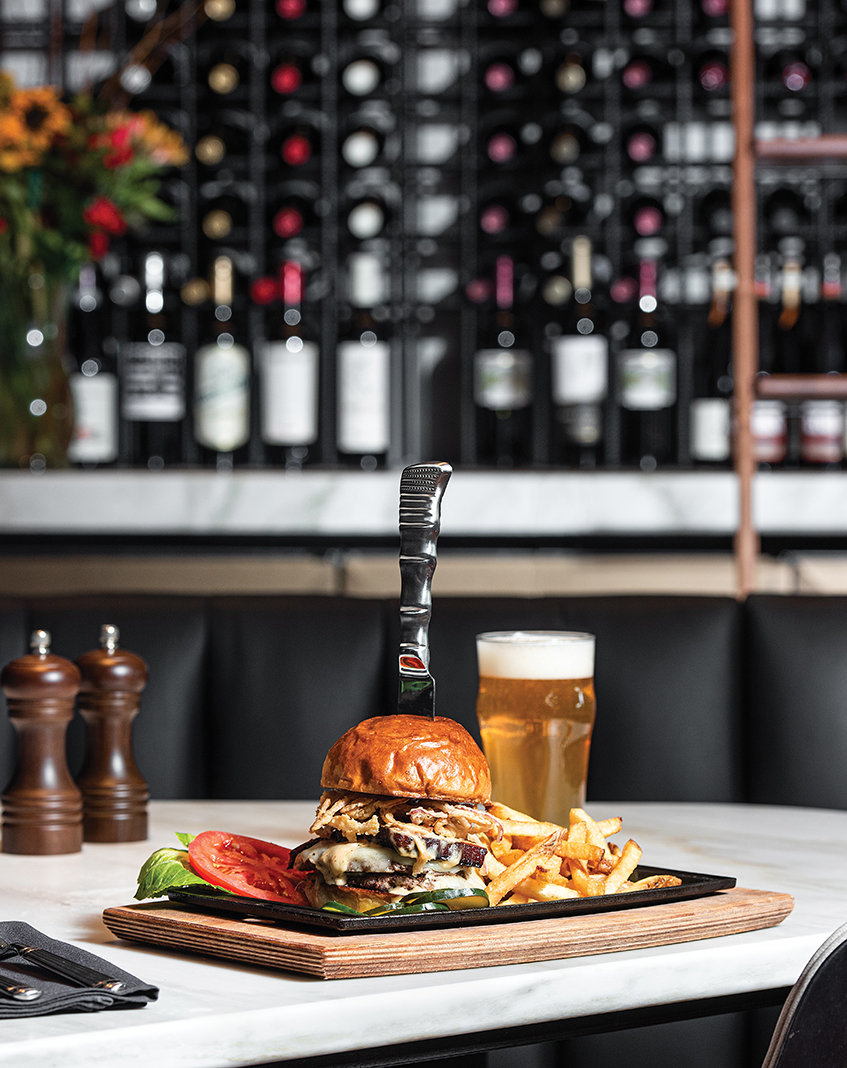 Moderation is overrated.
When you build an 8,000-square-foot steak restaurant in the outlot of a giant suburban shopping mall, abandoning any pretext of rationality seems like the right choice. The only choice. Baldamar is over-the-top.
Restaurateur Randy Stanley went where few others saw promise by opening 6Smith in Wayzata. Stanley's Baldamar is similar in many ways: upscale, glitzy, with unapologetically gluttonous portions. In other ways, it's a far riskier undertaking. Will people spend $48 for New York strip or $70 for a filet on a Tuesday night in Roseville? Will they bristle at a $17 wedge salad?
Dinner along Lake Minnetonka in Wayzata feels glamorous and exciting. Dinner in the parking lot of Rosedale? Right after opening, Baldamar's dinner menu looked nearly identical to 6Smith's, although each dish got the shopping-mall discount of a buck or two. The good news is that the execution of the dishes in the new space was right on the money.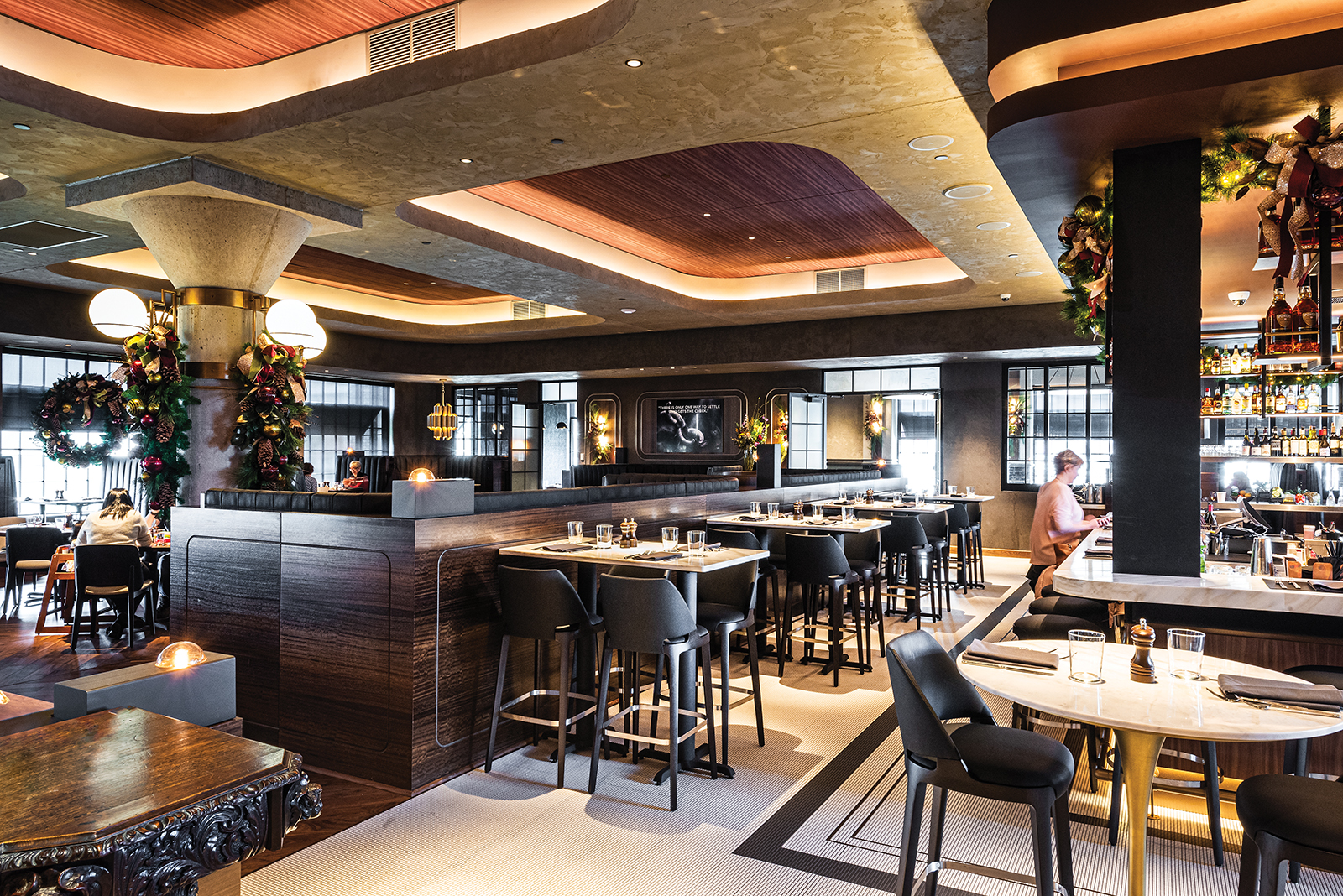 The pan-seared chimichurri shrimp were tender and packed with flavoring: not too salty, not too much parsley. The Argentinian salsa is so good that it comes—along with soft butter and an olive hummus—with a crispy bread starter. Given what's to come at Baldamar, I'm not sure filling your stomach with a bread appetizer is your wisest choice, but you do you.
Chicken wings at a steakhouse might seem like an odd choice, but the dry-rubbed 7 Spice Wings at Baldamar are ideal for sitting at the bar and watching a game, or for lunch. Pair them with the Brooklyn Bonfire cocktail, featuring a smoke-filled glass delivered and promptly filled with a rye whiskey Old Fashioned tableside.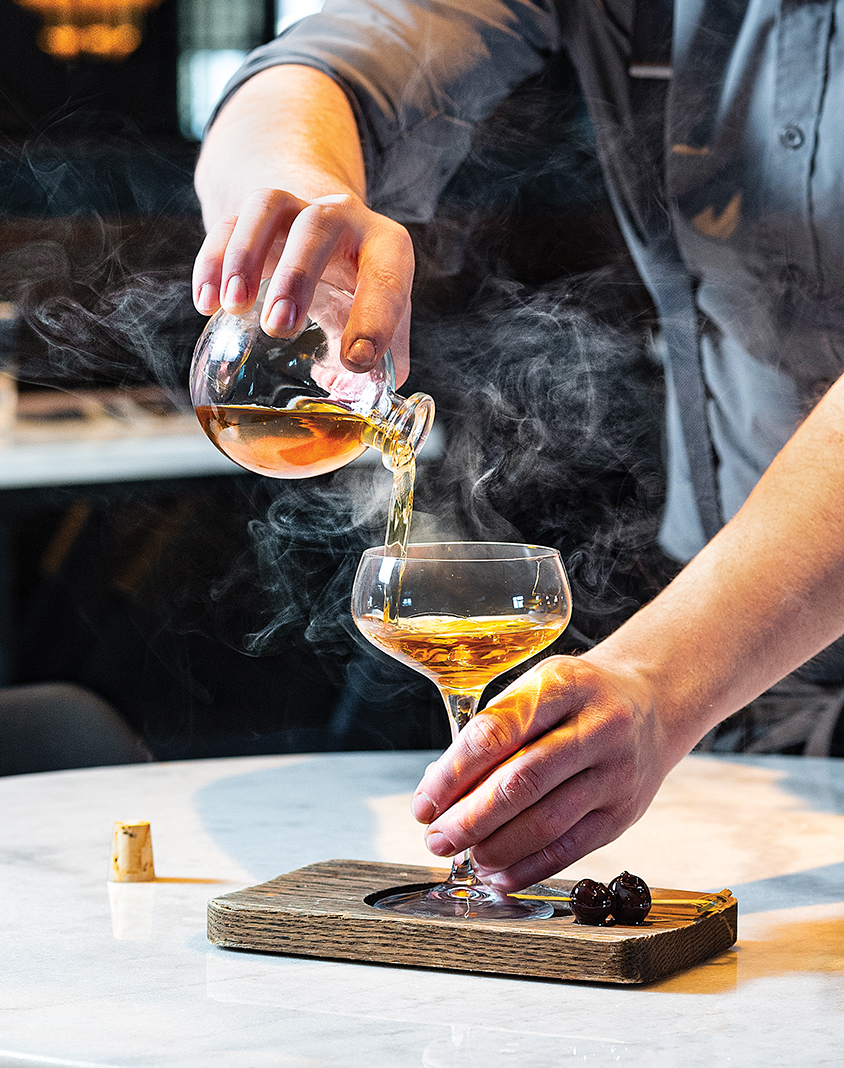 The cocktails list encourages experimentation. Like vodka? Get the "old school" Moscow Mule, or go "new school" with pear and Pimm's. Tequila? Order a perfect Paloma or the modern Wind Cries Mary with Licor 43 and chardonnay.
The mostly rock-solid menu has something for everyone. The $13 lobster mac and cheese is described as spicy, but it wasn't too much for my generally spice-averse 12-year-old. And for me? What a generous hunk of lobster meat, nestled in a swimming pool of melted sharp cheddar cheese and crispy Nueske's bacon.
The house burger is different from 6Smith's version—but equally, and absolutely, ridiculous. A thick beef steakhouse patty oozing with gobs of melted Swiss cheese is topped with house-cured bacon, crispy fried onions, and peppercorn sauce for $18. It's served with my favorite kind of fries: crispy on the outside and creamy inside. They also have the Venison & Kobe "Juicy Lucy" for two dollars more.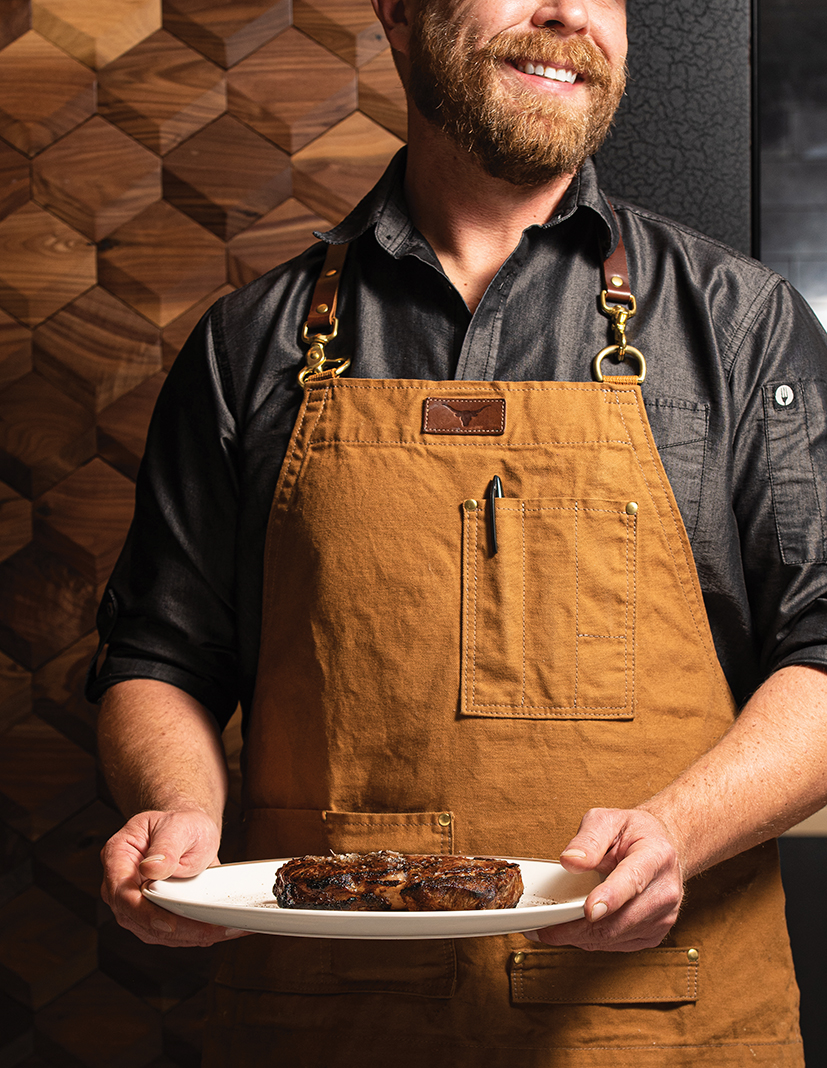 So how's the steak? Ours was about as perfect as you could hope for. The 18-ounce bone-in ribeye had incredible flavor, enhanced by a 40-day aging process. The sear was crisp, the steak was medium rare as requested, and the seasoning was assertive but not overwhelming. A more budget-friendly option (a weekday steak, if you will) was also nicely done: Ten ounces of marinated flank steak, sliced and served over a pile of puréed potatoes, was enough food to feed two adults or one hungry teenager for $30.
I'd skip the cast-iron seared jumbo scallops. The sticky balsamic glaze, coupled with a slight gumminess of scallop, made the whole thing taste like mush, especially when served with dense and under-seasoned potato gnocchi.
Lunch features a lot of the same menu items, along with some real bargains. Half of a B.L.A.T. sandwich (bacon, lettuce, avocado, and tomato) with a side salad, soup, or fries is $10. They have chicken salad and grilled cheese sandwiches, too. Lunch salad portions are priced $13-$15, but when you add a protein those get closer to $20.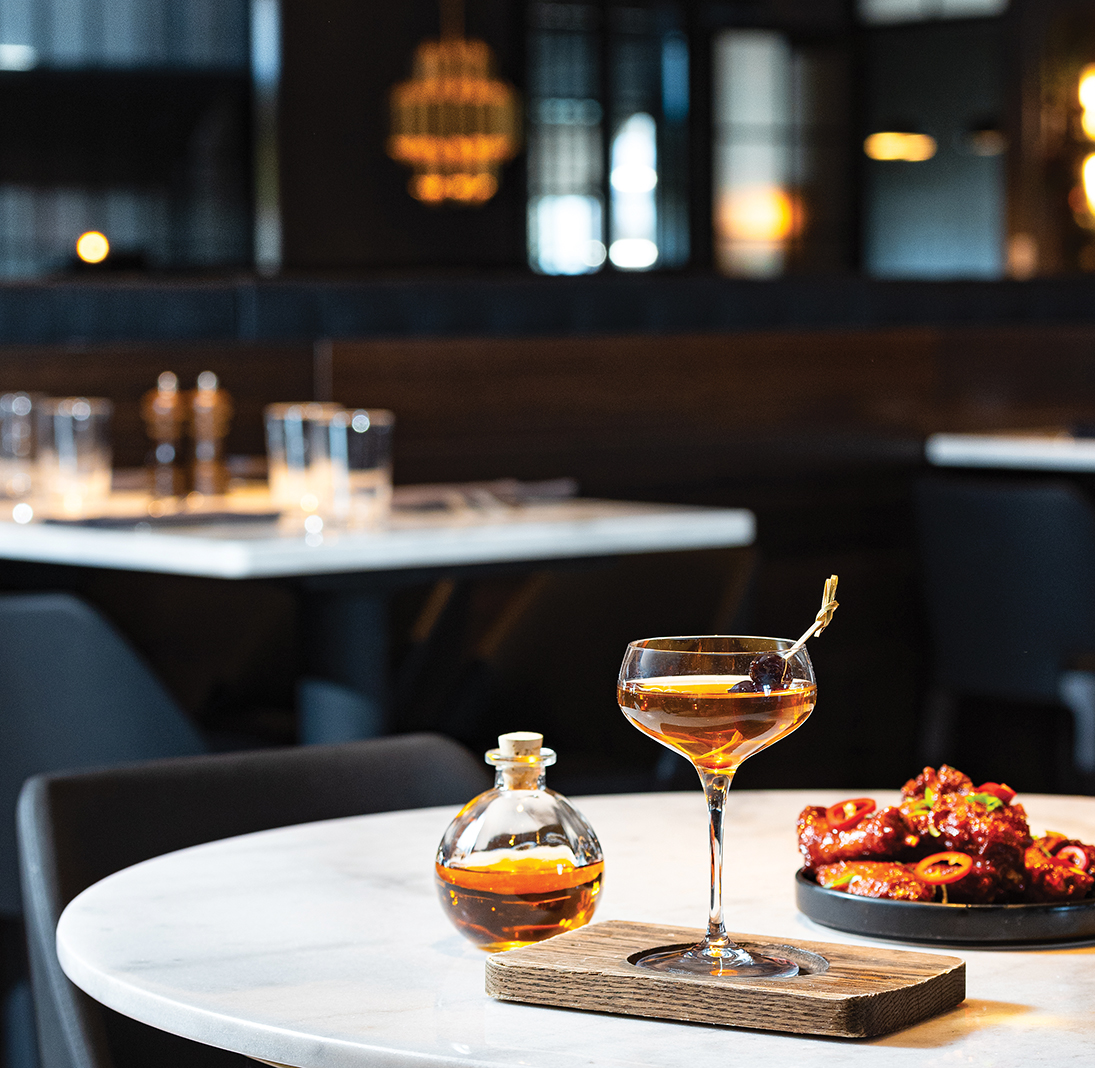 The fundamental question about Baldamar: is a suburban diner near Roseville ready to step up to these prices? The mall itself is banking on becoming a dining destination with its collection of local restaurants inside called Potluck. Ridgedale Center in Minnetonka has Bacio in its outlot and, for years, Redstone, too. Pittsburgh Blue seemed like a crazy idea when it opened in Maple Grove, but that steakhouse is jam-packed even on weekday nights.
I wouldn't bet against Baldamar. Minnesotans have proven time and time again that when it comes to steak, moderation is, indeed, overrated.
Baldamar
1642 County Rd. B2 W., Roseville
651-796-0040
baldamar.com
Facebook Comments