It took two years to design, but wow! The Brickhouse, in an historic building in White Bear Lake, was absolutely worth the wait. Stunning room, with huge windows looking onto Washington Square, inside a building dating to 1886. They had to dig out a basement for food prep, re-do the entire interior, build a rooftop patio for the summer, put a second bar upstairs for private events. The restaurant feels intimate and narrow, but this is a large facility.
And "upscale gastropub" feels like too cliché of a description. You can do dinner as you would at a steakhouse, complete with a 24-ounce ribeye for two or three at $69. Or get the short ribs with foie gras butter for just $24.
At lunch, we were blown away by the bold kimchi and tender beef in the Korean riblets rice bowl. Huge flavor, legit spice in the kimchi, and a meal I barely got to taste before my 14-year-old son wolfed it down. The $17 price tag may seem steep, but this is a lot of food, and those riblets are quality meat.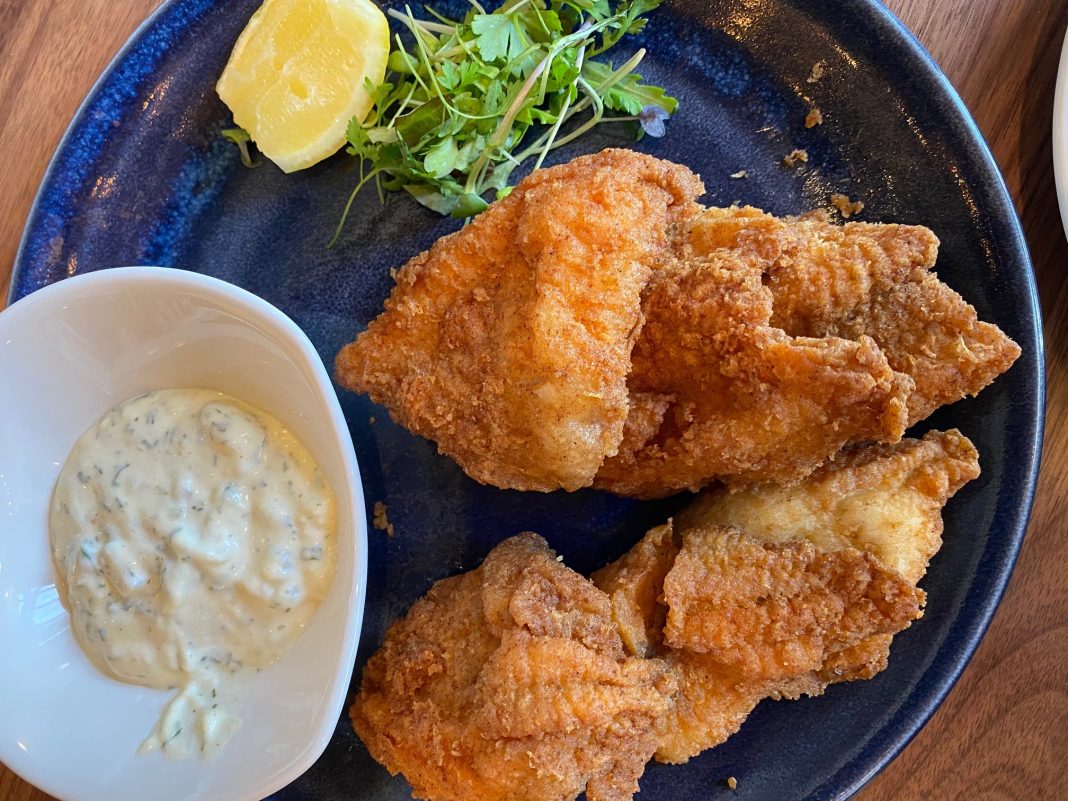 We loved the cornmeal batter and its surprisingly large amount flavor on the sunfish in the shore lunch appetizer. Only complaint is that the fish was a titch over-fried and dried-out on the inside.
This is a very approachable (a.k.a. friendly to non-adventurous diners) menu, with every item just a notch better than you'd expect. The presentation of the pepperoni flatbread almost eclipses the quality flavor. Hand-cut slices of pepperoni on the flatbread—more meaty than greasy—accompanied by a pile of red pepper flakes and Parmesan cheese for garnishing ($14).
I'm still thinking about this cheesy, juicy, tender pulled-chicken sandwich. It pops thanks to a nice swath of tangy African peri-peri sauce. Fifteen dollars get you the sandwich along with a heaping serving of hand-cut French fries.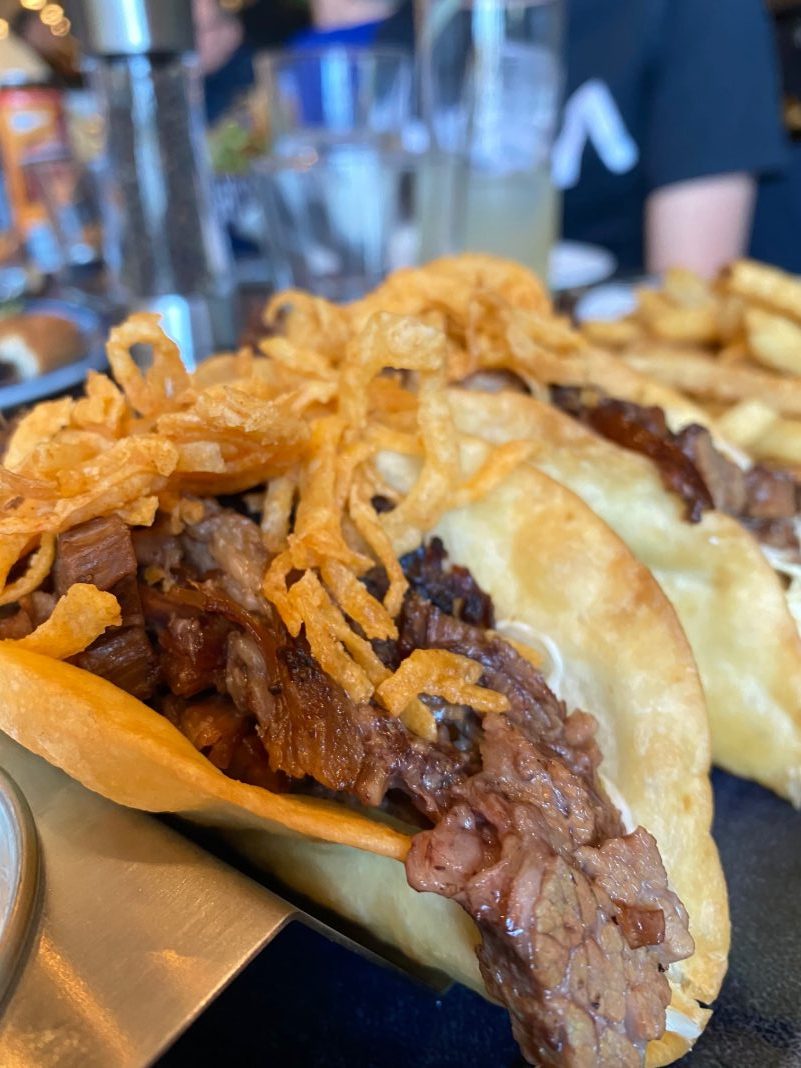 Now, is it a good idea to order something called a "Minnesota taco"? I was afraid, but handsomely rewarded with a deep-fried tortilla shell stuffed with with nicely smoked brisket ($15). The spicy cabbage set it apart, as did the crispy onion.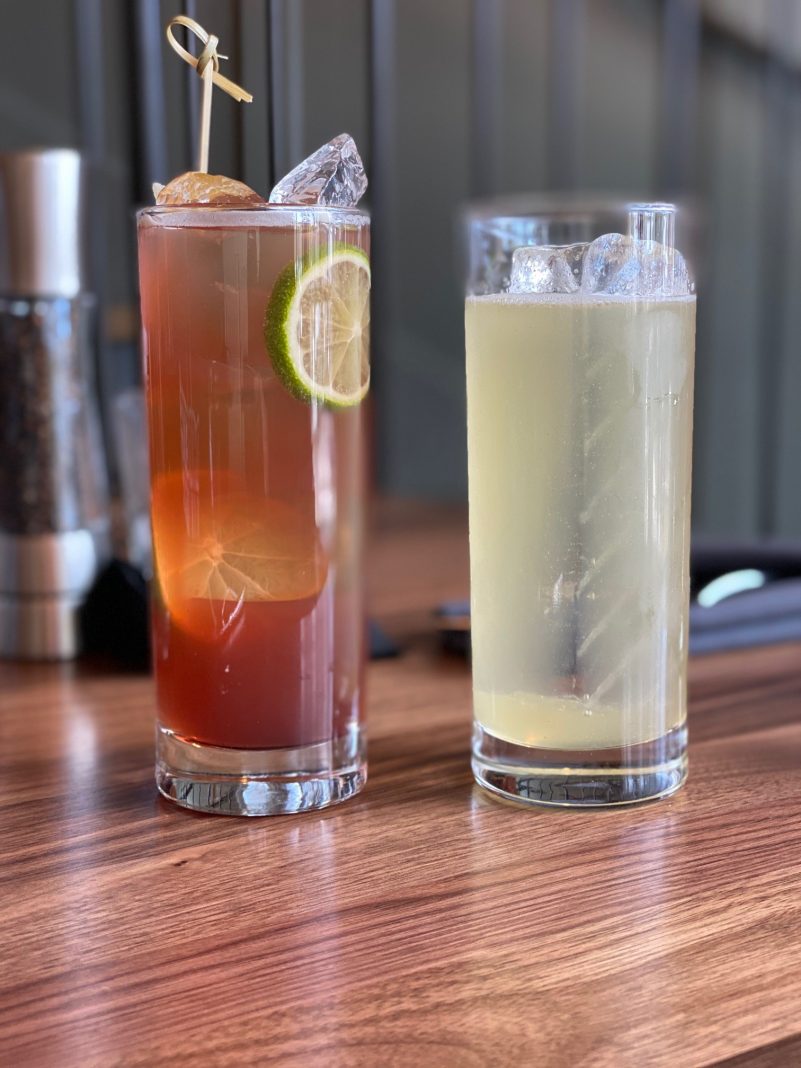 Cocktails are top-notch too, designed by one of the premier talents in the Twin Cities cocktail scene, Jesse Held, through the consulting arm of his company Earl Giles. El Diablo is a sort of tequila mule enhanced with cinnamon, plum and Cassis berries. Hearth-side is an herbaceous limey gin drink with clove and all spice. All are priced $10-$12.
The restaurant is part-owned by the owner of Dellwood Country Club, and the kitchen is staffed by some of the same team, including executive chef Peter Christenson and chef David Johnivin. These guys are clearly having fun and stretching themselves with the Brickhouse. Good news for people in the north and east suburbs: They have an excellent new neighborhood spot.
Brickhouse Food & Drink
4746 Washington Square, White Bear Lake
brickhousemn.com
Facebook Comments