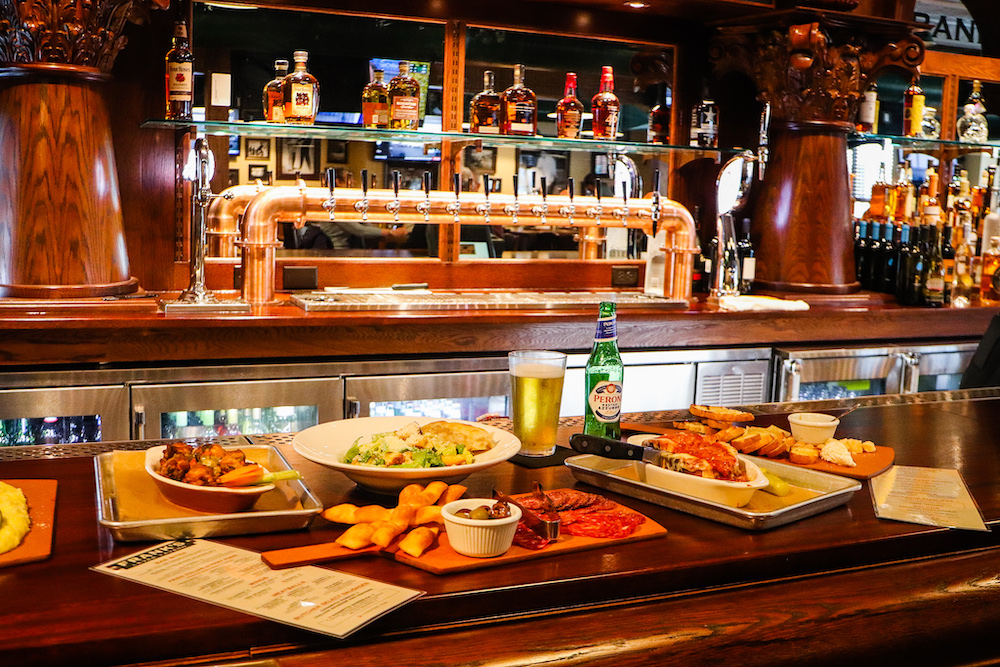 Finally! A place on the second floor of Cossetta where I can get a tap beer—and not just any tap beer. The newest addition to the growing St. Paul Italian empire claims to serve the "world's coldest beer." I can confirm that my Summit EPA was extremely cold.
Frank's Levee Tavern sits comfortably between the cafeteria-style eatery and pizza joint on the main floor and the higher-end, white-tablecloth Louis Ristorante & Bar upstairs. Think pre-game or pre-concert, whenever we go back to games and concerts at the X. There's a gorgeous replica of a hand-carved bar brought in from Italy. And don't worry, they haven't eliminated the second floor seating if you're showing up for mostaccioli or Italian sausage and peppers. This is in a relatively unused overflow section, essentially above the Italian market.
Frank's is a fun take on snacky bar food. Meatballs, wings, fried arancini (stuffed risotto balls). Who wouldn't want a baked-dough stromboli stuffed with salami, capicola, and other meats and cheeses to dip in pomodoro red sauce? The wings are winners: Pick from five types of dry-rubs, including a tasty calabrese and a smoky/spicy New Orleans rub.
We loved the porchetta cossetta sandwich. In true Cossetta style, it has already been named "our famous" porchetta sandwich, despite the fact that it's only existed for a couple of months. No matter: It's a worthy indulgence, with the fatty pork balanced by a punchy hot giardiniera.
There are some details to be improved upon: The hand-cut sea salt and vinegar potato chips didn't pack much vinegar punch, and the wild boar and taleggio meatballs were extremely salty. I'm not sure why they're doing focaccia-style pizza when they already have some of the best slices in the Twin Cities on the main floor. We know it's going to be challenging for many of you to deviate from your regular order downstairs, but belly up at the bar, enjoy an ice-cold beer, and give Frank's a chance.
310 N. Chestnut St., St. Paul, cossettas.com
Facebook Comments