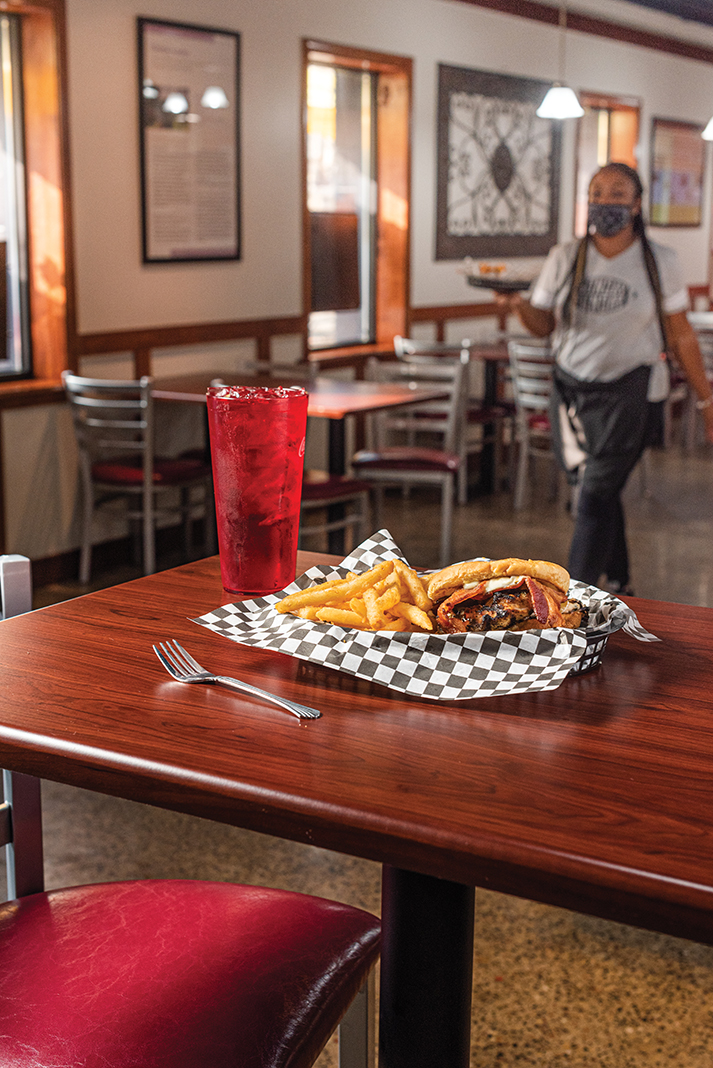 Sometimes, a plate of fried chicken is about more than being perfectly crisped and juicy. Sometimes it's about history, heartbreak, family, and legacy. It's a statement of survival.
St. Paul's Taste of Rondo Bar & Grill shouldn't have to exist, for many reasons. When America built the interstate highway system in the 1950s and '60s, I-94 carved St. Paul's Black community in half, destroying much of its commercial heartbeat. An American Legion hall on the south side of the highway near Lexington Parkway was one of the only businesses remaining, and in 2012 hometown guy and local Catholic Cemeteries manager Charles Carter bought the building.
Carter tried to run it as a private club, but it didn't really work. He knew he wanted the building to serve what remains of the Rondo neighborhood community as a gathering spot, so he spent four years getting approvals, remodeling, and working hard. Taste of Rondo was born, and, befitting the structure's status as a survivor of almost doomsday times, it opened during the summer of COVID.
"All my sweat and hard work, crying and praying to God—it feels good. Just to be open," Carter says. "It's not a perfect time, but it's time."
With chicken wings this good, Carter has nothing to worry about. They're nothing fancy—just technique that his mom and his mom's mom effortlessly mastered: soak them in buttermilk, then coat them in flour with a peppery blend of spices (Carter, of course, wouldn't reveal his secrets beyond that). Then fry it to 180 degrees and try to resist taking that first bite and burning the inside of your mouth.
"The recipes just come from the heart and soul," says Carter, who is originally from Mississippi. "It's natural to me. It's what we grew up on."
This is elevated soul food. The Cajun catfish is perfection. I ordered it blackened with a side of Creole sauce, a classic combination executed just right. (You might order it fried in cornmeal tempura.) The shrimp and grits is an appetizer—and my family enjoyed sharing it—but it would easily be a terrific meal. The creamy grits are thickened with smoked Gouda cheese and paired with brightly spiced jerk jumbo shrimp.
If the shrimp and grits taste familiar (they did to me), it's because extraordinary local chef Lachelle Cunningham is working with the cooks to make the food consistent, and helping Carter balance the budget. Cunningham opened Breaking Bread Cafe in North Minneapolis, and not only is she a talented chef overall, she has a special skill for soul food.
The sides are where the action is. Smoked pork collard greens are exceptional. The red beans with jasmine rice—oh, man, those red beans were so good. We really enjoyed everything we tried. The philly cheese steak is made with freshly sliced and grilled sirloin, loaded with bell peppers, sauced with a decadent Swiss cheese sauce, and served on great hoagie bread from a local bakery, too.
Stick around for desserts. The Taste of Rondo pastry chef's lineup of homemade pies will change seasonally, but if you see a caramel apple pie, jump on it. That pie crust: buttery, flaky goodness!
In this time of upheaval, I can't think of another restaurant more worthy of our support. Taste of Rondo is making a statement about community. It's a place where you can eat next to the local priest and the neighborhood activist. It's a Black-owned and -run business, led by a guy who made it his mission to bring business to what's left of Rondo. In a time when all of us are trying to figure out how to move our community forward after the death of George Floyd, sharing a perfect plate of fried chicken with our neighbors feels like a good place to start.
976 Concordia Ave., St. Paul
651-348-2615
tasteofrondostp.com