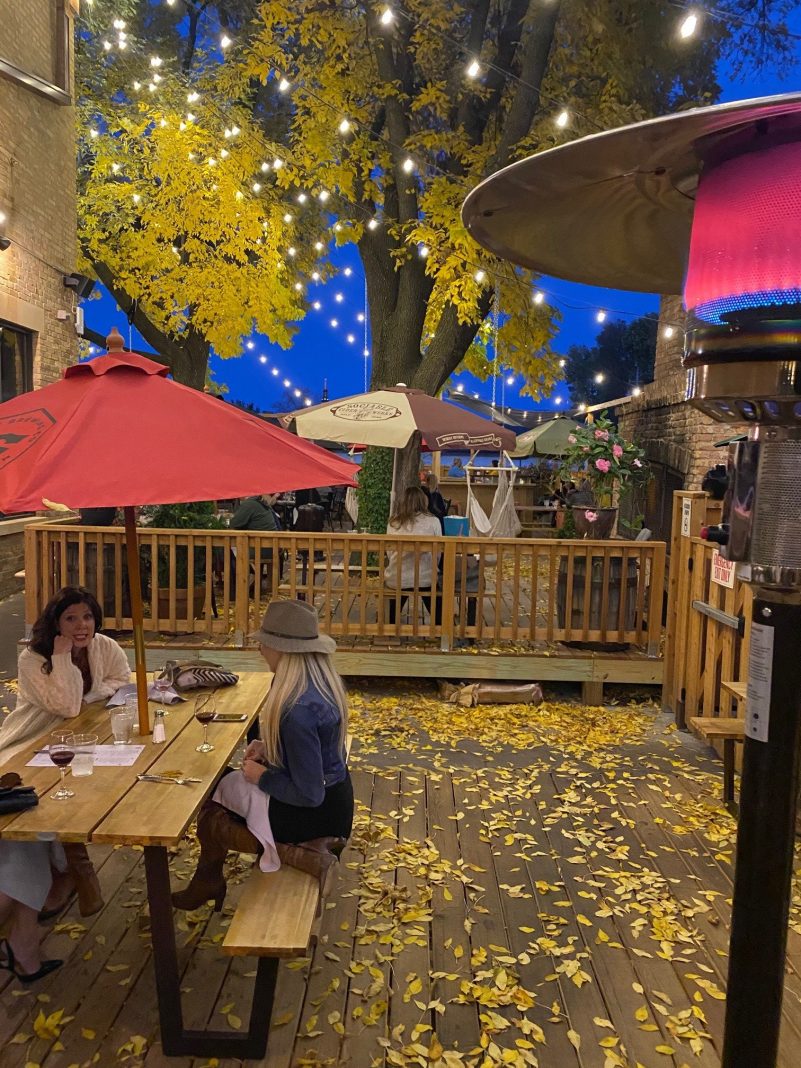 The Gnome Craft Pub is many things on Cathedral Hill: St. Paul's newest and largest patio, the home of St. Paul's largest collection of tap beer (I counted 52 on my last visit), and your raclette headquarters.
What is raclette? Traditionally it's a cow's milk cheese from Switzerland that is melted over and scraped onto, well, whatever you want to scrape it on. The Gnome's raclette appetizer is a stack of thinly sliced ham atop a pile of snack-size purple and white potatoes. It's fantastic; the only thing that would make it better would be the theatrics of the special raclette melter, and a chef scraping the cheese tableside.
What the Gnome sacrifices in terms of drama, it makes up for in speed and efficiency of service. My family sat down at prime time on a full 200-seat patio, and we had drinks, appetizers, and main courses all within an hour. Impressive considering the quality of the food, and the quality of our experienced server.
There's something about this space, about this menu and this team that just radiates joy. Yes, they took the "happy" out of the name of the former Happy Gnome, but the spirit of friendliness and fun lives on. Hope Breakfast Bar founders Brian and Sarah Ingram expanded the outdoor seating to create a 200-seat patio, adding the whimsey of a bunch of hammocks (which we'll see next spring again) and the St. Paul practicality of a bunch of wooden picnic tables.
Upstairs is a game room/band stage/party place, for when we return to that sort of stuff. Culinary director Justin Sutherland has done a nice job dialing in the food: Snacks are elevated, like a poutine with veal demi and duck wings with green curry and mango. They're also ridiculous, like a 30-ounce braided pretzel ring encircling the largest mound of pimento cheese I've ever seen at a restaurant, the entire thing topped, of course, with melted raclette.
You'll see that raclette often on the menu, and why not?
We loved it on the carved wet pork, which reminded me of the flavor profile of a Chicago-style Italian beef sandwich. Juicy, slow-roasted pork in au jus, topped with a zippy giardiniera and smothered in raclette. You can get a similar treatment on a beef barbacoa sandwich. The cheese burger blended skirt steak and pork belly, topped with (you guessed it!) raclette. Grandma's chicken sandwich has Sutherland's fingerprints all over it: Japanese fried chicken with an extra-crispy shell topped with crisply pickled cabbage and a sweet and spicy candied jalapeño mayo. This is a great chicken sandwich.
The half-chicken, prepared beer-can style, was a disappointment: The chicken wasn't juicy, the skin wasn't crispy, and sitting on a giant mound of cheese polenta, the plate was an unappetizing pile of beige. 
Get the whole grilled fish, rubbed with anchovy and fresh herbs, instead, or the gluttonous and decadent beef-and-bone-marrow pot pie. Served in a cast iron skillet topped with pie crust and demi glaze, the ossobuco beef was perfect. Dare to spoon out some of the marrow from the bone in the center of the pie, and mix that fatty meat butter into the mix. Oh, my.
Giant portions, value prices, and, like Ingram's other restaurants, at least 3% of profits are donated to neighborhood charities.
The Gnome Craft Pub
498 Selby Ave., St. Paul
651-219-4233
thegnomepub.com
Facebook Comments