Can't make it to any big Hollywood parties for the Academy Awards this Sunday, March 12? You just might want to polish up your repertoire of snacks for a party of your own—or show up at your friend's place with a step up from a bag of chips. The following ideas elevate the healthy asparagus spear, wrap up crunchy breadsticks with savory prosciutto and pair with a decidedly different dip, and popcorn, the movies' "best friend," mixes it up with sweet additions. Take a cue from caterers and think a little more about the presentation. Dig out your fun trays or plates and cocktail glasses for serving your snacks with style.
Bacon And Cheddar Cheese Ball
Makes 1 Cheese Ball | Courtesy Wisconsin Cheese
Jazz up this party favorite with the addition of smoky bacon and green onions; use a superior sharp cheddar cheese for a bolder combination of flavors that's sure to complement whatever you pair it with.
8 ounces bacon strips
1 package (8 ounces) Crystal Farms Original Cream Cheese, softened
8 ounces Gibbsville Sharp Cheddar cheese, shredded (2 cups)
¹⁄3 cup thinly chopped green onions
½ teaspoon crushed red pepper flakes (optional)
Assorted crackers and apple slices, for serving
1. Fry bacon in a large skillet over medium heat until crisp. Remove bacon to paper towels to drain. When cool enough to handle, crumble bacon.
2. Beat cream cheese in a bowl until smooth. Stir in the cheddar, green onions, red pepper flakes, if desired, and half of the bacon.
3. Transfer to plastic wrap; shape the cheese, with wrap, into a ball. Wrap in plastic wrap. Refrigerate for 1 hour or until firm.
4. Unwrap and roll cheese ball in remaining bacon. Serve with crackers and apple slices.
Crispy Roasted Asparagus with Sesame Dipping Sauce
Makes 4 Servings
The fastest path to asparagus nirvana is to steam the stalks and dunk them in mayonnaise spiked with a little soy sauce and sesame oil, says chef and food writer Regina Schrambling, who contributed this recipe to Real Food. Roasting takes slightly more time but produces both more intense flavor and a great crisp texture that goes even better with a lighter dipping sauce she notes.
¼ cup sesame seeds
½ cup panko or other dry bread crumbs
1 pound asparagus
1 large egg, white only
1 tablespoon milk
¹⁄3 cup tamari or soy sauce
2 teaspoons grated fresh ginger
2 teaspoons chopped chives
2 teaspoons hot sesame oil
1. Preheat oven to 300°F. Spread sesame seeds in a small baking dish and toast until lightly browned, about 10 minutes. Cool.
2. Raise the oven setting to 375°F.
3. Break off tough woody ends of asparagus and discard. Wash spears well in cold water, drain, and pat completely dry. Beat egg white and milk together in a shallow dish until well blended. Combine sesame seeds with panko in a second shallow dish. Dredge asparagus spears in egg white, then in sesame mixture, turning to coat well. Lay on a rack set over a heavy baking sheet, or onto a foil-lined rimmed baking sheet. Let stand 10 minutes, and then roast until crisp, about 10 minutes depending on thickness.
4. While asparagus cooks, combine remaining ingredients in a bowl and blend well. Serve asparagus hot or cold with sauce for dipping.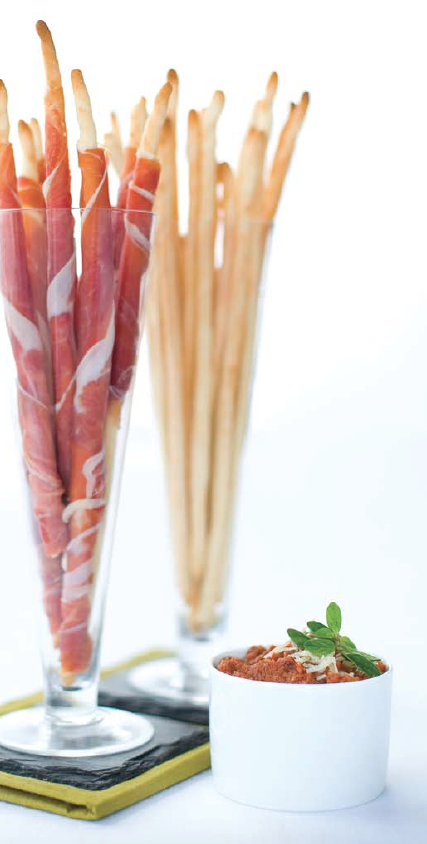 Prosciutto-Wrapped Grissini with Red Pepper-Dried Cherry Tapenade
Makes 18 grissini (serves 6).
Photo by Terry Brennan, food styling by Lara Miklasevics.
Grissini are ultra-thin breadsticks from Italy. Have the prosciutto sliced very thin so that it can be easily wrapped around each breadstick, suggests chef Rozanne Gold, who contributed this recipe to Real Food. Then dip them into this unusual tapenade for an addictive appetizer, which is also delicious simply spread on slices of toasted baguette.
1 (12-ounce) jar roasted red peppers
1 cup dried cherries
1 cup pecans, lightly toasted
²⁄³ cup grated Parmigiano-Reggiano
¹⁄³ cup olive oil
¼ small clove garlic (optional)
18 grissini
18 very thin slices prosciutto
1. Drain peppers in a colander and rinse under cold running water. Drain well and pat dry. Put cherries in a small bowl. Cover with boiling water and let sit 5 minutes to soften. Drain and pat dry.
2. Put peppers, cherries, and pecans in bowl of food processor and process until blended. Add cheese and olive oil and process until smooth. Transfer to a bowl. Push garlic through a garlic press and stir into spread, if desired. Add salt and freshly ground black pepper to taste. Cover and refrigerate until ready to use.
3. Tightly wrap one slice of prosciutto, in a spiral fashion, around each breadstick to cover (leaving an inch at one end of the breadstick uncovered so that it can be picked up).
4. Place prosciutto-wrapped grissini in a deep, narrow bowl or vase so that they stand up. Serve with the tapenade for dipping.

Photo courtesy of The Popcorn Board
Red Carpet Popcorn Parfait
Makes 8 cups
This glamorous, shimmery mix, courtesy of the Popcorn Board, will surely impress guests and offers a salty sweet crunch to the snack lineup.
8 cups salted, lightly buttered popped popcorn (See Note)
1 teaspoon edible gold dust
1 cup sliced or slivered almonds
2 tablespoon butter
1 cup dark chocolate chips
1. In a large bowl, toss popcorn with gold dust. In a skillet, toast almonds over medium-low heat for about 5 minutes or until lightly browned. Transfer to plate; let cool.
2. Melt butter in a small saucepan set over medium heat; toss with popcorn mixture.
3. Layer popcorn, chocolate chips, and toasted almonds in plastic champagne cups.
Note: Keep in mind that popcorn kernels expand up to 40 times their original size. So 1 ounce, which is 1/8 cup or 2 tablespoons of un-popped kernels will make 4 cups (1 quart) of popped popcorn.