W.A. Frost Patio
Photo by TJ Turner
---
Each month, in our Restaurants Revisited conversation, MnMo food critics Jason DeRusha and Joy Summers return to an "old favorite" restaurant and assess how it's faring.
---
Joy: Summer means mandatory outdoor dining—we only have so many perfect nights to spend as much time as possible outside. Stepping into the patio behind the 40-year-old W.A. Frost is a bit like discovering a secret garden. 
Jason: Few and far between are the Twin Cities patios with shade from fully mature trees, as well as multiple levels that offer relatively intimate dining.
Joy: Whenever I go to Frost, the team at the host stand always gives me a bit of a red velvet rope vibe—I'm not sure I'm welcome to grab a chair on the patio. On my last visit, there were plenty of open spots, but they frowned and were reluctant to seat us. So we headed to the outdoor bar at the back, where it's first come-first served, and found two free stools.
Jason: They do take walk-ins, but it gets so busy in the summer, even for a Monday night we made a reservation for a table on the patio just to be safe—call ahead, because you can't book outdoor tables online. Service was very slow. Our server was great, but he disappeared for large chunks of time.
Joy: The wonderfully sticky, mahogany-glazed Korean barbecue chicken wings never disappoint, but the creamy dill sauce always seems unnecessary. They make a great pair for Frost's classic cocktails. But skip the by-the-glass wine list—ours arrived too warm, and I thought the selection was mediocre and a little over-priced, not what I'd expect from a restaurant of this caliber.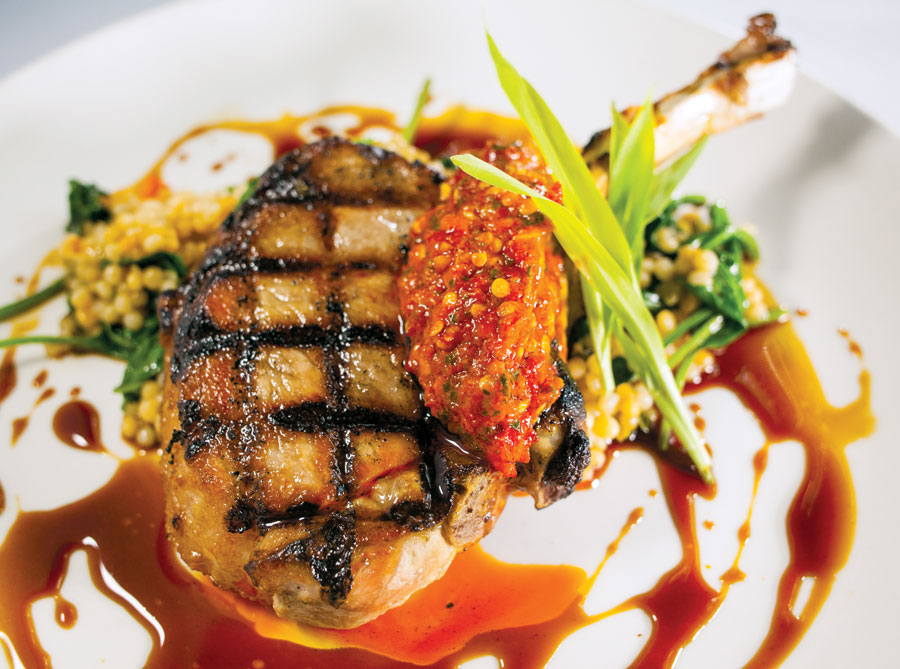 Pork Chop
Photo by TJ Turner
---
Jason: The bottle list is better, with a strong catalog of Rieslings. And the food was far better—not to mention more creative—than I expected from a longtime institution that could get by on looks alone. For patio season, I'd recommend the micro entrées. They're a perfect portion size and prices run between $12–$16. We liked the vegetarian bucatini and the duck confit with Asian rice noodles.
Joy: I absolutely agree, we loved that bucatini! It was perfectly cooked, delightfully seasoned, and well priced. We also enjoyed the burger. It arrived just blushed in the center and accompanied by skinny fries—ideal outdoor eating. 
Jason: The pork chop had a nice smoky and spicy chimichurri sauce made with Calabrian peppers; I also really loved the lamb shank braised in curry sauce, and the date chutney added a great sweet counterpoint.
Joy: This place is classic for good reason, and what a gorgeous setting. If only summer lasted just a little longer. 
---
W.A. Frost Quick Tips
Reservations: Call ahead for the choice patio seats.
Best Buy: Micro entrées run $16 or less.
Parking: There's a second lot half a block down Selby at the end of the building.
W.A. Frost, 374 Selby Ave., St. Paul, 651-224-5715, wafrost.com
Facebook Comments