There is no shortage of cookies, cakes, candy and other sweets this time of year. A savory snack can be just the right thing to offer a delicious balance. And with more time spent streaming favorite shows and movies, who wouldn't welcome the favorite movie companion—popcorn?
Make a batch, package it in an airtight tin or other container, and spruce it up for gift giving. It would be a welcome homemade gift shared at someone's doorstep. For the DIY-ers on your list, you could make up a popcorn kit: Wrap popcorn kernels, oil, and mix-ins so they can enjoy a special snack anytime.
Measuring
Keep in mind that popcorn kernels expand up to 40 times their original size. One ounce (1/8 cup or 2 tablespoons) of unpopped kernels equals 4 cups (1 quart) popped popcorn.
Popping Tips
• You can pop popcorn in any type of oil—sunflower, olive, canola, corn, or coconut—but do not use butter as it will burn under high heat. If you like butter, drizzle melted butter on your popcorn after popping.
• Pre-salting kernels toughens popcorn. So, salt the popcorn after it has been popped—or skip salt altogether and add salt-free spices.
Flavored popcorn, such as the Garlic and Herb Butter Popcorn recipe below, which is courtesy of The Popcorn Board, offers a tasty change of pace. Of course, if you do want to pop up sweet treats, I highlight a number of delicious options below in addition to more savory slants.
Garlic and Herb Butter Popcorn
Makes 8 cups (2 quarts)
This savory, aromatic recipe is a mouth-watering, soul-satisfying snack.
8 cups popped popcorn
3 tablespoons butter
1 tablespoon finely chopped fresh thyme
1 teaspoon finely chopped fresh rosemary
1 teaspoon finely chopped fresh sage
¼ teaspoon garlic powder
¼ teaspoon salt
¼ teaspoon pepper
Place popcorn in a large bowl and set aside
In a small saucepan, combine butter, thyme, rosemary and sage and cook over medium-low heat for 3 to 5 minutes or until melted and just starting to sizzle. Remove from heat. Let stand for 2 minutes to blend flavors.
Drizzle hot butter mixture over popcorn. Sprinkle with garlic powder, salt and pepper; toss until evenly coated.
Popcorn Garland Tip
If you're trying your hand at making popcorn garland this year, be sure to use day old popcorn, suggests The Popcorn Board. Stale popcorn will break less than fresh popcorn. Of course, you'll want plenty of fresh popcorn available for snacking.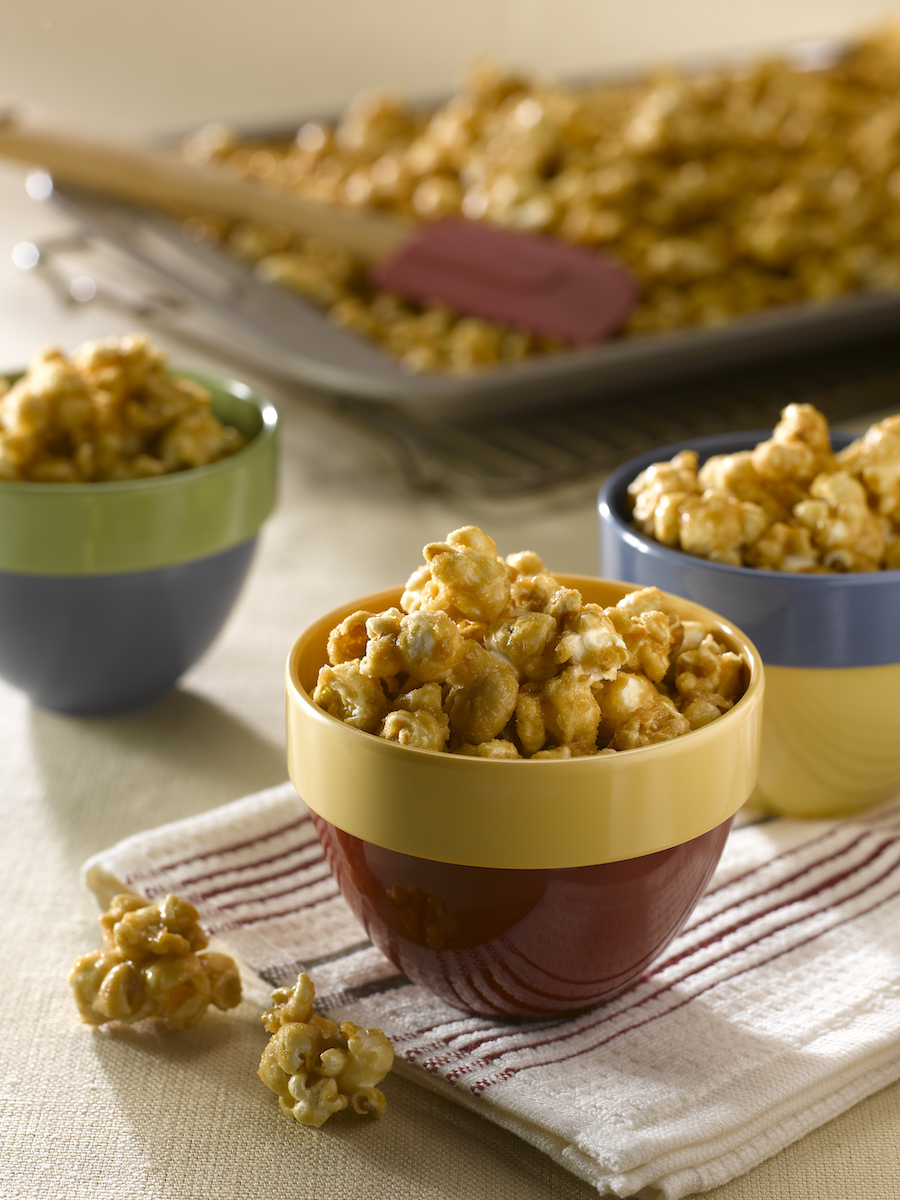 Hungry for More?
If you'd like some sweet ideas with your savory, check out these posts for more popcorn recipes to enjoy throughout the season.
Five Easy Popcorn Treats
Bring joy to the world this holiday season with popcorn treats and homemade gifts
6 Easy Popcorn Snack Recipes
Make a variety of sweet and savory popcorn snacks with ingredients you probably have on hand
Cinnamon Popcorn Crunch
Whip up this sweet and salty snack for game-day or cozy movie nights