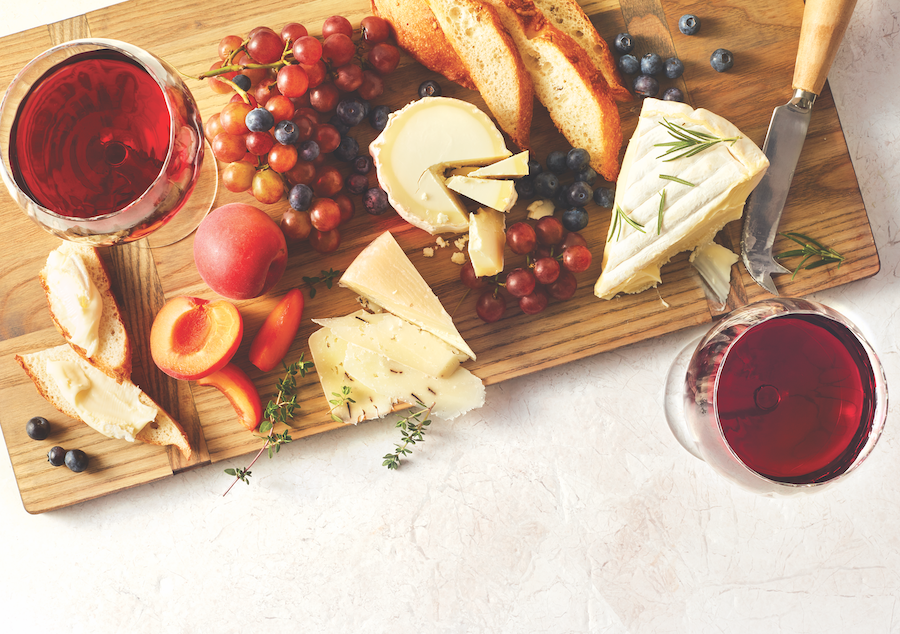 Not that we need an occasion to uncork a bottle of wine, but if you would like a reason, February 18 is National Drink Wine Day.
When you're selecting a wine to go with dinner, check out red blends. Just like a food recipe includes more than one ingredient, many of the best wines include more than one type of grape in their "recipe."
Blending varieties is a tool to build a more complex and balanced wine. Cabernet Sauvignon can add body and tannins to the mix, for example, while Merlot contributes fruity cherry flavors and more refined tannins to balance Cabernet's herbal nature.
Some of the world's highly acclaimed red wines from France are blends of different grapes, and winemakers in other parts of the world often emulate them.
• A "Bordeaux blend" usually consists of the three dominant red grapes from that region in southwest France—Cabernet Sauvignon, Cabernet France, and Merlot.
• "Red Rhône blends" usually are Grenache, Syrah, and Mourvèdre. In addition to time-tested favorites like French Bordeaux or Rhône red, California blends offer some delicious options.
Looking for a Bordeaux style? Check out red blends from Northern California regions such as Napa Valley and Sonoma County.
If the Rhône blends sound more to your liking, try red blends from Central Coast appellations such as Paso Robles and Santa Barbara County, where winemakers tend to feature that mix.
Uncork your versatile Bordeaux-style blend alongside a charcuterie board with Brie and camembert as well as goat and sheep's milk cheeses. Steak, burgers and sausage or a pasta bake with meat would also make tasty matches. A Rhône blend also complements a burger as well as pork, duck, lamb, a comforting meatloaf and barbecued chicken. When your wine "recipe" mixes in a variety of grapes to balance flavors, it can't help but offer a food-friendly choice.
Thirsty For More?
Want to sip, swirl and savor delicious wine and food? Check out Minnesota Monthly's Food and Wine Experience March 4, 5 and 6, 2022 at Target Field. For more information and tickets, click here.
Hungry for More?
Check out these wine pairing topics I have highlighted here:
Pairing Snacks and Wine
Wine makes a great match with chips, popcorn and all your favorite snacks any night of the week
Facebook Comments