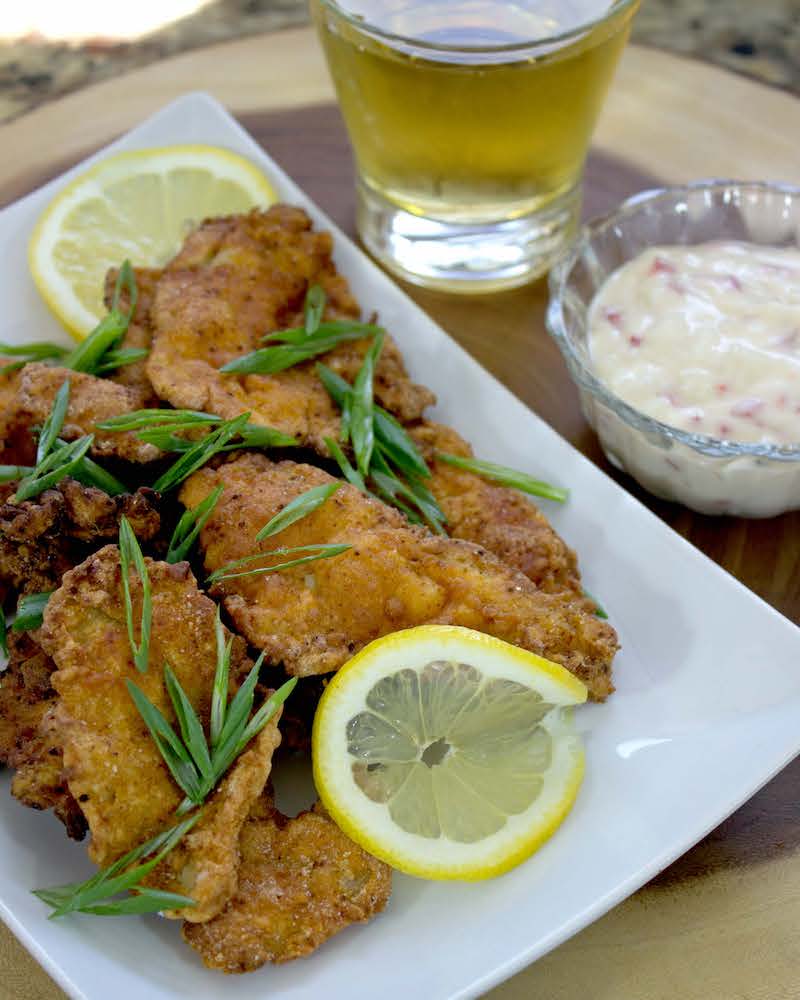 You won't find people stretching their arms way out in a fish tale to describe the sunfish that got away, but these staples of Minnesota lakes still make for a fish fry worth bragging about.
With a whole season ahead for fishing, parties, and hanging out at cabins, this seemed a perfect time to highlight the Hot Fried Sunnies with Pickled Onion and Chile Mayo recipe by Twin Cities food writer Keane Amdahl from his book, Lake Fish: Modern Cooking with Freshwater Fish. The coating for the light and flaky little fillets heats things up with some cayenne, and a flavorful dipping sauce finishes it off. The recipe calls for 1 pound of sunfish fillets, which is about 20 fillets—so get fishing!
If you land some northern pike, Amdahl's cookbook recipe for Grilled Northern with Sauce Vierge will help you easily cook up your catch with a sauce he says you'll return to again and again.
Hot Fried Sunnies with Pickled Onion and Chile Mayo
Makes 2 to 4 Servings
This great twist on the classic northwoods sunfish fry features just a little kick. The recipe is really flexible, and if you want it hotter, simply increase the amount of cayenne.
For the Pickled Onion and Chile Mayo
1 tablespoon sugar
¼ cup cider vinegar
½ cup finely chopped onion
½ cup mayonnaise
1 red chile, finely chopped
salt, to taste
For the Fish
1 cup all-purpose flour
2 tablespoons cayenne
1 large egg
1 tablespoon hot sauce
1 pound skinless sunfish fillets
2½ cups vegetable oil
salt, to taste
lemon and chopped green onion, for garnish
Make the Pickled Onion and Chile Mayo: Place the sugar and vinegar in a small saucepan and bring to a boil. Cook, stirring, until the sugar dissolves, remove from heat, and stir in the onions. Set aside to cool.
In a small mixing bowl, stir together mayo, cooled and drained onions, and chopped chile. Season with salt to taste. Refrigerate until needed.
Set up a basic frying station. Stir together flour and cayenne, then divide the mixture equally onto two large plates. Crack the egg into a bowl, stir in the hot sauce, and beat until smooth. Dredge each fish fillet through the first plate of flour to coat, then dip in the egg mixture, allowing excess to drip away. Then re-dredge using the second plate of flour. Place fillets on a plate or a rack.
In a medium to large saucepan over medium-high heat, warm the oil to approximately 350°F. Add in 3 to 4 fillets at a time and fry until golden brown, about 2 to 3 minutes. Drain on a paper towel–lined plate. Season with salt.
Place fillets on a serving platter and garnish with lemon or green onion along with the pickled onion chile mayo. Dig in!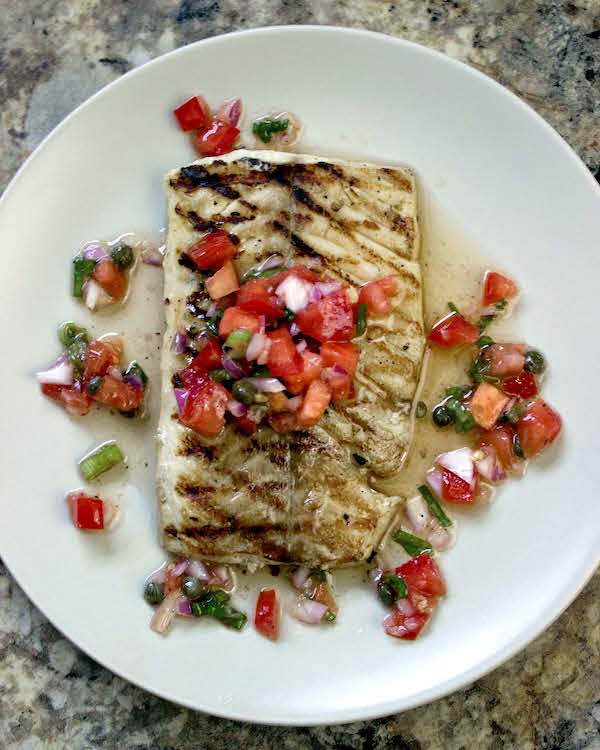 Grilled Northern with Sauce Vierge
Makes 2 to 4 Servings
One of the world's simplest combinations, sauce vierge goes so well with fish that after making it once, you'll return to it again and again. Serve with a side of your favorite roasted veggies.
2 cups tomato cut into ¼-inch cubes
½ cup finely minced red onion
2 tablespoons capers
2 tablespoons freshly grated lemon zest
2 tablespoons fresh lemon juice
¼ cup finely chopped basil
1 cup olive oil
4 (6-ounce) skinless northern fillets
In a large mixing bowl, stir together tomatoes, onions, capers, lemon zest, lemon juice, basil, and olive oil. Season with salt and pepper and refrigerate until needed.
Pat fish fillets dry and season with salt. Place a griddle pan over high heat and grease with nonstick spray. Add fillets and cook for about 2 minutes on each side or until the fish is cooked through and flakes easily. Serve the fish with the sauce.
Recipes and photos reprinted with permission from Lake Fish: Modern Cooking with Freshwater Fish by Keane Amdahl, published by the Minnesota Historical Society Press. mnhspress.org. The book is available at local independent, chain, and online booksellers or from mnhspress.org.
Hungry for More?
Check out these other recipes from Lake Fish by Keane Amdahl:
Facebook Comments