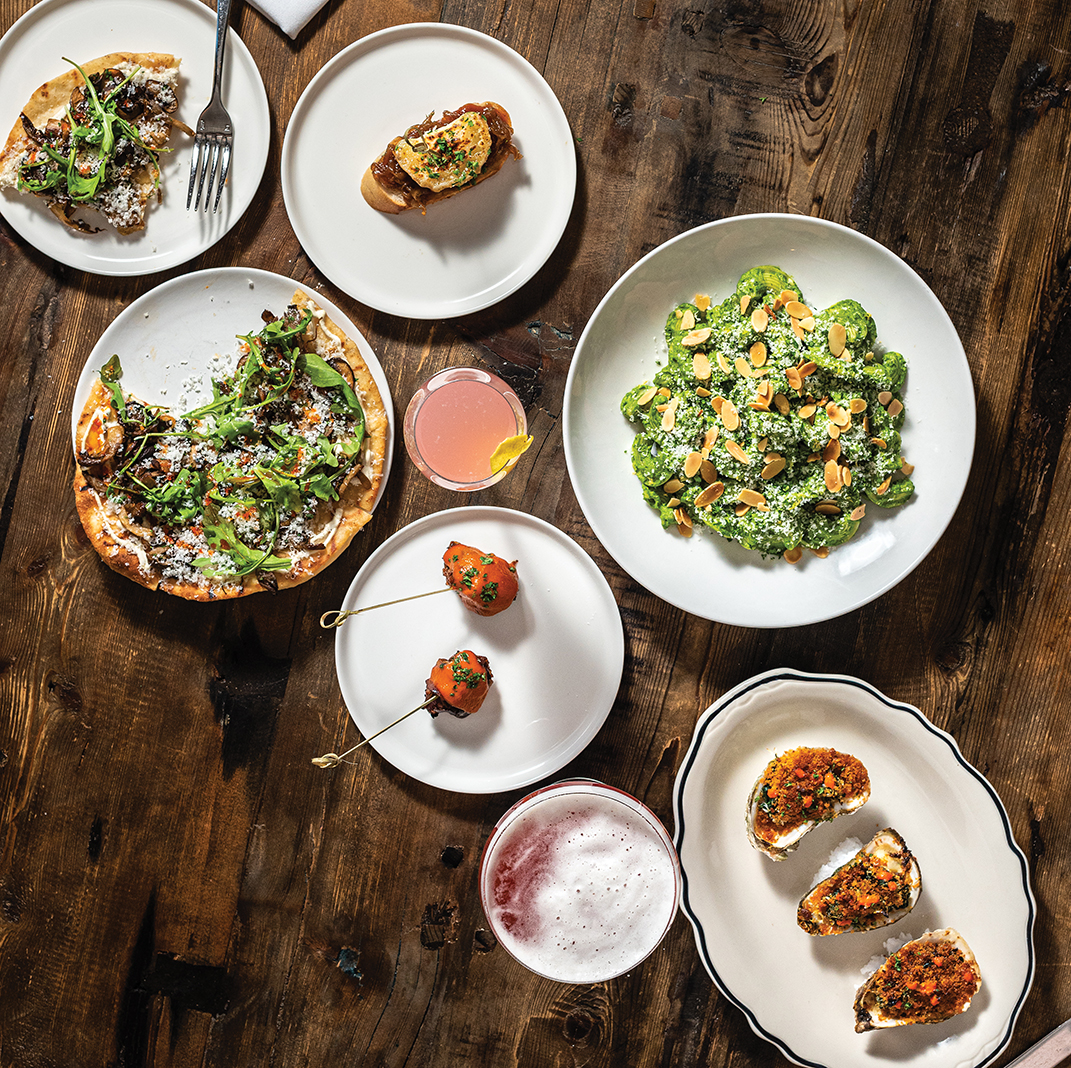 Urban neighborhood restaurants can be the toughest places to review. People who live around these spots absolutely adore them and desperately want me to adore them, so I visit and think, "I would never drive 30 minutes for this."
But something special happens when you walk into a dining room and feel the energy of a vibrant, glowing hub. It illuminates a neighborhood and makes you open up your Zillow app to start looking for houses. The service makes you smile, and the food keeps you thinking about it long after the leftovers are gone. Estelle, in St. Paul's Mac-Groveland neighborhood, is that place.
The menu feels like a backpacking journey through the most delicious parts of Southern Europe. Sit in the separate, narrow bar and you're visiting Spain. Pintxos (small dishes, mostly on skewers) include patatas bravas, with lemon aioli, and bacon-wrapped dates with a glorious Calabrian marinara. Everything is $3-$4, other than an absolutely worth-it $10 mussels escabeche—tender and tangy and soaring with an almost fruity olive-oil flavor.
But the dining room is where the real journey begins. Italian and Portuguese influences enter the conversation. Warm, friendly, and joyful service. Chef Jason Hansen and business partner Peter Sebastian grew up in Eagan, went to high school together, and have brought friends and colleagues from restaurants all over town to Estelle.
The baked oysters were simple and perfect: a chorizo butter, a sprinkle of Parmesan, the crunch of breadcrumbs. Fried coquettes of rice, with a hint of saffron in a pepperoni-infused red sauce, made the arancini special. Yes, there's a burger; it is a neighborhood restaurant, after all. But it's in the context of four "bocadillos"—sort of a Spanish version of a panini. The Madeira-marinated mushroom coca bocadillo had the perfect contrast of savory with a swoosh of crème fraîche, freshness from parsley and arugula, and spice from Dijon and chili oil. An ideal sandwich. Our group of four split one as a starter.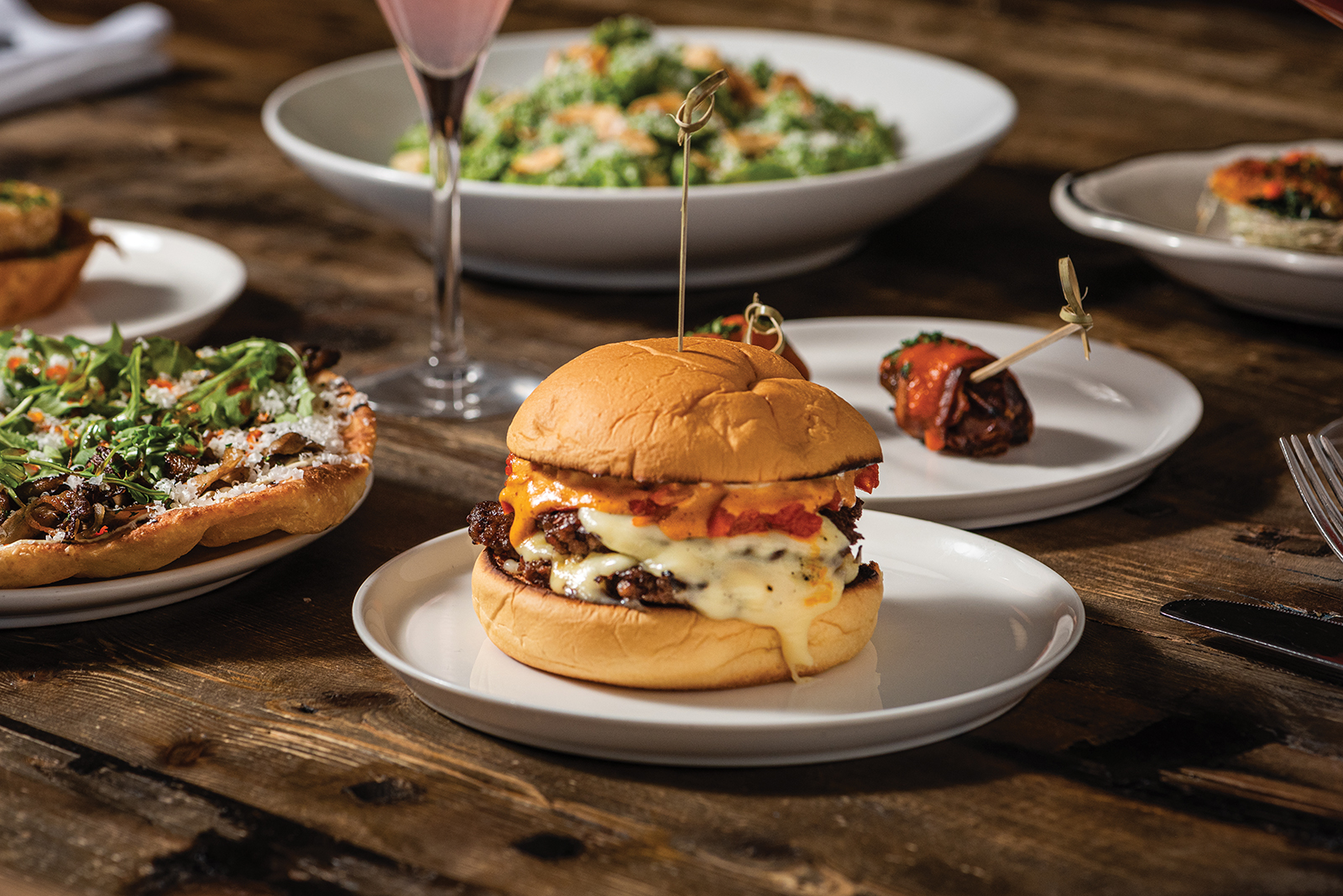 Rarely do I find myself enjoying the entrées more than the small plates, but this is where Estelle truly surprised and delighted. A Spanish Fideuà features clams, shrimp, and ham hock in a white-wine-and-tarragon broth. I'm still craving Hansen's version of rigatoni: bathed in a roasted red pepper sauce with extremely flavorful and bright fennel sausage. Those noodles had just the right amount of chew. The jalapeño pesto creste de gallo was the real achievement: a bright green bowl of macaroni-shaped noodles, each with ridges that look like the crest of a rooster. Shaved Parmesan on top, plus acid from a liberal dose of lemon that cuts the spice. This is the best pasta dish I've had in months.
Cocktails are fun, too, and most are around $10. Showdown in Tangletown is like a tequila mule with winter richness from allspice dram and blackberry bitters. Pelo de Perro uses Spanish gin and local Tattersall absinthe for a mysterious, late-night-in-Barcelona feel.
There are few neighborhood restaurants that truly become worthy destinations. Hansen worked at two of them: 112 Eatery and St. Genevieve in Minneapolis. He has learned from the masters and created a restaurant in St. Paul that you'd be ecstatic to live by and is absolutely worth the drive from everywhere else.
Estelle
1806 St. Clair Ave., St. Paul
651-330-9648
estellestp.com
Facebook Comments