An absolutely gorgeous re-do of the former Christos restaurant has Highway 7 hopping in the western suburbs.
Duke's is the latest expansion by the Craft & Crew group, the people behind Stanley's in Northeast and the Block in St. Louis Park, among others. Like all of their restaurants, Duke's has an enormous patio featuring four different frozen drink machines. (They call it a paw-tio because of its dog-friendly turf and menu of treats for your pooch.)
Duke's features the same solid burgers and brisket grilled cheese as other restaurants, but they're bringing in a juicy rotisserie half-chicken served with crispy bacon-roasted potatoes and a salad for just $23. It's so much food that they delivered it to my table with a box for leftovers.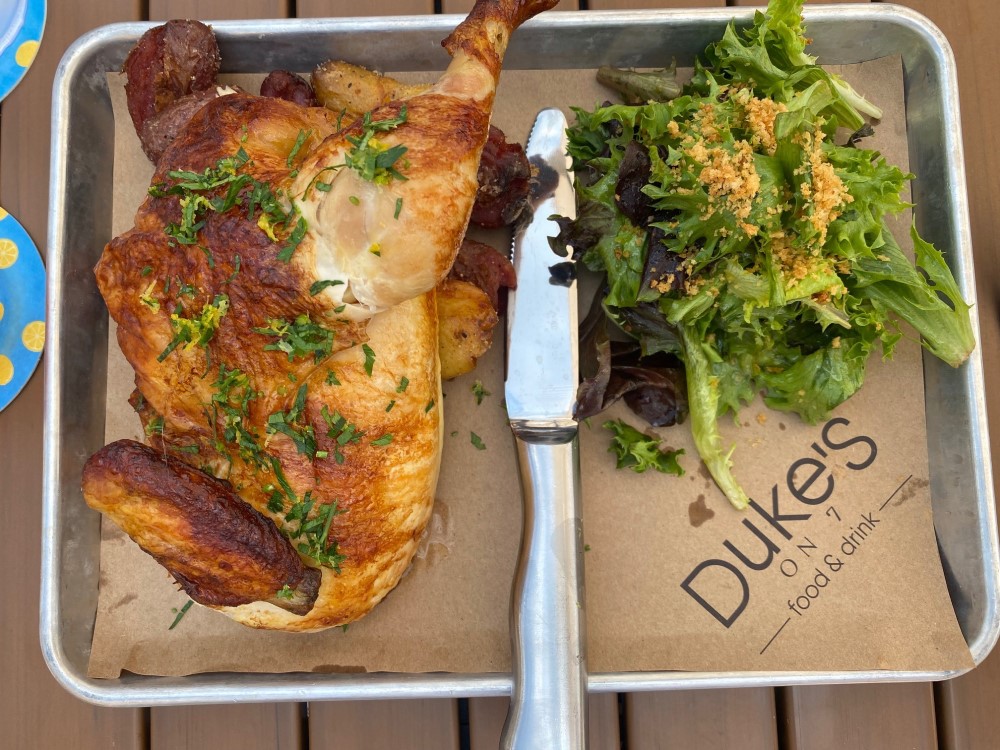 The snobby drinker in me was prepared to hate a drink with rainbow candies and a Red Vines straw, but I have to be honest—I really enjoyed the strawberry frosé, a just-sweet-enough frozen rosé.
Vegetarians and meat-eaters alike will enjoy the roasted cauliflower steak topped with shallots, raisins, and a romesco sauce. The corn masa cake with pico de gallo and fresh avocado is familiar to fans of the Block SLP and other Craft & Crew restaurants, and it's executed perfectly at Duke's.
The ice cream sundae is strictly 18-plus, featuring chocolate chip cookies baked with CBD sugar. I cannot report any high other than that from all the chocolate.
The staff here was extremely friendly, the vibe is terrific, and this is a huge win for a part of town seriously lacking in restaurant options, from a restaurant group that's really bringing in quality food and drinks all over the metro area.
Duke's on Seven
15600 Highway 7, Minnetonka
952-767-2320
Facebook Comments