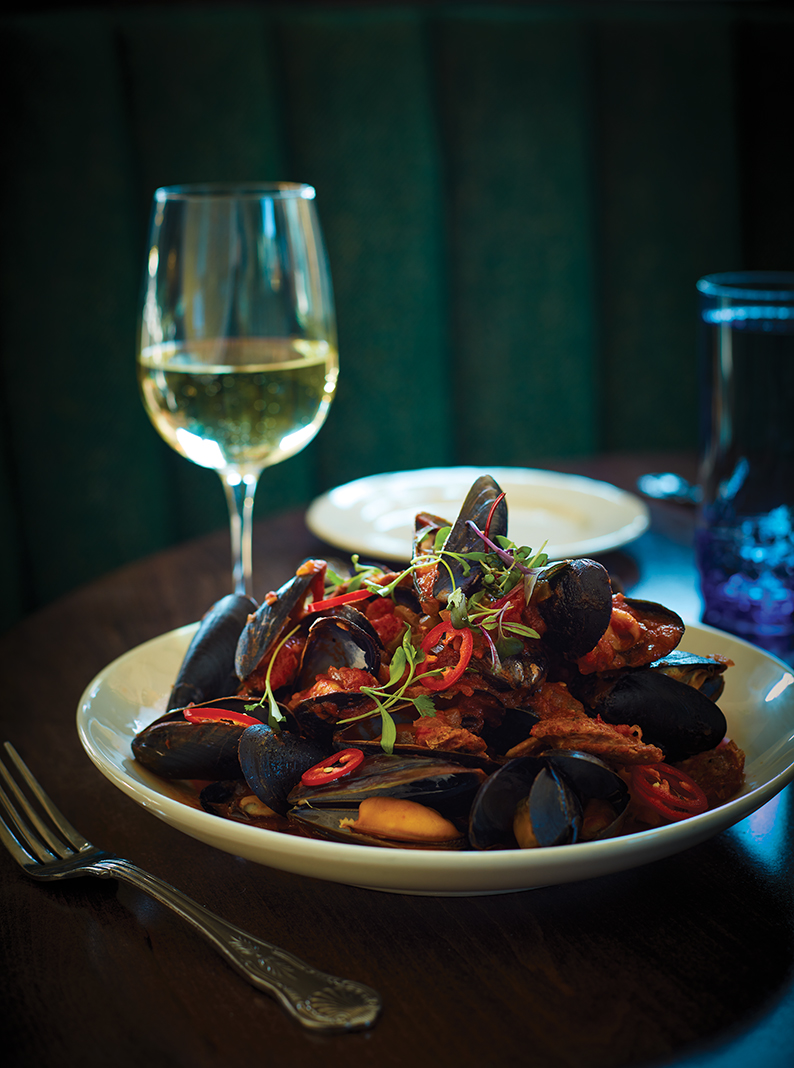 No disrespect to New York, Chicago, or Los Angeles—but to me, the greatest American city is New Orleans. It's the birthplace of jazz, the Sazerac cocktail, and the po' boy sandwich. There's an energy, a vibe, a sense that an adventure is hiding behind every wrought iron–gilded balcony. Opening a New Orleans-inspired restaurant outside of Louisiana is fraught with danger, though; it would be easy to make it a cartoonish, kitschy French Quarter rip-off complete with a carousel bar.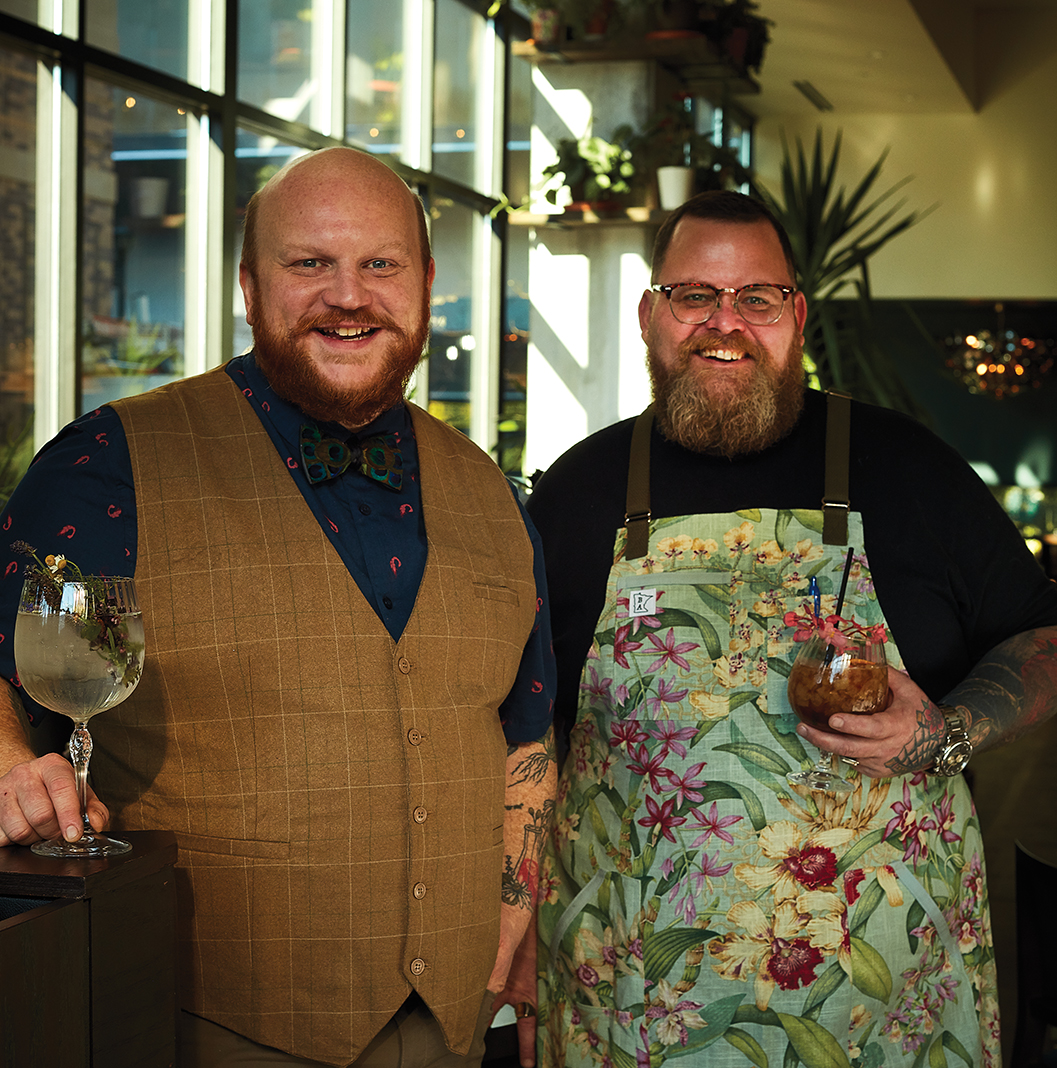 Mr. Paul's Supper Club is not that, and that electric New Orleans sense is its greatest success. It's loud. It's unpredictable. And it's so much fun you can't wait to come back. How did chef Tommy Begnaud and cocktail wizard Nick Kosevich do it? Begnaud channeled childhood visits to his grandfather, (Mr.) Paul, in Louisiana. You'll see pieces from the elder Begnaud's collection smartly integrated in a design that somehow makes you forget you're at 50th & France in Edina.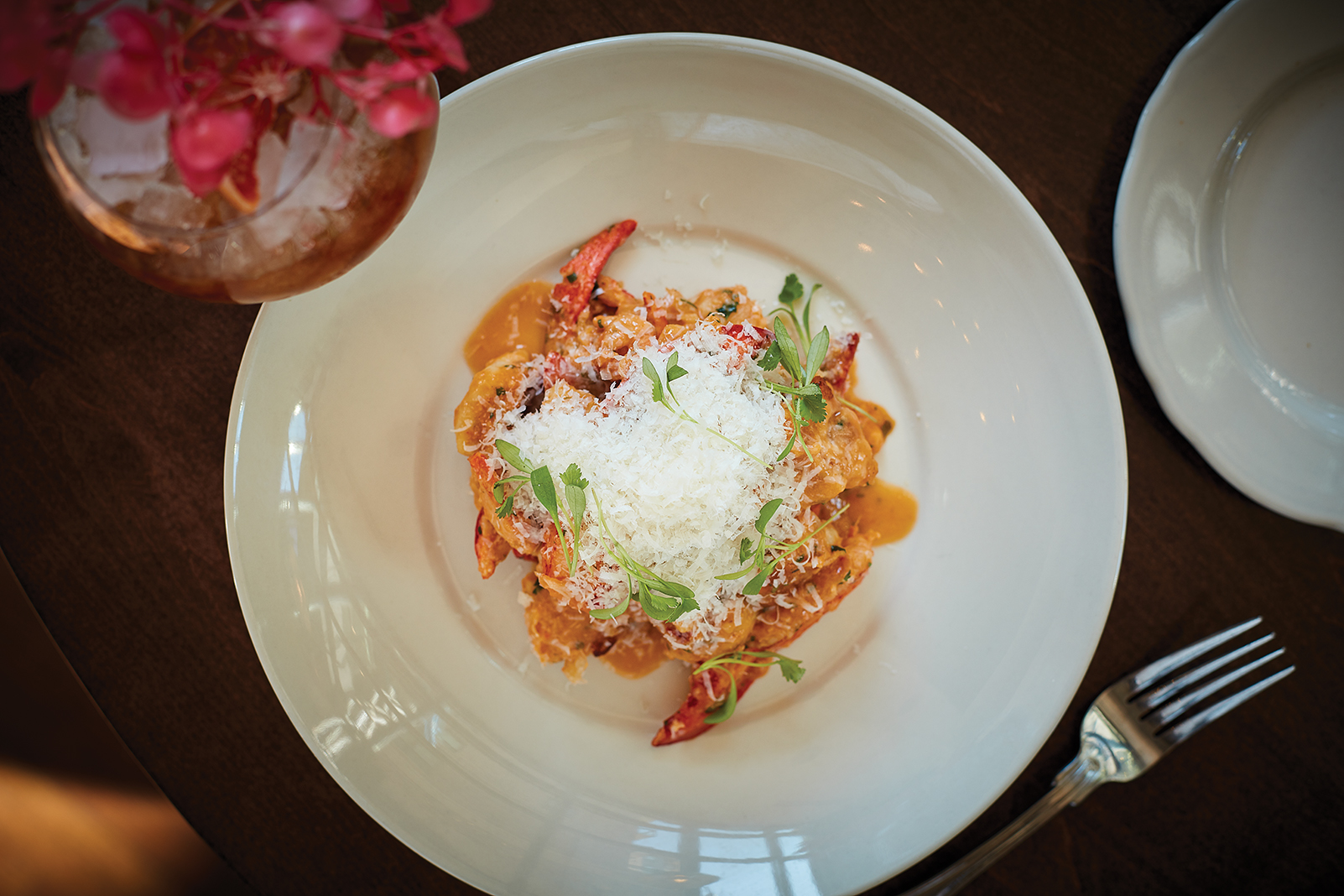 Even on a Wednesday night, we could feel the energy created by a combination of an experienced staff clearly allowed to show their personalities and a room designed for conversation and excitement. Surrounding the round tables with banquettes that open to the rest of the room—rather than closing groups off—is a subtle touch that makes a difference and sends a message. You're not just at Mr. Paul's to eat. You're part of the design; you're part of the fun.
The food is a crazy blend of Cajun and Creole classics and Minnesota supper-club favorites. Get a sirloin steak or a filet mignon—because you're in Edina, after all. Our $49 filet was incredibly tender and meaty with the perfect amount of char on the crust. It has to be, at that price point.
It would be easy to assemble a meal to share just from the appetizers. The relish tray is an homage to your grandma's favorite small-town dive, with a collection of pickled vegetables and spreads, but it's the incredibly light, eggy, and airy popovers that launch this decadent treat over the top. On paper, pairing that with a platter of chicken-fried Boudin balls might seem strange, but anything goes at Mr. Paul's. This Cajun treat is made up of rice, pork, and cheese, served with a punchy remoulade sauce. It's one of the great bar snacks in the Twin Cities right now and just $14.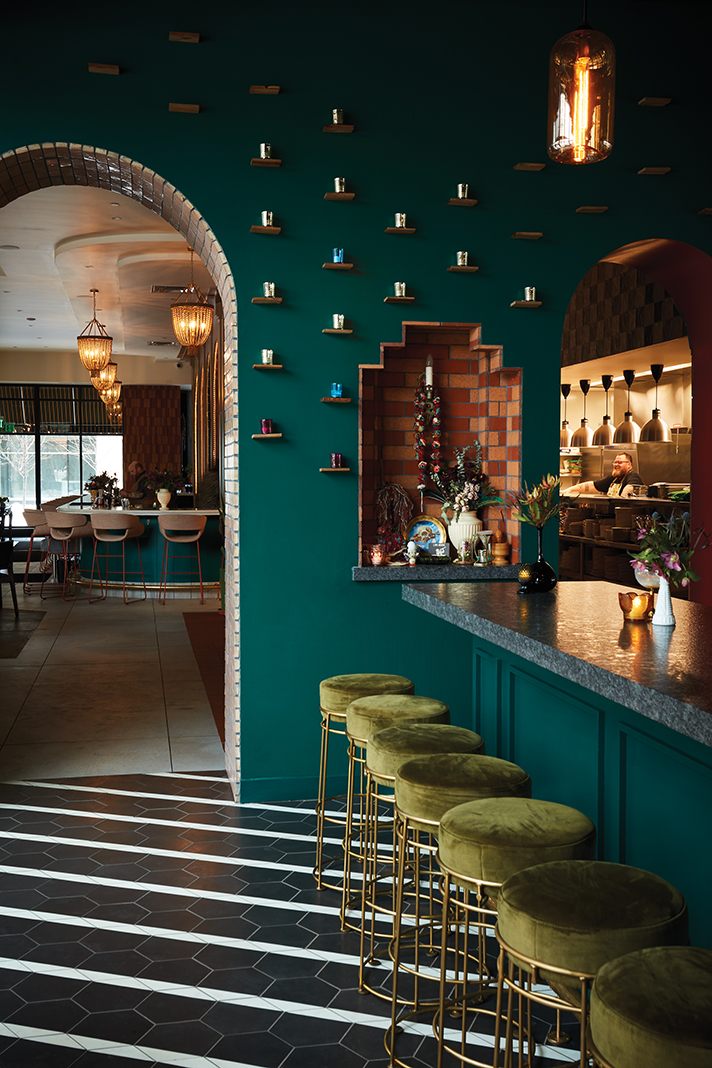 The duck and andouille gumbo ($14) is truly fantastic with its rich, hearty, bold, spicy flavor explosion. And yes, that is a dollop of potato salad on top, which perfectly cuts through the meaty flavors beneath. We loved the crawfish gratin ($15) with its sweet Louisiana crustacean that tastes somewhere between a shrimp and a crab, blended into an over-the-top celebration of Gruyere and Parmesan cheeses with heavy cream and butter.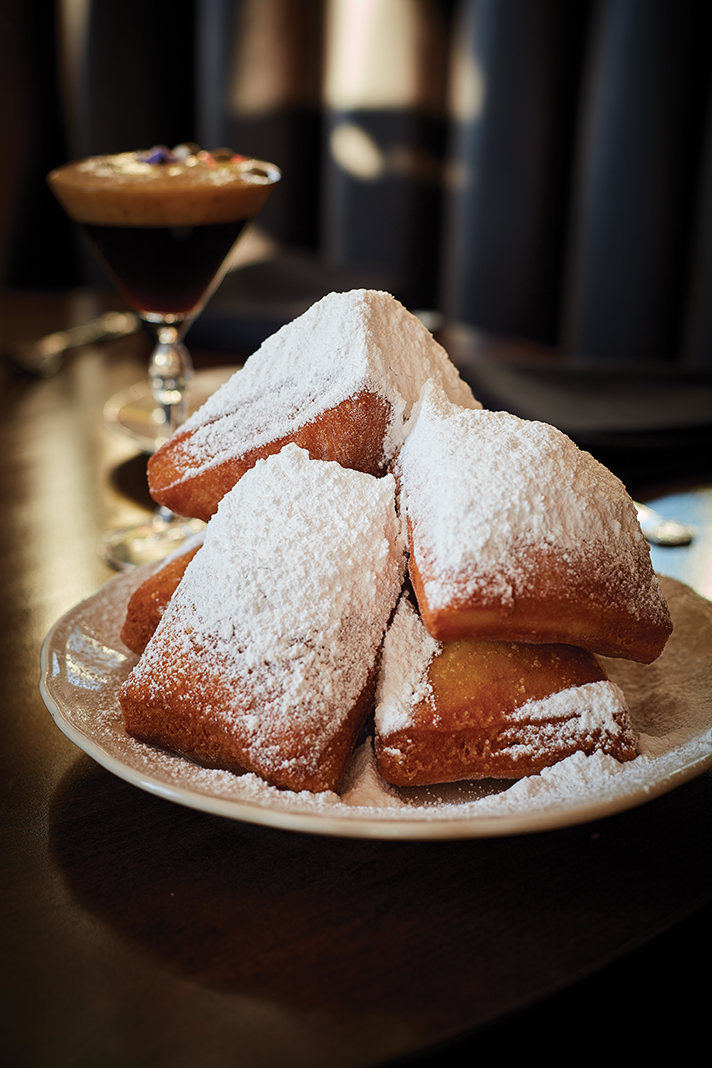 The gentle flavor of halibut is a perfect companion for a Creole-style bourride: a classic French soup with lots of saffron and fennel. Here, the bourride is a thin layer with a touch of heat and a bunch of seafood—shrimp, mussels, and a filet of halibut. It's a surprisingly elegant dish, light and filling at the same time ($43).
As for the drinks: Fasten your seatbelt. Much like the bartenders in New Orleans who pioneered such drinks as the Ramos Gin Fizz and the Hurricane, Kosevich has been a pioneer of craft cocktails dating to his days at Town Talk Diner, where he and Begnaud worked together. The Hurricane and Supper Club Sazerac are both musts; a glitter-dunked cherry tops the former, and "Mr. Paul's Miracle Cocktail Enhancer'' is the mysterious magic inside the latter.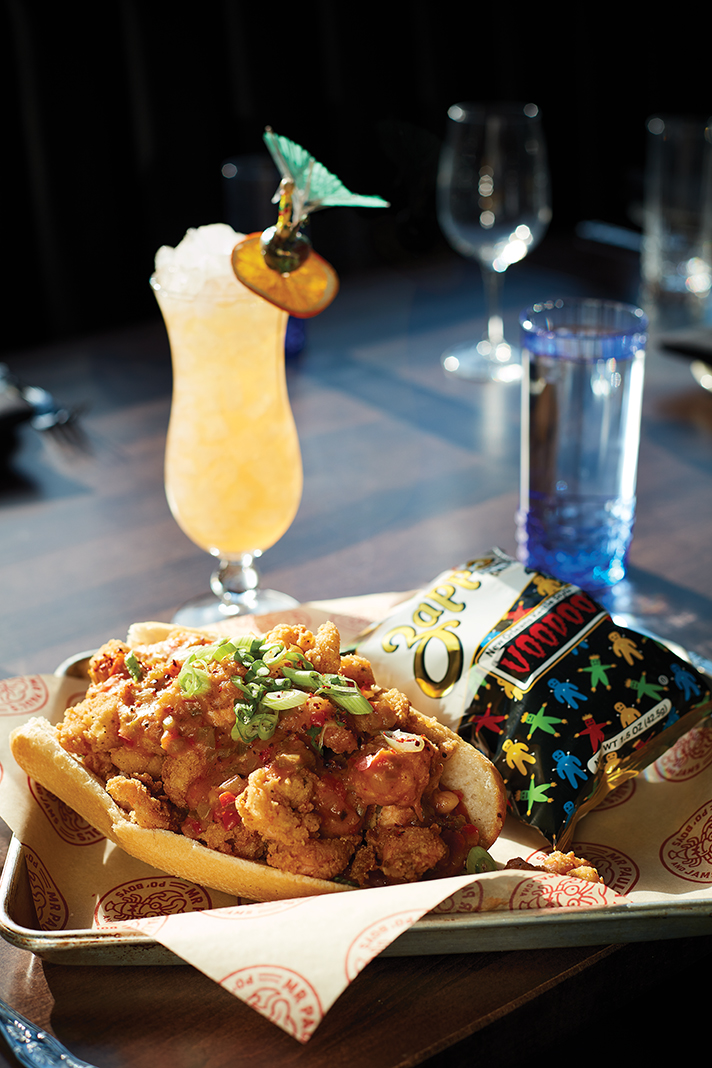 Lunch brings the same fun vibe in a po' boy shop with a separate entrance at the rear of Mr. Paul's, featuring enormous fried oysters and shrimp sandwiches with extremely friendly service. The po' boy shop converts into a cocktail lab for Kosevich's periodic seven-course "cocktail circus" and food pairing for 10 (reservations required).
A spritz of this, a dash of that, a bartender yelling out greetings to some regulars, and an owner bringing a handful of helium balloons to a random table—this is what going out is supposed to be like. I wouldn't have guessed 50th & France would be the epicenter of unexpected joy at a Cajun-inspired supper club, but I sure am delighted it is.
Mr. Paul's Supper Club
3917 Market St., Edina,
612-259-8614,
mrpaulssuppserclub.com
Reservations
Recommended for dinner, walk-ins at the bar as well as Po' Boys and Jams
Hours
Tuesday-Sunday, 4-10 p.m.
Po' Boys and Jams: Tuesday-Sunday, 11 a.m.-3 p.m.
Facebook Comments