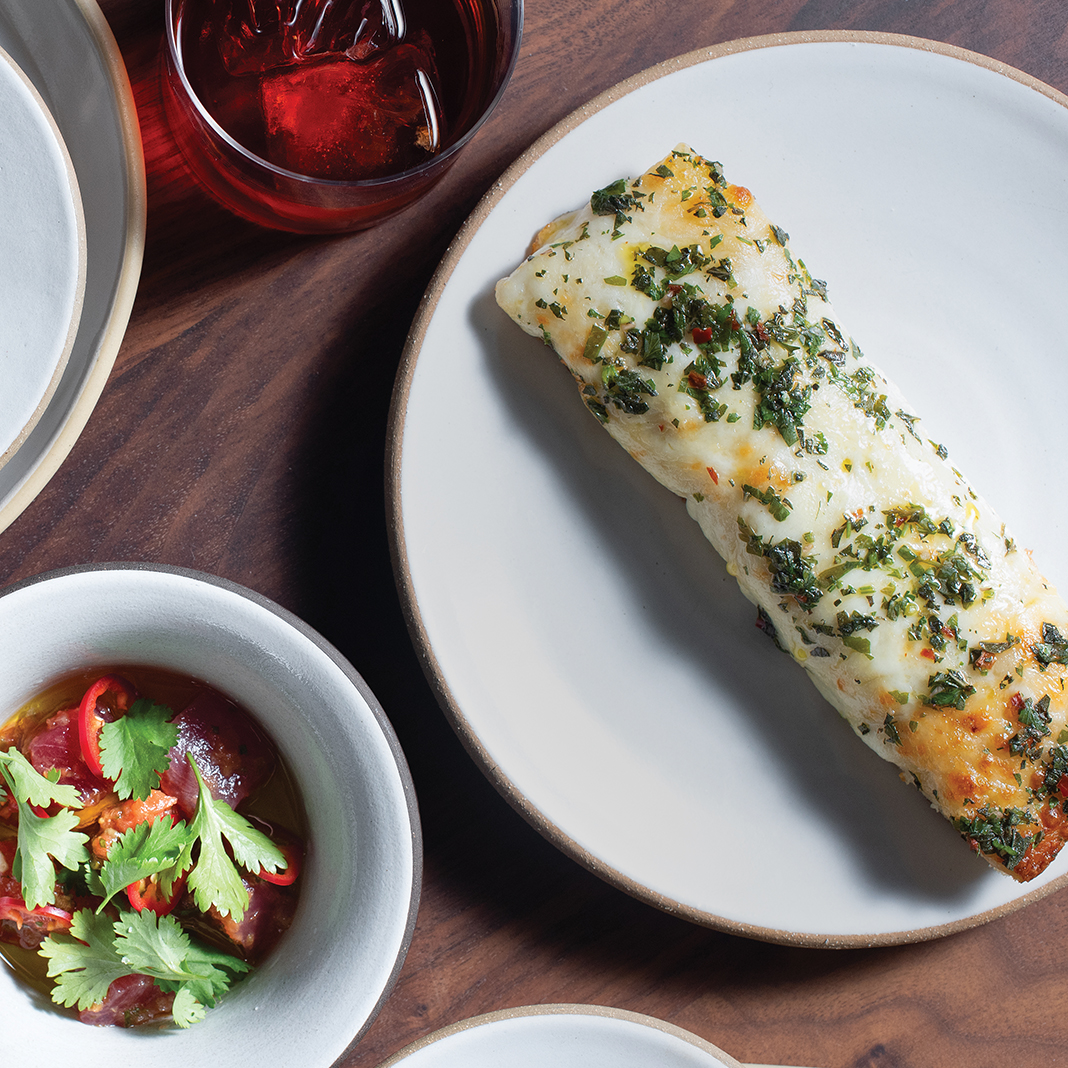 It's no surprise that we gravitate toward the familiar when everything around us seems to be changing: the pandemic, the way we live and work, and the aftermath of the national election. That might be why we're seeing so much fried chicken, cheeseburgers, and pizza—they're like culinary safety blankets.
The real genius is in taking the familiar and doing it differently. Taking a risk, but making it feel safe is the brilliance of chef Daniel del Prado's newest and perhaps best restaurant, Rosalia. I know, it's a bold statement considering both Martina and Colita are culinary and commercial successes. But there's something special about Rosalia. Delivering simple flavors with the precision and expertise of a four-star chef creates a craveability to the food that makes me want to come back night after night.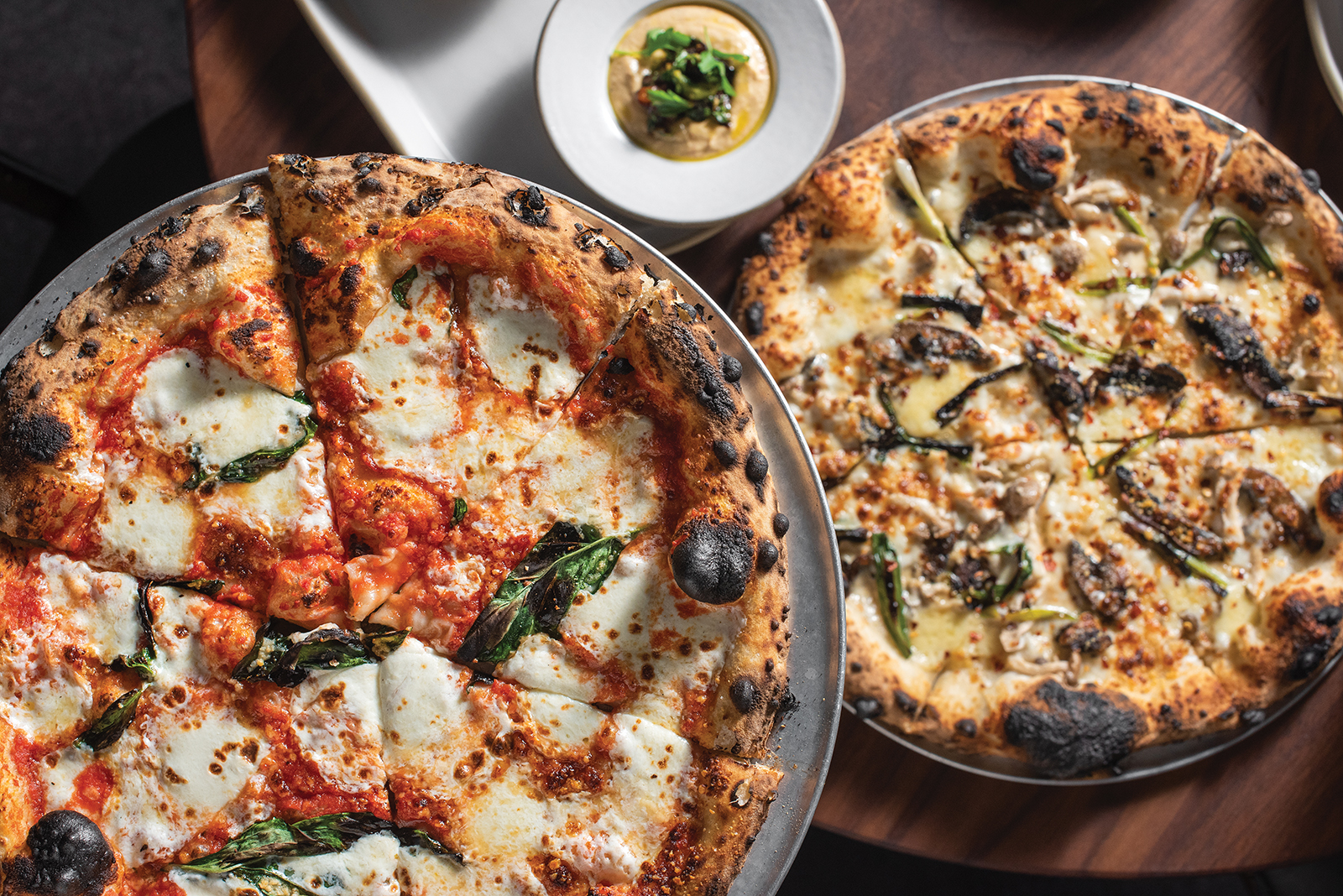 Rosalia's innovation is the fugazza—a type of Argentinian thick-crust pizza—served by the slice, though not New York-style. It's a rectangular, focaccia-like dough with prosciutto and mozzarella, or tomato and thyme, or charred onions and garlic. The toppings will evolve with the seasons, and the slices are arranged in what used to be Rose Street Patisserie's glass pastry-display case. The dough is twice-baked with tons of cheese with substantial and airy results. It may be the best $5-$6 you can spend on food in town. As I write this, I want another slice.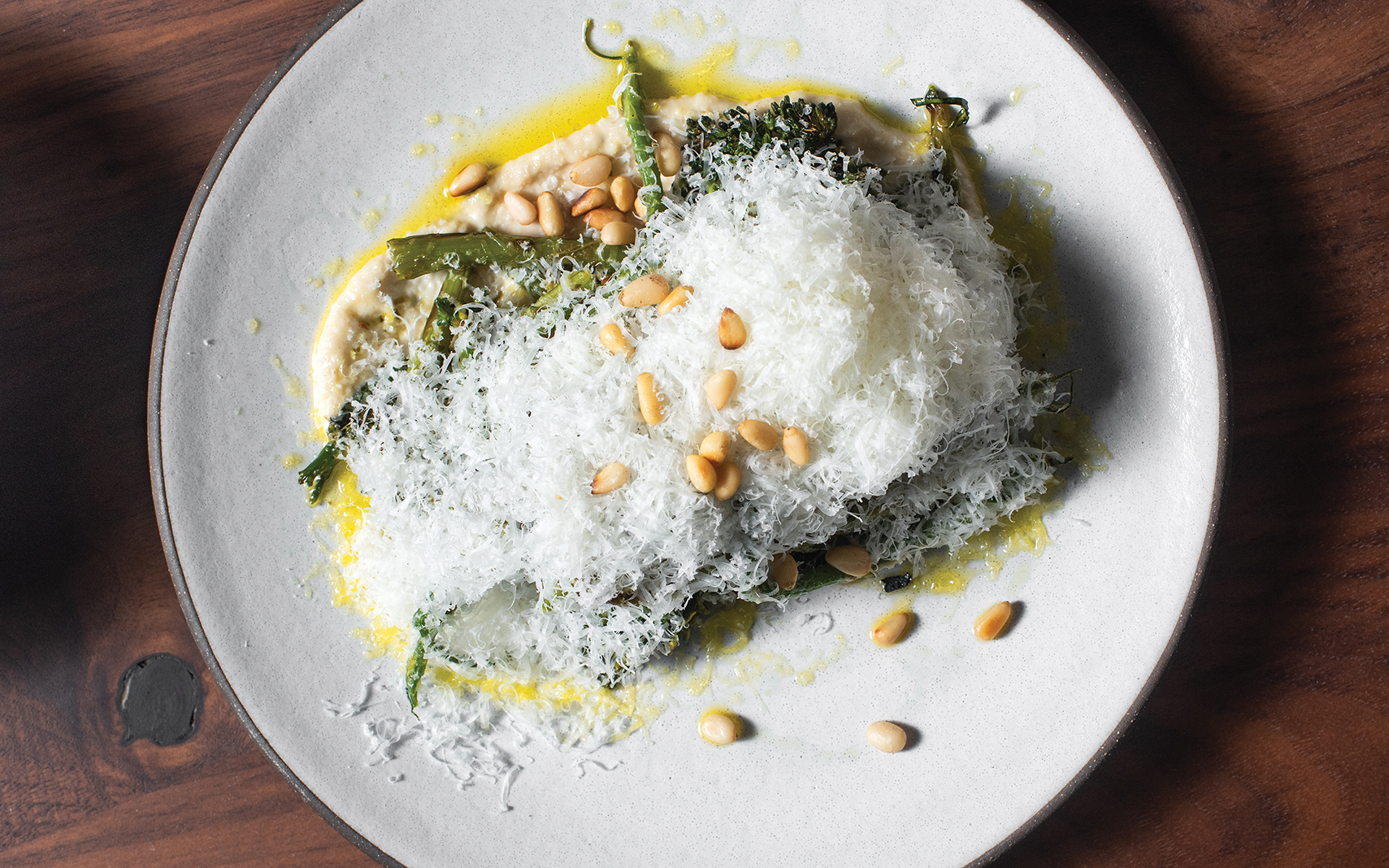 There's regular wood-fired pizza, too, although calling it "regular" undersells the quality of this dough. The fire here is hot, and the pizza is cookedNeapolitan-style. (You'll see a couple of burn bubbles, as you would on a perfect Punch Pizza.) But the crust is crispier. Not paper-thin, but thinner than you'd expect. The margherita is the ultimate test of this form of pizza, and Rosalia soars. Bright tomato, sweet basil, pools of fresh mozzarella. We loved the mushroom and gruyere pizza, too, with a hint of spice from chili flakes all tied together with a drizzle of porcini mushroom crema.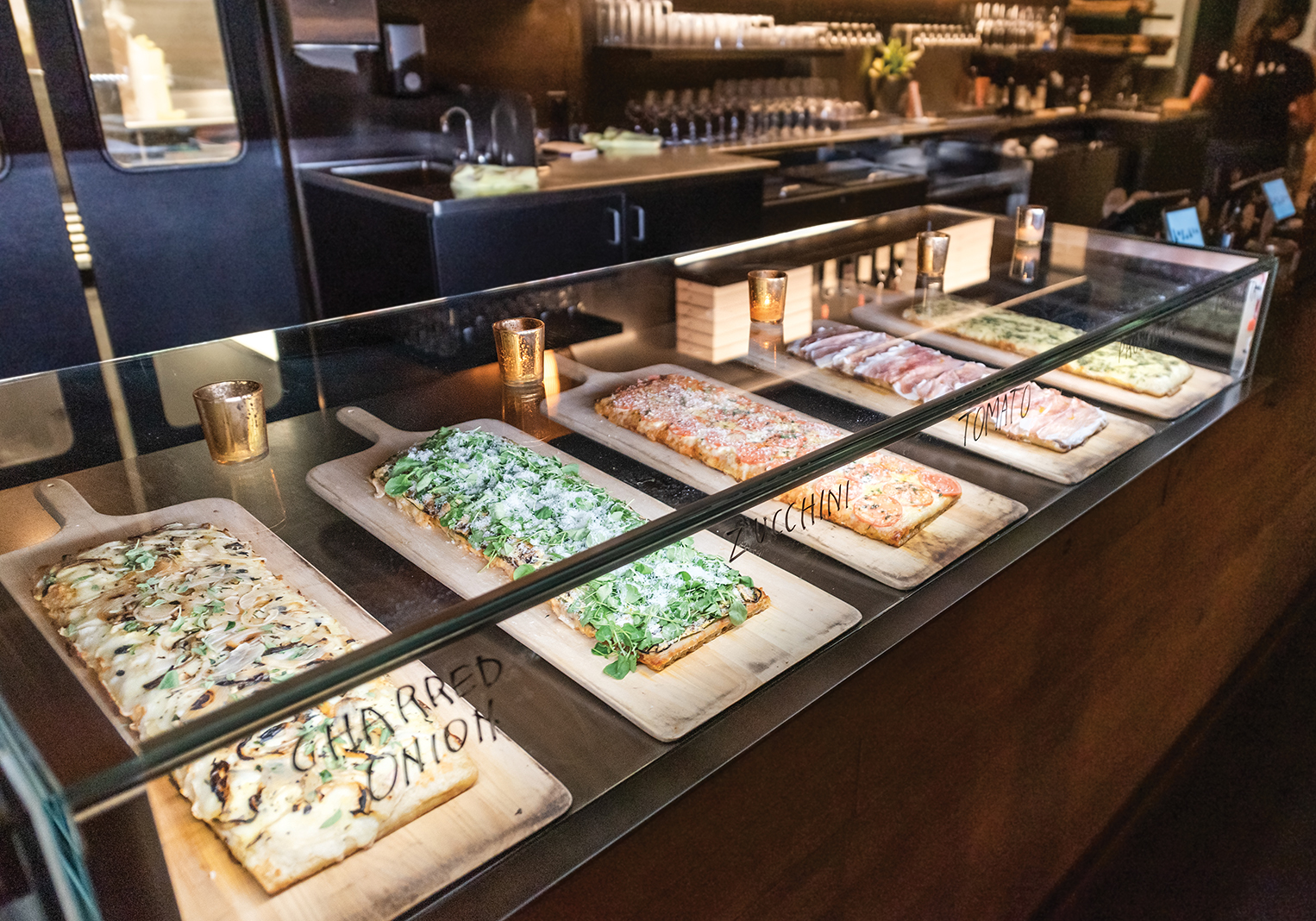 On pizza alone, Rosalia would be a winner. But the rest of the smartly edited menu catapults Rosalia into the upper echelon. Two words for you: carrot tahina. A shockingly orange tahini dip made with peanut harissa and brightened with fresh parsley. Everything about it is perfect: the color, the creamy and oily texture, the wood-fired pita for dipping. Don't miss the roasted eggplant baba ganoush, either. Often I find baba ganoush tastes like wet paper towels, but del Prado's version leans salty, bringing out the smoky eggplant flavor.
Rosalia can work as a very inexpensive neighborhood restaurant. It's got a super casual counter-service vibe, the substantial fugazza slices are around $5, and the wood-fired pizzas are around $15. The terrific Italian-inspired cocktails are all $9.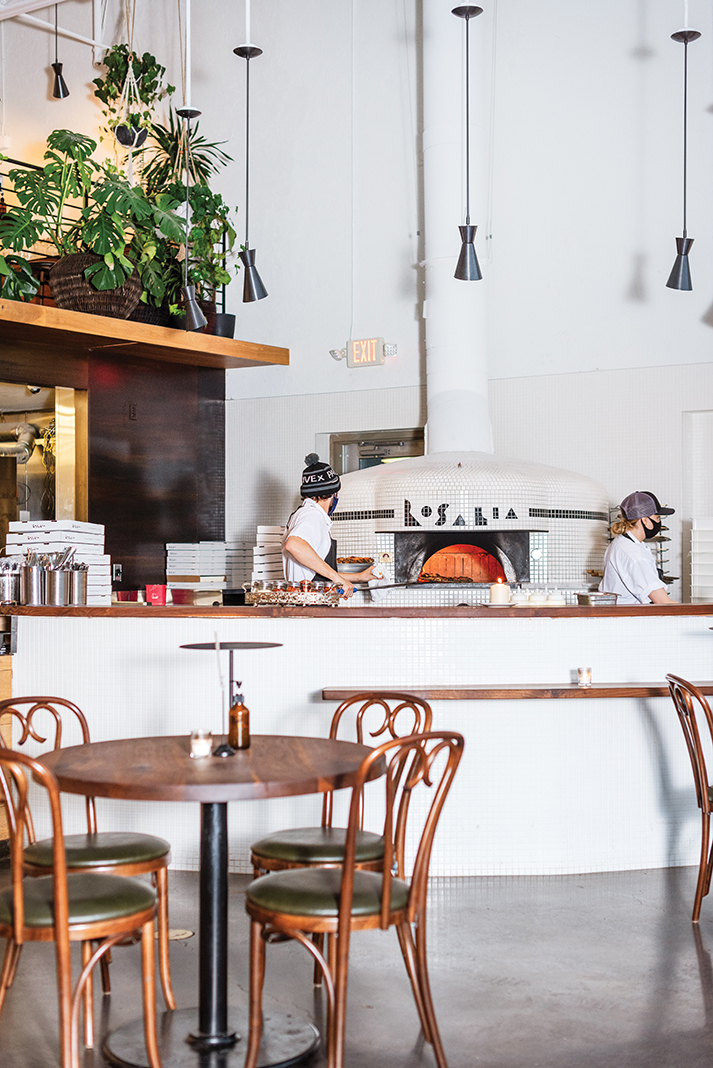 But like del Prado's other restaurants, I dare you to control yourself and not run up the bill. This isn't a rip—it's a testament to how attractive every section of the menu is. You will want to get one of the nicely designed crudos. (I recommend the tuna with lime and chili oil.) You'll also want a wood-fired vegetable. (The broccolini gets a kiss of smoke and char, along with a lively green chermoula.)
Del Prado came up with the concept for Rosalia while visiting the island of Sicily, land of strong acidic tomatoes, earthy and intriguing Middle Eastern spices, and the artistry of bread making. All familiar, yet so different and exciting.
Rosalia
2811 W. 43rd St., Minneapolis
rosaliapizza.com
Facebook Comments