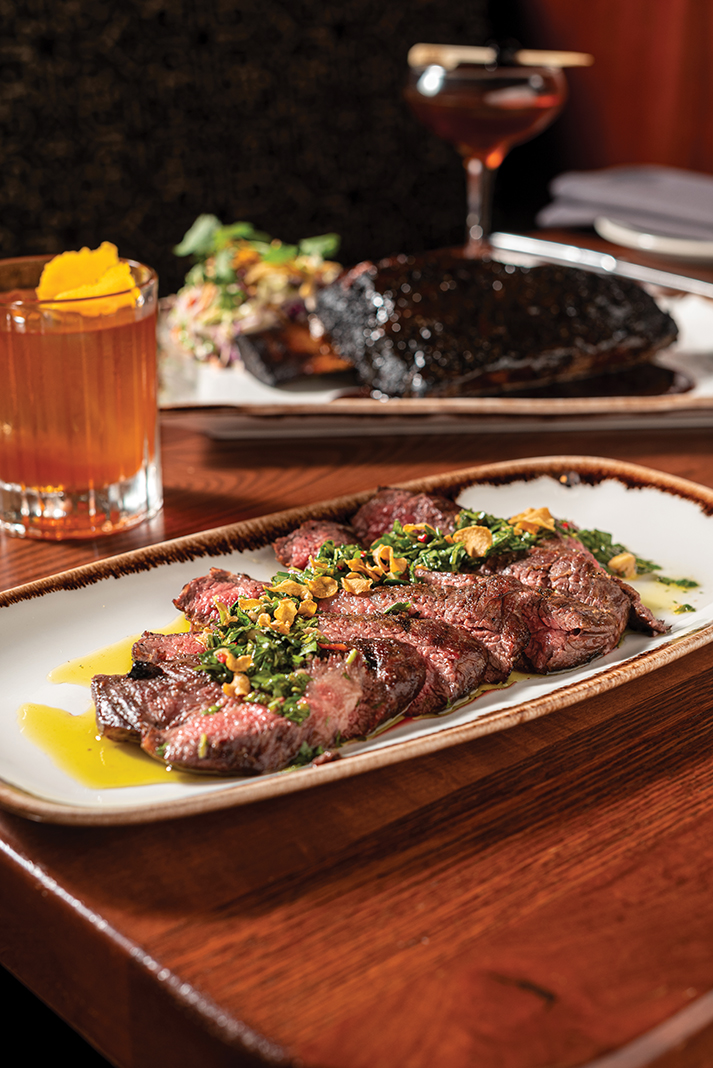 The biggest soap opera in Minnesota restaurants is arguably the downfall of four-star steak and sausage emporium Butcher & the Boar. Through months upon months of nervous anticipation, the chatter filled my inbox: Why is it out of liquor? I hear it's closing! We were assured it was open and would stay open and then it did close, only to rise again! With even more drama.
Opened in 2012, Butcher & the Boar earned a James Beard Award nomination for chef Jack Riebel's work in the kitchen. In 2019, original partner Doug Van Winkle built another Butcher & the Boar in Charleston, South Carolina. Then, in 2020, he shut down the original location on Hennepin Avenue, and then, earlier this year, he sold that space to Crave and Brit's Pub owner Kam Talebi. But not so fast: Van Winkle sold the rights to the restaurant's name to Brent Frederick's Jester Concepts, the Minneapolis-based team behind Parlour and P.S. Steak.
While Jester searched for a new Butcher & the Boar location, Talebi had the Hennepin building just about ready to go. He hired a lot of the original servers, bartenders, and managers, and brought back the original sausage maker, butcher Peter Botcher, to run the kitchen at the establishment now known as the Butcher's Tale.
After making multiple visits, I can assure you: Butcher is back. Is it better than the original 2012 version? It's not as refined, but it's certainly as fun, over-the-top, and delicious.
A lot of your favorites are back and in their original form: The smoked jalapeños, stuffed with peanut butter and topped with a golden raisin marmalade; the forearm-size, sweet-and-spicy, molasses-smothered beef long rib; and the perfect sausages are all here.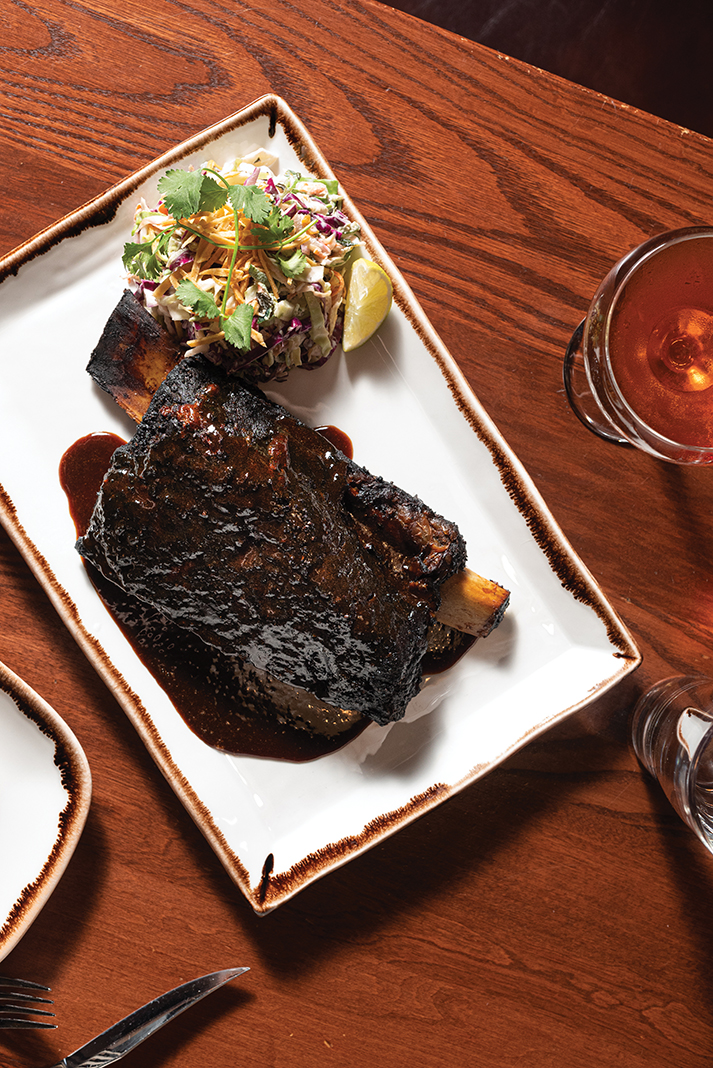 What's new? More salads, more fish options, and a great charcuterie and cheese platter, which is a terrific showpiece for Botcher's skills: homemade wild boar tasso ham and an incredibly cravable smoked Minnesota trout rillette surrounded by Minnesota-made cheeses.
Don't miss the sesame-fried veal sweetbreads—creamy goodness on the inside, crispy sweetness out. The sliders are tasty, with fresh pickled daikon and cucumber spears topping a pork-and-shrimp sausage patty. Sambal aioli provides a hint of spice.
Butcher has always operated as an alternative steakhouse, but along with the New York strip steak, ribeye, and hanger steaks on the regular menu, they have a rotating menu of steak specials. The Wagyu Denver steak arrived nicely seared, perfectly pink inside, and seasoned just right. Topped with a lively, herby chimichurri sauce, it was an absolutely indulgent delight. The laughably enormous double-cut pork chop is back, as well, with a lovely blueberry compote and maple sherry gastrique cascading over the crispy fat cap.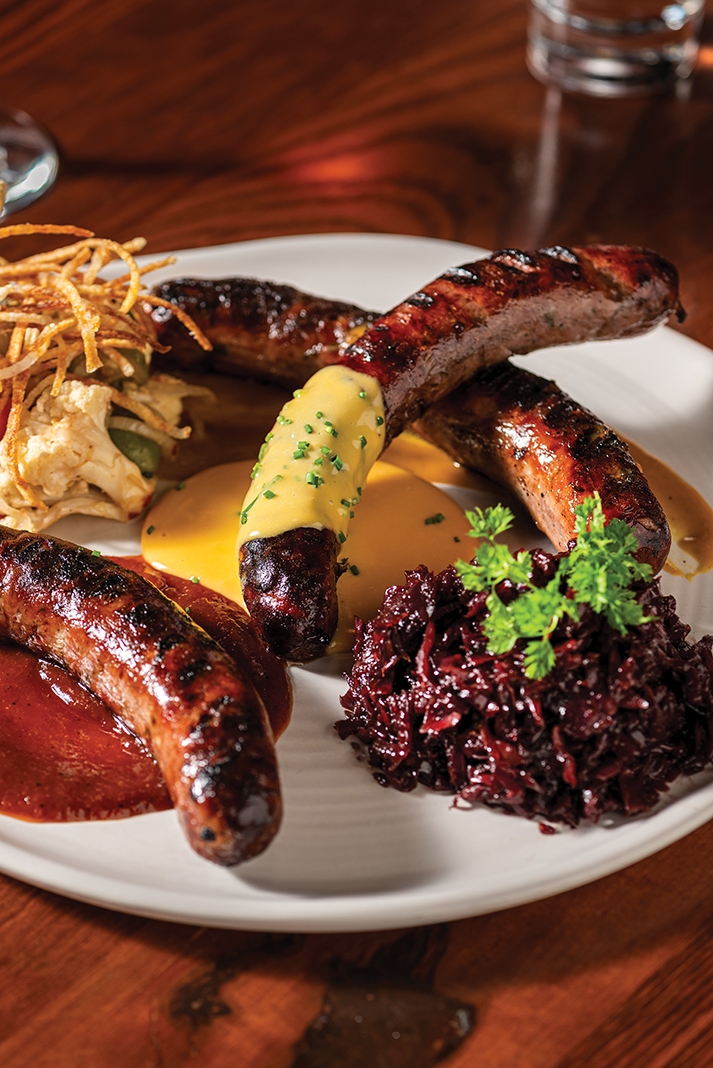 Watch out for name changes on the sausages. You won't find the Wild Boar Hot Link, as it's  now called by its proper name, "chaurice." The cheddar wurst is now a Smoked Pork & Cheddar sausage. The kitchen is also doing a sausage of the day, and the chorizo we stumbled upon was spicy deliciousness.
The bourbon-heavy cocktail list may be better than you remember. The classic Manhattan and old fashioned, with the restaurant's own 120-proof, single-barrel Knob Creek, is still the move at this huge bar. But stretch yourself with a gorgeous clarified-milk punch made with pineapple rum and mezcal, or the Butcher's Club, a gin fizz with raspberry syrup.
Save room for dessert from up-and-coming pastry star Elsbeth Young-Haug. She was the head pastry chef when the old Butcher closed and is coming in hot with pistachio-filled cream puffs on a blackberry elderflower sauce, plus a moist and richly flavorful chocolate cake with an addictive passion fruit caramel sauce.
For those of us who loved the original Butcher, the food was important, but the vibe and the service kept us coming back for more. And from that standpoint, this iteration is firing on all cylinders. Credit general manager Chad Waldon for assembling many of the original all-stars, providing a really smooth, friendly, and fun dining experience. That patio is still one of the best in town, and as downtown comes back to life, that beer garden will return to its status as the spot to hang out. This Butcher's Tale is only in its first chapter, but thus far it's a book I'm going to enjoy coming back to time and time again.
The Butcher's Tale
1121 Hennepin Ave., Minneapolis
612-236-4075
Facebook Comments