Monster burgers, candy-filled cocktails, and insanely impressive milkshakes are what Sugar Factory American Brasserie is all about, but its 40-page menu is sure to offer something for everyone in your party.
Sugar Factory is the latest of unique restaurants housed inside Mall of America. The eatery features a dining room that seats 160 guests, a full-service bar, and—of course—a candy shop featuring more than 500 types of sweet treats. As a lifelong sugar fiend, I had to check it out for myself.
The Sweet Deets
If you're unfamiliar with Sugar Factory, you might imagine a space geared toward kids, but this restaurant is far from childish—perhaps because of its roots in Las Vegas swank and celebrity culture. Opening in 2009 as the Mirage hotel's candy shop in Las Vegas, the Sugar Factory soon attracted the attention of many A-list celebrities. Two years later, the founders of the candy store launched their first restaurant, also in Las Vegas. Guests attending the grand opening included stars such as Kim Kardashian, Britney Spears, and many others.
Over the past eight years, Sugar Factory opened 24 stores—Mall of America is the most recent—and catered to big-name celebs such as Pitbull, Drake, Shaquille O'Neal, Mike Tyson, Kylie Jenner, and hundreds more. DJ Pauly D, who appeared on MTV's "Jersey Shore," attended Mall of America's grand opening (see video below). Sugar Factory has seen so many well-known actors, singers, and fashion icons that it now uses their photos and names as a huge marketing asset.
https://www.instagram.com/p/B5YNKrShNpc/?utm_source=ig_web_copy_link
The Sugar Factory's location in Mall of America shares much of the upscale lounge aesthetic its predecessors have. With crystal chandeliers hanging throughout the dining room, marquee-style lighting above the bar, mirrors lining the walls, floral wall accents, accordion doors opening up to the mall, patio-style seating along the mall corridor, and shrubs placed between mallgoers and diners, the spot looks as high scale as it sounds.
Now, you're probably thinking it's too fancy of a space to bring your kids. Not so. Guests can show up in sweatpants or a three-piece suit, and the soundtrack to your dining experience is chock full of today's hits that everyone knows (featuring many of the celebrities known to dine at Sugar Factory). Prized on catering to young, old, and young at heart, Sugar Factory is for everyone. Period.
Menu
Sugar Factory doesn't skimp on delectable bites or thirst-quenching beverages, that's for sure. The menu boasts ample cocktails, appetizers, salads, sandwiches, monster burgers, pasta, entrees, brunch, milkshakes, dessert, coffee and espresso, and fondue. Is your mouth watering yet?
Although they are known for head-turning drinks, burgers, and milkshakes, the menu also includes commonly-found items such as buffalo wings, salads, grilled cheese, a club sandwich, chicken alfredo, 8-ounce filet, omelets, and more.
Cocktails
One of the most eye-catching items on the menu is the Goblet—a 64-ounce cocktail that can also be made non-alcoholic. These brightly colored concoctions are served with a variety of candy and poured into the glass at your table. Why? Because the dry ice sitting at the bottom of your glass will present an impressive smoking effect as the server pours your drink.
Sugar Factory offers 14 Goblets including Lollipop Passion, served with two rainbow lollipops and a candy necklace; the Drake, served with Sour Patch Peaches and strawberry lemonade cotton candy; and Coconuts Gone Bananas, served with gummy coconut slices and two giant gummy bananas. I tried The Watermelon Patch, made with fresh watermelon, fresh lemon, and citrus soda—topped with a mound of Sour Patch Watermelons and watermelon slices along the rim. Deliciously sweet, like a strawberry daiquiri, it was difficult to stop myself from slurping down every last ounce.
Not interested in a Goblet? No problem! The menu also includes beautifully crafted cocktails and martinis.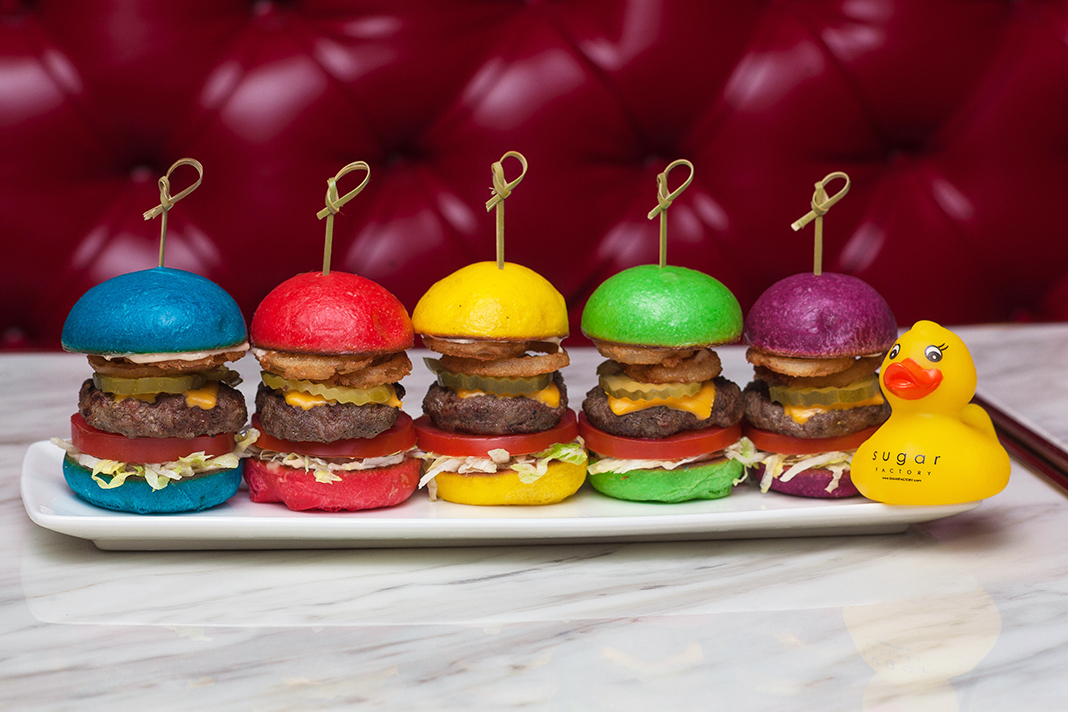 Appetizers
It's difficult to dine at Sugar Factory without ordering the Sugar Factory Rainbow Sliders. Each of the five beef sliders are sandwiched between a brightly colored bun, making up the colors of the rainbow. Not only are they pretty to look at, but they're mighty tasty, too. Oh! And they're served with the signature Sugar Factory rubber ducky that you can take home. Of all the food I sampled, the sliders were my favorite. I know they seem like ordinary sliders, but the ratio of burger to toppings was perfect—the ideal bite every single time.
Another delicious appetizer is the Fried Macaroni and Cheese Pops. Breaded to perfection, these fried pops are everything you wish you had from fried mac and cheese. Yum! Often times, fried breading can be greasy or soggy, but Sugar Factory clearly proved they know what they're doing. Trust me, you won't be disappointed if you order these as your first course.
Burgers
If you love burgers, this is the place for you. Sugar Factory's collection of monster burgers is not only impressive but downright delicious. If you're feeling extra adventurous, try The Big Cheesy, Donut Burger, or Waffle Breakfast Burger.
The Big Cheesy is an 8-ounce burger topped with mac and cheese, tomato, shredded lettuce, pickles, cheese, bacon, and barbecue sauce, served on a brioche bun. The Donut Burger is an 8-ounce. burger topped with a grilled cheese sandwich (yes, you read that right), pepper jack cheese, and bacon, sandwiched between a glazed doughnut. The Waffle Breakfast Burger is an 8-ounce burger topped with a fried egg, cheese, hash brown, sausage, bacon, and gravy, sandwiched between a vanilla bean waffle and served with maple syrup for dipping.
My eyes widened and my jaw dropped as two massive burgers—The Donut Burger and The Waffle Breakfast Burger—were brought to my table. Not only are they a sight to see, but they are flavorful. The Donut Burger was a bit on the messy side and a little too sweet for my liking, but it could have been due to all the sugar I consumed prior to receiving my main course. The Waffle Breakfast Burger, however, I still daydream about. Essentially brunch in burger form, every topping on this burger was delicious and could have easily been eaten on its own.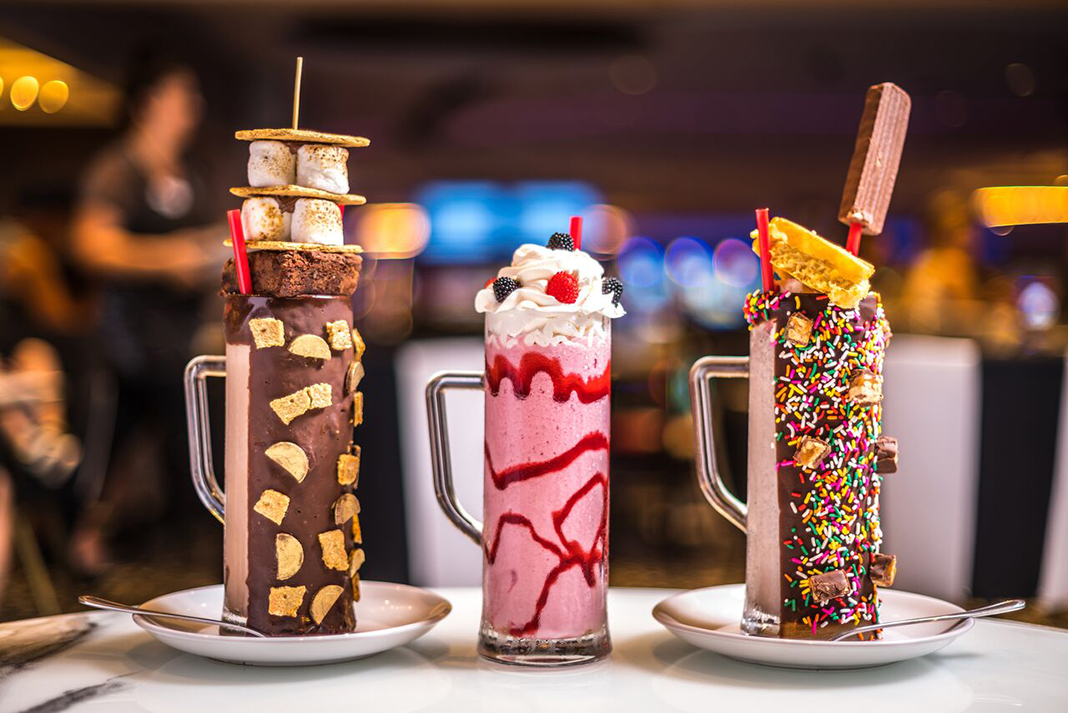 Milkshakes
At this restaurant, there's no such thing as too full for dessert. OK, maybe there is, but you'd be doing yourself a disservice not to order one of the many Insane Milkshakes. There are nine Insane Milkshakes to choose from—Nutella Banana, Tie Dye, Giggles Snickers, Caramel Sugar Daddy, Bacon Cheeseburger, Chocolate Rocky Road, Princess Make a Wish, Cookie Monster Make a Wish, and Campfire Spiked S'mores. Each mug comes with one side dipped in chocolate and various toppings, and they're all adorably decorated with, you guessed it, candy. I sampled Giggles Snickers, Princess Make a Wish, and Campfire S'mores. While all of them were delightfully delectable, Giggles Snickers was my favorite. (It tasted exactly like an ice cream snickers bar!)
There are so many impressive, eye-catching items on the menu, it's difficult to talk about them all. I guess the best thing to do is check it out for yourself. And don't forget to stop by the candy shop on your way out. Fill a bag with sour gummies, chocolate goodness, or snag one of the Sugar Factory's signature couture pops that are so popular among certain celebrities. Sugar Factory is located on the south side of the third level of the mall.
Love learning about new restaurants in the Twin Cities? View more of our reviews here.
https://www.instagram.com/p/-utUXBCIdF/?utm_source=ig_web_copy_link
Facebook Comments