Raising a newborn in the middle of a pandemic is rough enough. Try pairing that predicament with running a new restaurant no one's allowed to actually visit. At least not in the way you once imagined.
That's the tug of war Zye and Albert Kurniawan have waged in South Minneapolis since last spring, when the couple opened Young Man in the same bustling Kingfield neighborhood as Boludo Empanadas, Kyatchi, Nighthawks Diner + Bar, and the eagerly anticipated Petite León.  
While the Jakarta natives quickly built a cult following with their welcome blend of Hawaiian, Indonesian, and Japanese cuisine, their first brick-and-mortar business has made several concessions and sacrifices along the way. For one thing, it's taken precedence over their popular Don Oishi truck for the foreseeable future. Secondly, Chef Albert has streamlined his menu slightly, keeping creative spins on nasi campur—Indonesia's most iconic dish—and Bali-style cocktails on the back burner for the time being. 
"When we opened in March," the Kurniawans explained over email, "we needed to throw a lot of our ingredients away because of the sudden stay-at-home order. So we think it's better to expand our menu one step at a time for now."
Lucky for us, Young Man is already worth a look, from its tonkatsu-style fried chicken—the co-star in several hearty entrees—to its vegan-friendly vegetable fritters. Here's what Zye and Albert had to say about their lifelong dream (see: the Notorious B.I.G. nod on the sign outside)…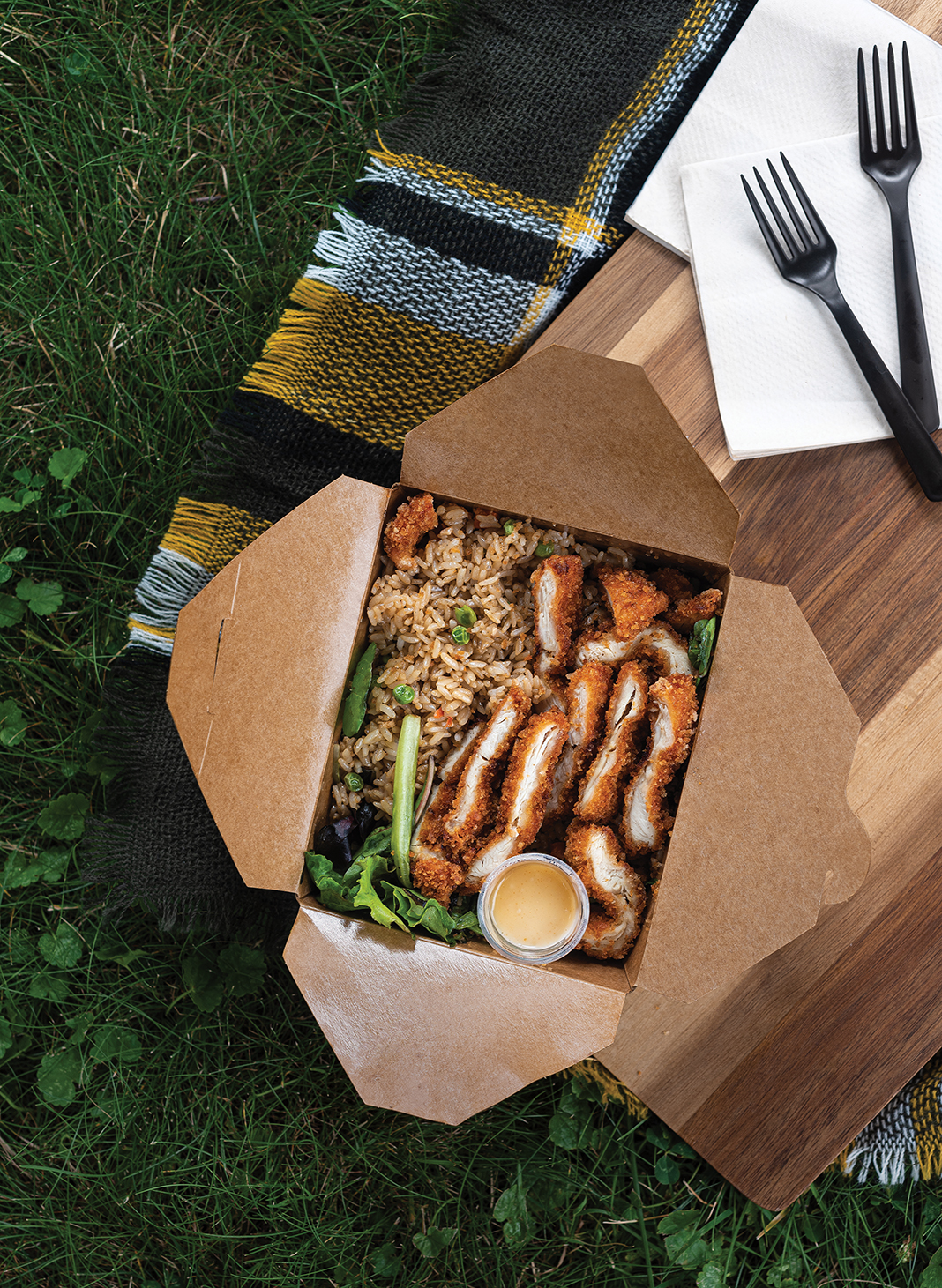 Did either of you work in the restaurant industry when you lived in Jakarta? 
We didn't work at any restaurants back then. When he was a kid, Albert mostly helped his mom out in the kitchen, cooking Japanese food from her recipes.
Is that side of his family originally from Japan, or did she simply enjoy making those dishes?
His mom cooked Japanese food at home because he liked it and Japanese restaurants are really expensive in Indonesia. Whenever his mom prepared breakfast, lunch, or dinner, she would call him over and tell him to "learn how to cook from me, so you can cook for yourself in the future." Cooking has been his passion ever since. 
When did you move to the United States? 
We came to the U.S. in 2010. Albert learned a lot about different styles of cooking in New York City. It made him want to explore fusion-style food rather than traditional recipes. 
What were a few of the restaurants Albert worked at, and what did he learn from that experience, food- and business-wise? 
He mostly worked at authentic Japanese restaurants in Manhattan and New Jersey. After a while, Albert got bored and decided to experiment with different flavors at Don Oishi and Young Man.
Why Minnesota?
Because of its thousands of lakes. We love it here. New York is more crowded, and there's a higher cost of living. We tried staying in Tampa Bay, Florida, before but it was too hot. 
How would you describe the food of your Don Oishi truck?
Japanese fusion—rice bowls that are simple and flavorful for everyone. 
And what about the menu at Young Man? 
We call it "modern fusion Hawaiian Balinese." 
Where does the Hawaiian influence come from?
We visited Honolulu in 2015 and fell in love with Hawaii and the food. We'd love to be able to go back and stay longer there.
What were a few of your favorite dishes in Hawaii?
We mostly ate sushi, yakitori, pipikaula-style short ribs, and beef stew. We love it all; Hawaiian food is simple, but so delightful and tasty.
Let's say someone has never tried Indonesian food before and is really excited to try your take on traditional dishes. What should they order? 
For now, our most authentic items are Te Satè, Namaste, and Gado Gado Supreme. 
Your gado gado salad uses Minnesota-made tempeh. Are you going to work tempeh into more of your menu since it's such a staple food in Indonesia, or maybe even start making your own? 
Yes, we definitely want to use more tempeh. We love to support local producers and plan to keep using Tempeh Tantrum.
What are a few of your favorite dishes at Young Man and why?
If we had to choose, Te Saté is one of our favorites. Everything at Young Man is made-to-order; for Te Saté, we grill it up to the max flavor, so it sometimes takes longer than other dishes.
Are you planning on expanding the menu in the months ahead?
Yes, for sure—like some prawn dishes and green salad Young Man-style.
You've only offered takeout and curbside deliveries so far. Do you plan on opening with limited seating soon?
We want the restaurant to feel comfortable for everyone, so we are going to keep doing takeout and curbside pickup for now. Hopefully everything will be safe and stable for everyone soon.
Learn more and order at youngmanmsp.com
Facebook Comments