Kare-kare at Apoy
Photo by Rachael Crew/courtesy of Apoy
---
TL;DR review of Apoy:
Authentic, approachable Filipino food has arrived in Minneapolis. Try the classics: adobo chicken/pork, sisig, crispy pata.
If you're less adventurous, try: pancit (shrimp, pork, noodles, and veggies) and the lumpia egg rolls.
Service could be more educational. The décor is a little DIY, with uncomfortable chairs.
---
In suburban Chicago, I grew up on On-Cor frozen salisbury steak entrées, beef roasts, and smoked pork butt. My mom's German sauerbraten was about as ethnic as our food got. So, in the fourth grade, when my friend Sherwin Sampson invited me to his house for an authentic Filipino meal, I had no idea what I was getting into. What even was Filipino food?
That's the reaction many of you might have before visiting south Minneapolis' brand new Filipino restaurant, Apoy. (Apoy means "fire" in Tagalog, the main dialect of the Philippines.) Just as my friend Sherwin  introduced me to adobo, lumpia, and fried pig skin and ears, so will owner Sherwin Resurreccion be your guide at Apoy.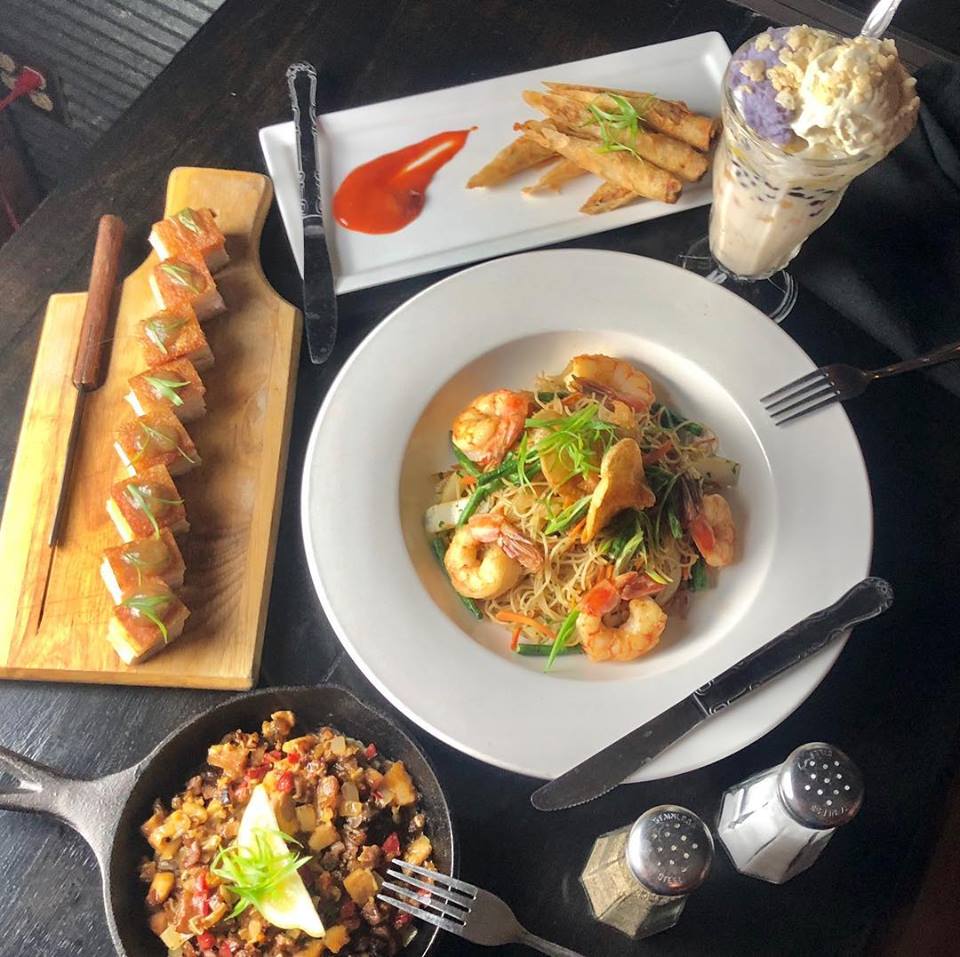 Clockwise starting at top: Lumpia, Halo-Halo, Pancit, Lechon Kawali
Photo courtesy of Apoy
---
On a recent Friday night, the former Anodyne Coffee Roasting Co. was jam-packed with lively buzz. Some tables were full of multi-generational Filipino families—grandma, her kids, their kids—finally experiencing a restaurant with their food. The room had a bit of a DIY feel. Charming, but the wicker chairs were a little wobbly and uncomfortable.
The comfort at Apoy comes from the food: lots of rice, vegetables, and rich sauces. You'll find the classics of Filipino cuisine here, like the crispy pata. A meaty pork leg fried on the bone, it was a home run. I'm already craving more of that fatty pork meat and crispy skin. There's also lumpia—some of the finest egg rolls in Minnesota. These are filled with garlicky ground pork and brightened with carrot and parsley.
I loved the stew-like sisig, but it may pose a textural challenge for you. In each bite, you'll get some of the rich, thick, slightly spicy ginger/onion/garlic sauce and maybe a small cube of minced pork belly. Or pig cheek. Or ear. Yep. I remember shuddering the first time I tasted pig ear, back at Sherwin Sampson's house in fourth grade. Here, I bit into cubed ear no problem. Power through. The sisig sauce is worth the challenge.

Sisig
Photo courtesy of Apoy
---
We chose juicy chicken thighs for our adobo, and I can taste why many think this should be the national dish of the Philippines. Juicy, with a marinade of bay leaf, vinegar, and soy sauce.
Kare-kare (pronounced like "car-eh") is stew with beef and veggies in a thick peanut sauce. It would have been extremely one-note without the shrimp paste we mixed into the rice. For your less-adventurous friends, recommend the pancit—there's great flavor in this combination of rice and egg noodles served with shrimp, pork, and chicken.
My main issue with my experience at Apoy was the service. A lot of us are going to need some help getting through the menu. Many Minnesotans, like me, don't know their sinigang from their longaniza. Our server simply walked to our table and asked if we were ready to order. We were not. But what a great opportunity—to teach, to share, to appreciate an exciting new cuisine.
Just as my friend Sherwin did for me 30 years ago in suburban Chicago, so has Apoy given many Minnesotans the chance to discover beautiful Filipino food in south Minneapolis.
Apoy
4301 Nicollet Ave., Minneapolis
612-824-4719
Facebook Comments