TL;DR review of Birch's Lowertown Taproom & Barrel House:
This bar food far surpassed my expectations.
Order the Birch's Burger ($14), the chicken Karaage ($11), or the hot wings ($10).
Drink the Golden Coffee Chocolate Ale, the Birch's American IPA ($6 a pint), and/or the Local Ties Run cocktail ($10).
---
We stuff them, use grass-fed beef, thick patties, diner-style patties, homemade cheese sauces—and just when you think we've run out of hamburger innovations, a brilliant chef comes up with something new. At Birch's Lowertown, St. Paul's newest brewery, chef Shane Oporto has created a single-source burger. The meat is all ground from a single cow, thanks to the power of multiple food operations collaborating in the same building.

Birch's Burger with white American cheese, pickles, and Kewpie mayo ($14)
The Birch Burger's bun comes from the Salty Tart bakery, the beef is from Peterson Meats' onsite butcher shop, and the cooking happens in a corner of Oporto's Octo Fishbar kitchen. The single-source meat is more than just a cool thing to talk about (although it is a cool thing to talk about). It tastes a little richer than a carefully calibrated burger created with the typical formula. The healthy dose of melty American cheese, plus crunchy, acidic refrigerator pickles, sure doesn't hurt. Oporto ups the decadence even more by making a sauce from ketchup and Japanese Kewpie mayo, searing the thin patties on the flat top, and seasoning them perfectly. This is a top 10 Twin Cities burger, without a doubt.

Chicken Karaage, fried chicken with togarashi and ginger sauce ($11)
Birch's started a couple years ago in the west-metro suburb of Long Lake, where brewmaster Brennan Greene made very drinkable and creative beers. Yes, there's a solid lighter blonde ale and a nice, citrus-hoppy American IPA. But I gravitate toward his Golden Coffee Chocolate Ale. It's a mind trick: You see a light-colored, golden beer, but you get the intense flavor of Dunn Bros. cold-brew coffee. All at just 6 percent alcohol, so you can drink two. The Mexican Chocolate Milk Stout uses ancho, chipotle, habanero, and ghost peppers—but a hint of cinnamon cuts through the heat for a pleasant, quaffable stout. And unlike most breweries, Birch's has a full bar. Great news for your friend who drinks only wine or cocktails (created by the team behind Tattersall Distilling in Minneapolis).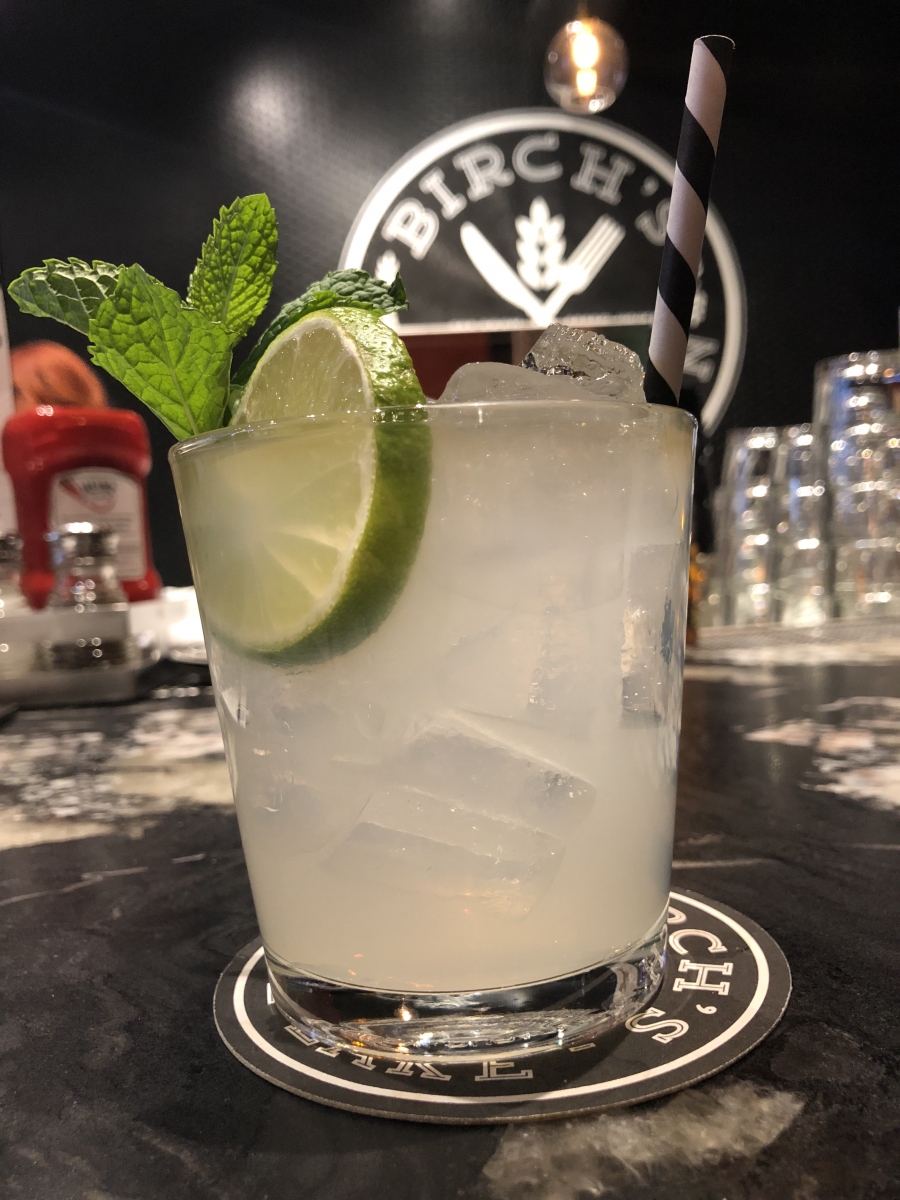 Local Ties: Tattersall Blackstrap Run, Far North Alander, Tattersall Lime Crema ($10)
The rest of what we tried from the menu was also excellent. Don't miss the hot wings, tossed in locally made Cry Baby Craig's hot sauce and served with shaved celery, pickles, and onion. Hot, juicy, crispy—just perfect. The hottest trend in starches, smashed potatoes, makes a welcome appearance on the menu as fried potatoes with garlic, chili flakes, and a generous bath of cheese fondue.

Smashed Potatoes with cheese fondue ($12)
And don't let the name scare you: The beef heart pastrami is legit. Beef heart can be metallic, but the pastrami brine and seasonings wiped any hint of that away. It was thin and flavorful, topped with spicy giardiniera and that creamy cheese fondue sauce on a truly excellent hoagie bun from Salty Tart. They've got frozen pizzas from St. Paul's Mucci's Italian, too, and brunch available on the weekends.
Birch's is within eyesight of CHS Field, the home of the St. Paul Saints, and I guarantee it's going to be popular during baseball season. Get ahead of the curve. With quality beer and excellent bar food, Birch's is already a home run.
Birch's Lowertown
289 Fifth St. E., St. Paul
651-432-4677
Facebook Comments