Brick & Bourbon interior
photos by Terry Brennan
---
Jason: Downtown Stillwater is a proven incubator for quality restaurant concepts. After starting on Main Street, LoLo American is now in Hudson and at MSP Airport. La Belle Vie graduated from Stillwater to a decade of success in Minneapolis. Brick & Bourbon will be next, with Maple Grove and Eden Prairie locations planned. Despite arriving at 5 p.m. on a Saturday, it was so busy we waited 50 minutes for a table.
Joy: This place is buzzing nightly. We began with a shot of Knob Creek over an ice sphere that was filled with smoke, served with a mallet. Smash it open and the smoke infuses the whiskey with applewood, campfire flavor.

Maple Old Fashioned Smoking Gun cocktail
Jason: If smashing ice isn't your thing, simply lift a glass cake plate lid containing a cocktail to dramatically send smoke billowing over your table. We let our Negroni soak up all that flavor for a few minutes first. I love the whimsy and joy you can sense in the room.
Joy: The food is hearty. Beer cheese soup is served in a bread bowl. Duck-bacon wontons are the best kind of party food. Eat them with one hand while clutching a drink in the other—they're the holy quadrinity of bar eats: salty, crispy, smoky, and cheesy.

Duck bacon wontons
Jason: Hearty is an understatement! The duck-bacon wontons are empanada-sized with a delightful, crispy shell, creamy inside, plus tart pomegranate dipping sauce. Six wontons are $12.50. I also loved the shrimp roll: buffalo tempura-battered shrimp topped with jicama slaw and a spicy blue-cheese aioli served on a lobster roll.
Joy: There are entire menu sections dedicated to burgers and mac and cheese.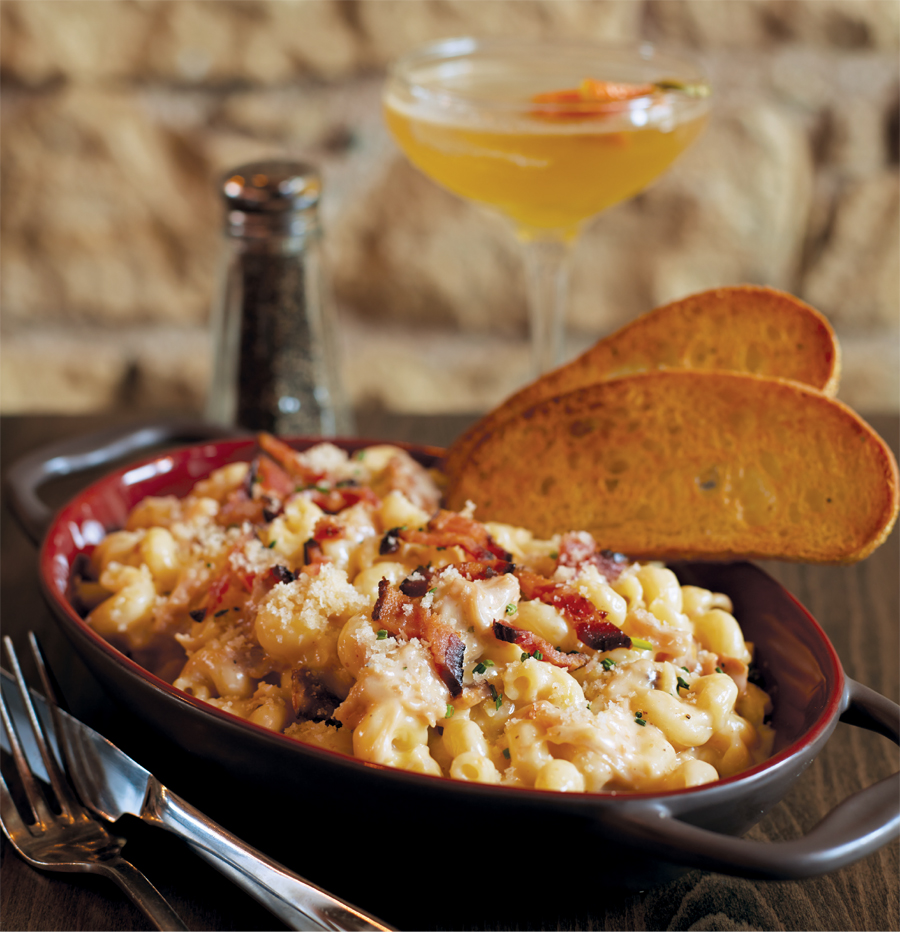 Mac-and-cheese
Jason: Be warned: The mac-and-cheese noodles are topped with a white Mornay sauce that leans thinner than you might expect. But no complaints from our group about the smoked-chicken-and-bacon variety. Although we wanted to, we just couldn't finish the giant serving.
Joy: It ate more like a fondue, with the sauce on the bottom of the dish. You have to dip the naked noodles down in there to get the gooey stuff.
Jason: Bold flavors reign at Brick & Bourbon: Among six burgers at surprisingly low prices, the Three Wisemen is topped with onions caramelized in whiskey, blue cheese, and bacon, served with fries for just $12.
Joy: That perfectly salt-and-peppery burger patty had a crusty sear that would have been fine on its own, but with all those toppings, it was a delightful mess made for finger-licking fun.
Jason: Now, there were some minor disappointments: The chili-and-brown-sugar seasoning on the side of potato chips was unevenly distributed; we couldn't taste it on many of the chips. The duck Philly sandwich with blood-orange caramelized onions, roasted apples, and smoked brie cheese tasted bland and got soggy quickly.
Joy: I suspect that once the kinks are worked out and the process streamlined, all three locations will be massive hits.
---
Brick & Bourbon Quick Tips
Parking
On street where available
Reservations
Only for large parties; seats are first come, first served
Happy Hour
Tuesday-Friday
Brick & Bourbon
215 Main St. S., Stillwater, 651-342-0777, brickandbourbon.com