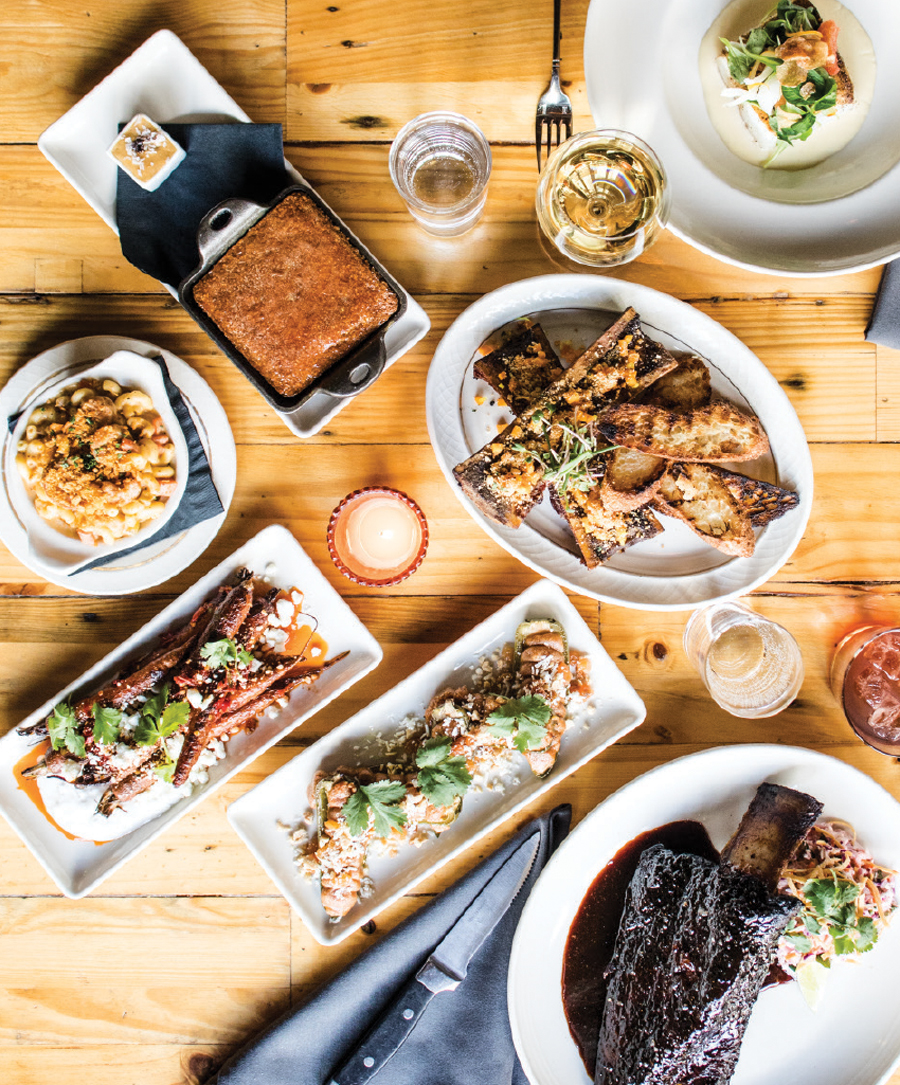 Smoked beef long rib with a spread of sides and appetizers
photos by tj turner
---
Joy: Since its 2012 opening, Butcher & the Boar has evolved—chef Jack Riebel left in 2014, and founder Tim Rooney died last year—but much remains the same. There's that shiny, copper-penny floor, plenty of bourbon, and a menu that makes a carnivore weak in the knees.
Jason: From day one, this concept has been popular: a modern steakhouse with incredible sausages and meats. Even in 2018, it's a challenge to find a weeknight table for four during prime dining time.
Joy: A friend and I grabbed a seat at the bar without a reservation, but a line of people formed behind us.
Jason: The smell inside is an unmistakable combination of wood fire, steak, bourbon, and money. It's not inexpensive, but the value and quality was as good as it was in 2012. Yes, the classics are still there. That Fred Flintstone-style smoked beef long rib with the spicy, sweet, sticky tabasco-molasses glaze could feed six for $56. The stuffed jalapeños take on a Thai flavor, thanks to a peanut-butter cream cheese, golden raisins, and shavings of cotija cheese.
Joy: The hot link croquettes are crispy, fried rounds of spicy, cheesy deliciousness—and only $6. The double cut smoked pork chop was huge! Charred on the outside and super juicy on the inside, it's served with a couple of token broccolini and about one green onion.
Jason: Chef Tommy Begnaud's New Orleans-style flair is all over the menu. Bone marrow is topped with a squash marmalade and herby gremolata, with smoked carrots on a bed of yogurt on the side. His mac and cheese is dusted with creole spices and served with shrimp.

Dining room
Joy: This place has always been bold, but I had stopped coming because of several disappointing service experiences. My visit completely changed my tune. Every person in the restaurant had a relaxed, easy charm and attentiveness that made us ease further into our chairs and order one more bourbon cocktail.
Jason: Agreed. Like a 13-year bottle of Knob Creek, Butcher & the Boar is aging quite nicely.
---
Butcher & the Boar Quick Tips
Outdoor Dining
The beer garden is huge and covered in the off-season, with a limited menu of sandwiches and sausages
Drink Whiskey
They sell more Knob Creek single-barrel bourbon than anyone else in the world
Retail
Find the Berkshire Pork & Cheddar, the brat, and the hot link at Lunds & Byerlys
Butcher & the Boar
1121 Hennepin Ave., Minneapolis, 612-238-8888, butcherandtheboar.com