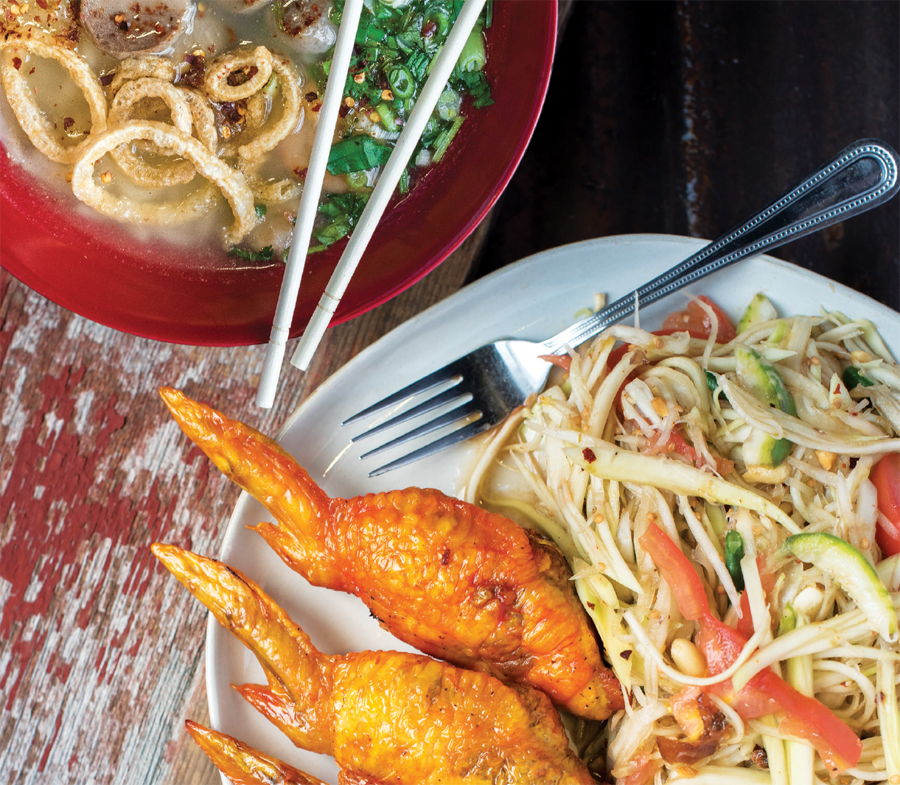 Meatball soup and stuffed wings with Thai-style papaya salad
photo by Kevin Kramer
---
Joy: The Hmongtown Marketplace is one of the great, affordable flavor adventures in the Twin Cities. It's a thriving indoor/outdoor marketplace in the summer, with a stunning array of fresh produce year-round, and in the winter, there are still tons of shops and food stands to explore.
Jason: If it feels like you're pulling into a lumberyard, that's because you are. Or would have been. In 2004, two old lumberyard buildings transformed into a market that takes you to Asia. Enter the west building, walk past the stalls selling DVDs and Native clothing to a modest food court with eight vendors.
Joy: This is ground zero for great wings in the Twin Cities. Utterly crusty and crispy, they have been deboned and stuffed with a seasoned meat and bean-thread filling. Pick out whichever looks freshest from the fryer.
Jason: Our first stop: Twin Tropic Cafe, with its incredible variety of bubble teas, served more like smoothies, with tapioca bubbles at the bottom. The chocolate and the blueberry were both perfect.
Joy: Hmoob Kitchen had the best dish of my last visit: shellacked beef ribs with a sweet coating for $12 each. The helpful guy working the counter whacked it into easy-to-eat bits and served it with a mouth-searing, brightly flavored sauce worth eating by the bucketful.
Jason: Hmoob was a favorite of mine, too. Nothing pretty about the dark mustard greens cooked with pork, but the flavor was incredible. The catfish steamed in banana leaves with lemongrass, lime, and anchovies warmed me from the inside.
Joy: One of my favorite things to order here is the green papaya salad, but be warned: It is flavorful and funky. The raw papaya is shaved and then pounded into submission with pestles in giant mortars along with bitter melon, fish sauce, chilies, and a whole mess more. I've found the Thai version of this dish a bit more floral, where the Hmong fermented sauce packs a nasal-cavity punch. Not for the faint of heart, but delightful if you like things bold.
Jason: I was transfixed watching this happen. For $6, I had enough food for several days. Golden Cuisine is the only place I've ever had a larb made with roasted chicken from an entire bird. Larb is a traditional "salad" made of meat, chilies, lime, and mint. Also, don't miss Twin Tropic's meatball soup made with fresh noodles—it reminds you of Pho, but the noodles are shiny, milky-colored, and oh so good.
---
Hmongtown Marketplace
Payment:
Bring cash—or stop at the on-site ATM—as not all the vendors take cards
Ordering:
Don't be afraid to point and ask about dishes
Spice:
Ordering something hot is no joke. It's OK to ask for mild.
Hmongtown Marketplace
217 Como Ave., St. Paul, 651-487-3700, hmongtownmarketplace.com