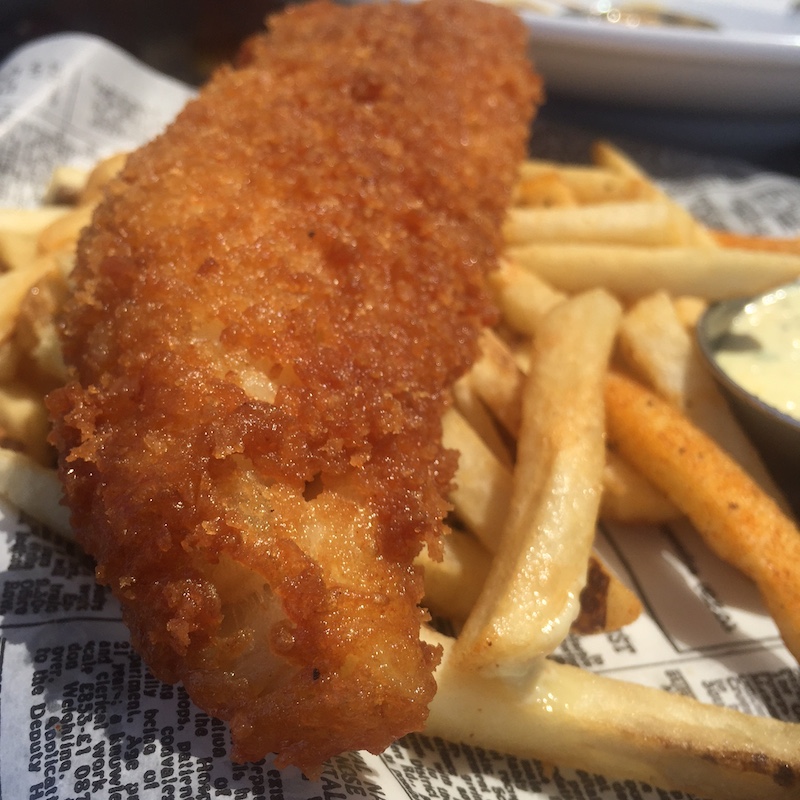 Fish and chips at O'Brien's Public House in Shakopee. Photos by Jason DeRusha.
I've never understood why the area south of 494 is such a wasteland when it comes to quality, locally-owned restaurants. So many people live there! Take Shakopee: it has a population of about 40,000, and it's got Valleyfair, Canterbury Park, Badger Hill (a nice new brewery), and this week I had a great lunch at an excellent Irish Pub.
O'Brien's Public House just opened a couple months ago. Scott and Jody O'Brien transformed what used to be an auto parts store, and before that a Ford dealership, into a brand new pub that looks like it came out of Dublin. They added architectural antiques like a bar back that's 150 years old from an old Irish pub in Boston and stained glass windows that come from the U.K. It's lovely. These authentic, old details have been combined with local craftsmanship: many of the stained glass windows were created by an artist in Shakopee and the bar was finished by a local carpenter.
The owners are local, too. Jody is a dentist, she owns a practice in Shakopee, and Scott is a developer who builds apartments and assisted living facilities in the area. They are bullish on downtown Shakopee, and have invested a lot (more than $3 million!) in the pub.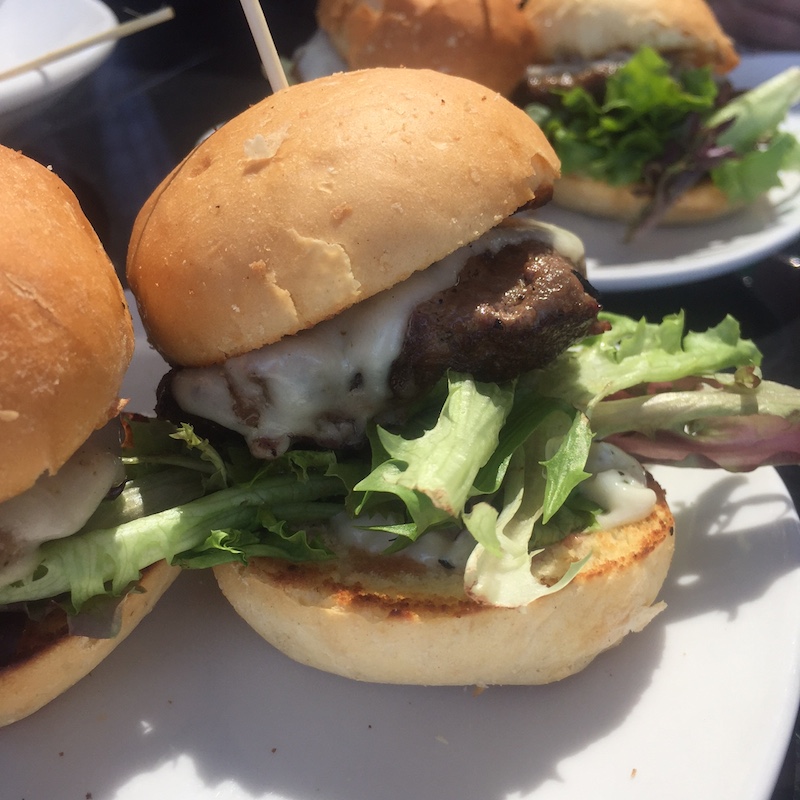 Lamb sliders at O'Brien's Public House
So how's the food? It's really good. You might recognize general manager Derek Sivula, who has experience at The Liffey and Kieran's, so he knows Irish pubs. The menu is what you'd expect if you've been to one of the excellent pubs in the Twin Cities: Irish classics like a potato leek soup and really nice Cod fish and chips (battered with a PBR crust). Plus there's tons of burgers, and some unusual, but great items: lamb sliders topped with aged white cheddar and rosemary-mint aioli, and Banger Pops—banger sausages wrapped in puff pastry on a stick. 
The huge patio is open Monday-Saturday from 11 a.m.-bar close, and Sunday opens at 9 a.m. for brunch. In a part of the metro littered with chain restaurants, I'm glad to see some locally-invested people giving it a go in their hometown.
O'Brien's Public House
338 First Ave. E., Shakopee
obrienspublichousemn.com
Facebook Comments