Mini tlayuda
photos by kevin kramer
---
Jason: It seems like every other week we get a new restaurant or food truck playing with Mexican flavors inside a tortilla. So much experimentation with meats and toppings, but it has taken a long time to get a top-tier Mexican restaurant like Popol Vuh in northeast Minneapolis.
Joy: This restaurant from chef Jose Alarcon and owner Jami Olson, formerly the bar manager at Lyn 65, delivers the most exciting flavors of Mexico to Minneapolis. Roasty masa in the tortillas, tangy funk from the huitlacoche, and snap-pops of bracing greens smack the taste buds to attention.
Jason: Fire is front and center in this very sexy, very industrial space across the street from Indeed Brewing's taproom. Popol Vuh is the contrast to Centro, its brightly colored, counter-service taqueria-bar sister next door. And by and large, the food lives up to the gorgeous surroundings.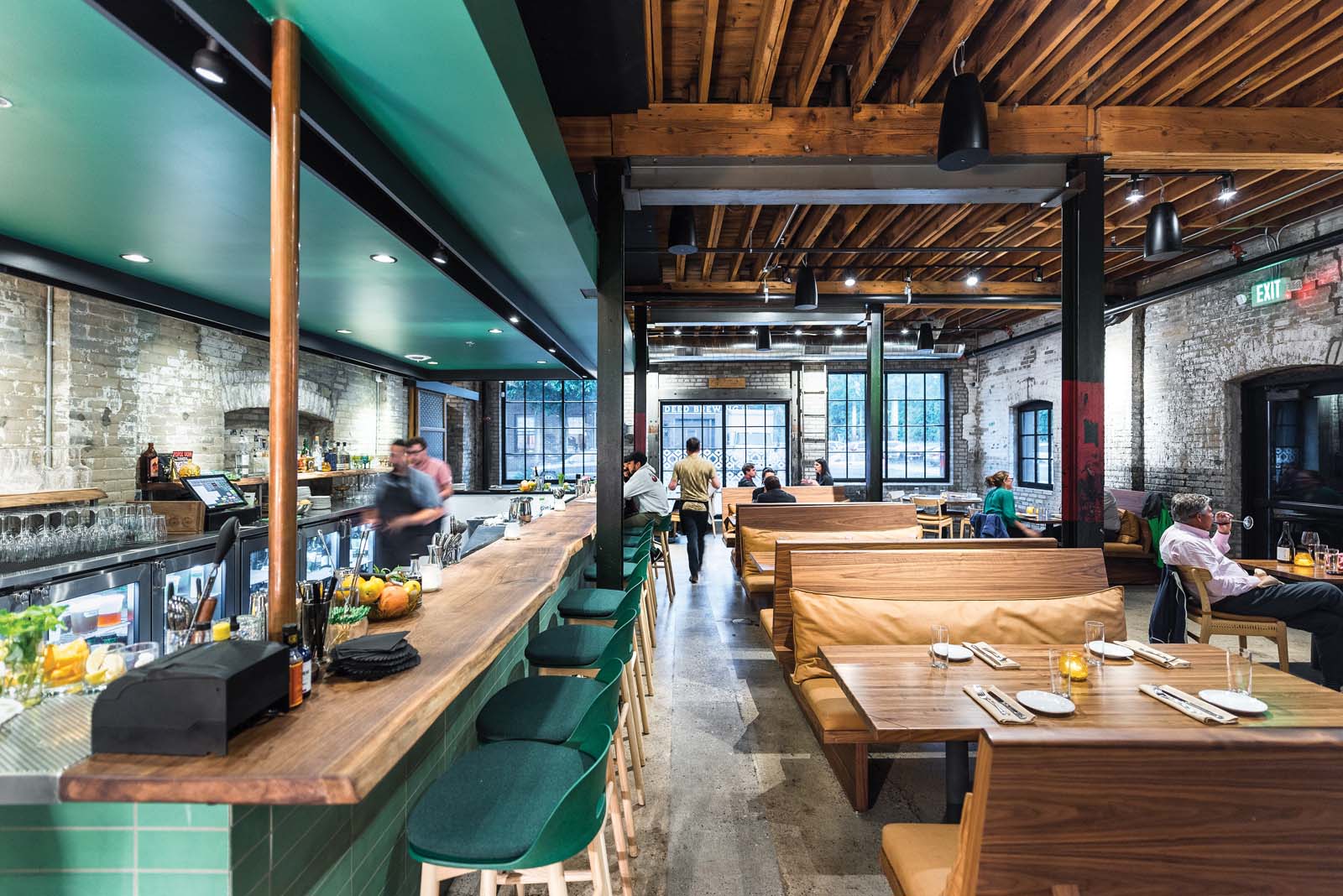 Joy: This former adhesives factory has been transformed into a soothing space with Spanish moss and tanned leather colors. Getting there requires entering Centro. The host stand is between the two restaurants, but not always manned—which had me wandering into the room without any direction both times.
Jason: Once inside, you're in for a treat. Every sense is engaged with the smell of burning wood, the sight of the flame, and your taste buds firing with some truly inventive cocktails. The Norte Y Sur exploded with red color from fresh red pepper, with mezcal and aquavit proving that North/South opposites attract.

Pollo a la lena
Joy: Our meal was near perfection. Appetizers were stellar; a corn esquites blew our table away with pops of summer corn, a creamy twang of sauce, dusting of chile, zing of citrus, and an unexpected but welcome chew of added grains. A twist on the traditional chorizo con papas taco was served in a scarlet tortilla with a twisty charred tendril of octopus.
Jason: Tuna ceviche was served in the inverse: The habanero-kissed, lime-cooked fish was the foundation for a dish display that would impress an architect. A crispy disc of a tortilla sat on top. Delicious and delightful.

Carne asada with esquites
Joy: Our best dish might have been the chicken. Salted within an inch of overkill, the skin bubbled into a divine crust that had us fighting for the last bite. This was the stuff of crusty poultry dreams, with a super juicy interior over a smoky, mild chile sauce that I literally licked off the plate. The only misstep were the carrots, which tasted like something manufactured by Nerf. I wonder if the brown butter sauce was accidentally omitted?
Jason: My only criticism is that some flavors bordered on too subtle. For the pork chop, chef Alarcon used huaxmole (a light green sauce made with garlic, tomato, and seeds from guaje, a Mexican vegetable). The pork was so good and bold, but the sauce limply sat there adding nothing. Still, I'm excited about the direction here, and the incredibly warm service elevated our experience. Popol Vuh is one of the better new restaurants we've reviewed in Minnesota this year.
---
Popol Vuh Quick Tips
Parking
Small lot behind the restaurant, plenty of free street parking
Reservations
Recommended, as Popol Vuh only has 40 seats
Go Casual
Counter-service Centro has inventive tacos and highly addictive apps like chipotle mayo-tossed, roasted fingerling potatoes (papas chingonas)
Popol Vuh
1414 Quincy St. NE, Minneapolis, 612-345-5527, popolvuhmpls.com