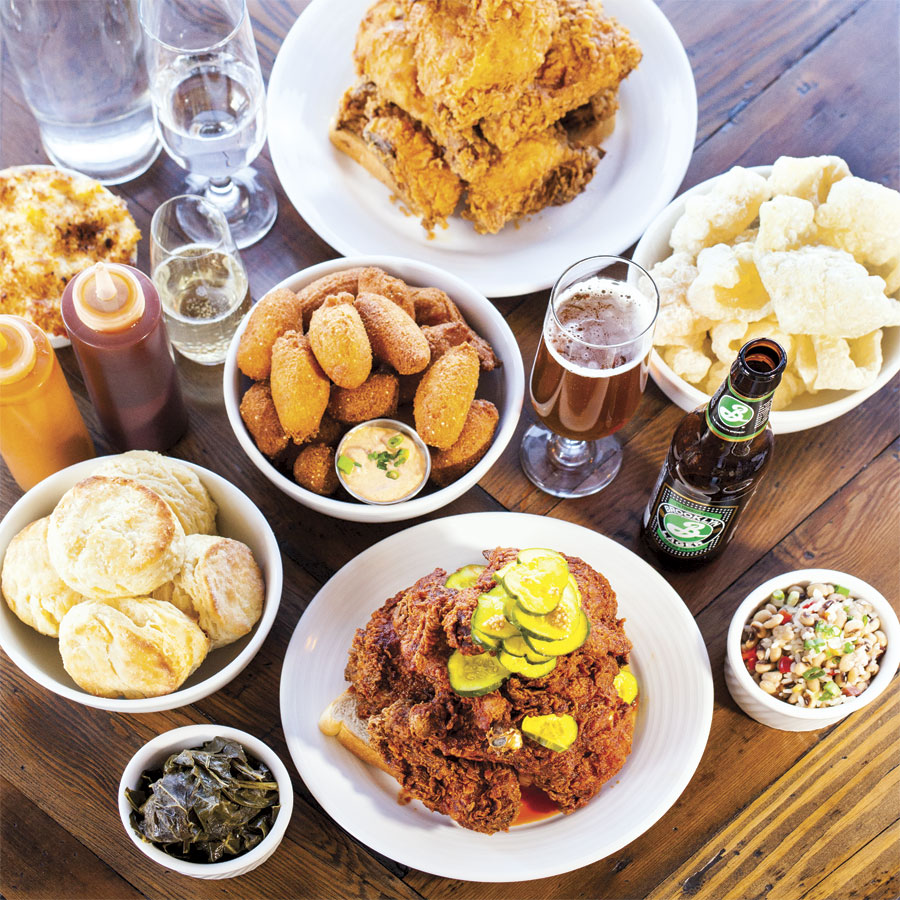 photo by tj turner
What is it about gnawing a chaw of fried-chicken crackle that inspires even a Nordic Yankee to heap praise like a sub-Mason-Dixon native? Who knows, but it's true: At Revival, the chicken's so good it'll make you want to slap yo mama.
But you knew that Revival, which inhabits the cozy space vacated by its sister restaurant, Corner Table (it decamped down the street for larger digs), was doing things right as soon as you cracked the lid off your first buttermilk biscuit. The flaky crumble reveals a pillowy center perfect for soaking up sorghum-sweetened butter.
Revival's southern-bred chef Thomas Boemer applies refined technique to classic flavors. And the new restaurant feels more energetic and relaxed than Corner Table, with dishes inhabiting a wider range of casual and elegant. Puffy pork rinds—those deep-fried, crunchy clouds—would fit right in on a bass-fishing boat or the NASCAR stands. Meanwhile, fancy toast topped with pickled shrimp, pigs' feet (don't worry, the meat's pulled off the trotter), and celery leaves could easily appear on an upscale tasting menu. Between those poles, the entrées tend to be hearty and flavor-rich, whether pork shoulder with white cheddar grits and collards, or a double-patty burger layered with American cheese and planks of thick-cut, smoky bacon.
But back to the bird. A fowl's worth of wings, legs, breasts, and thighs arrives stacked in a tower like an edible game of Jenga. The crust can be ordered as standard southern fried, Tennessee hot, or gluten-free for those who must ("I don't want you to have it unless you have to have it," our server bluntly offered). The standard version has just the right crispness, thickness, and hint of heat; critically, it seals in every last bit of moisture. FYI, leftover-lovers: A reheated piece (or one gnawed cold) is almost as good as one fresh from the fryer.
4257 Nicollet Ave. S., Mpls.,
612-345-4516, revivalmpls.com