With only a few days of the year remaining, you're likely winding down from holiday festivities and gearing up to host friends and family for a New Year's Eve celebration. So, break out those champagne flutes and small plates because there's nothing better than mouth-watering appetizers and a bubbly toast to ring in a new year.
Need some ideas for small plates? Here are some of our favorite appetizer recipes that are sure to impress your guests.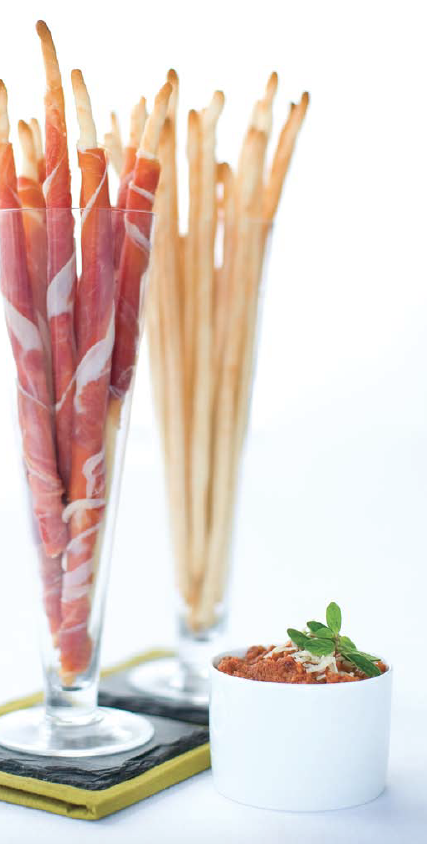 Grissini are ultra-thin breadsticks from Italy. Have the prosciutto sliced very thin so that it can be easily wrapped around each breadstick, suggests chef Rozanne Gold, who contributed this recipe to Real Food. Then, dip them into this unusual tapenade for an addictive appetizer, which is also delicious simply spread on slices of toasted baguette.
Makes 18 grissini (serves 6).
Ingredients:
1 (12-ounce) jar roasted red peppers
1 cup dried cherries
1 cup pecans, lightly toasted
²⁄³ cup grated Parmigiano-Reggiano
¹⁄³ cup olive oil
¼ small clove garlic (optional)
18 grissini
18 very thin slices prosciutto
Directions:
1. Drain peppers in a colander and rinse under cold running water. Drain well and pat dry. Put cherries in a small bowl. Cover with boiling water and let sit 5 minutes to soften. Drain and pat dry.
2. Put peppers, cherries, and pecans in bowl of food processor and process until blended. Add cheese and olive oil and process until smooth. Transfer to a bowl. Push garlic through a garlic press and stir into spread, if desired. Add salt and freshly ground black pepper to taste. Cover and refrigerate until ready to use.
3. Tightly wrap one slice of prosciutto, in a spiral fashion, around each breadstick to cover (leaving an inch at one end of the breadstick uncovered so that it can be picked up).
4. Place prosciutto-wrapped grissini in a deep, narrow bowl or vase so that they stand up. Serve with the tapenade for dipping.
These turkey meatballs are not only a great alternative for people who don't want to eat beef or pork, but with the wonderful seasonings, every little bite packs a delicious punch, says chef and caterer Serena Bass, who created this recipe for Real Food.
Makes about 25 meatballs.
Ingredients:
2 tablespoons olive oil
½ cup diced packed shallots
1½ teaspoons salt
¾ cup diced apples (Gala or Golden Delicious)
½ cup packed fresh white breadcrumbs or panko
1/4 cup half-and-half or whole milk
1 pound ground turkey
2 extra-large eggs
2 teaspoons minced fresh sage (1½ teaspoons dried sage)
2 teaspoons finely minced lemon zest
¾ teaspoon freshly ground black pepper
butter for frying
vegetable oil for frying
Directions:
1. Put the olive oil in a heavy, non-stick sauté pan over medium heat. Add the shallots, apples, and ½ teaspoon of the salt. Sauté for about 6 minutes, or until translucent. Tip out onto a plate and set aside to cool.
2. Put the breadcrumbs in a small bowl and add the half-and-half. Stir to mix and set aside for at least 5 minutes and up to 20 minutes.
3. Put the turkey, eggs, sage, lemon zest, remaining salt, and the black pepper in a bowl. Add the shallot mix and the soaked breadcrumbs.
4. Set the bowl in the kitchen sink, and with your hands, gently but thoroughly mix together. It will be quite a wet mixture. (I like to leave the mix for at least 30 minutes before cooking to firm up, but you can proceed to the next step if you are short of time.)
5. Lightly film the pan with equal amounts of butter and vegetable oil. Using a tablespoon measure, scoop up a lightly heaped spoonful and shake it into the pan. If the patty isn't nicely rounded, just use a couple of wooden spoons to shape it. You will be sautéing these in batches, so they won't be so close that they start to steam.
6. Sauté for about 3 minutes on each side. The meatballs can be held in a very low oven or, when you get to the party, reheated on a parchment-lined sheet pan at 250°F for about 8 to 10 minutes.
Popcorn is, of course, delicious with just a little salt and drizzle of butter, but it also makes tasty sweet and savory snacks that are perfect for parties—such as the following sweet and spicy recipes, courtesy of the Popcorn Board.
Makes 8 Cups
Ingredients:
8 cups air-popped or stove-top popcorn, unbuttered and unsalted
1 cup dried cranberries
1 cup toasted pumpkin seeds
1½ tablespoons coconut oil, melted
¾ teaspoon ground cinnamon
½ teaspoon ground nutmeg
4 ounces dark chocolate, melted
½ teaspoon coarse sea salt
Directions:
In large bowl, toss together popcorn, cranberries, pumpkin seeds, coconut oil, cinnamon, and nutmeg.
Lay mixture flat on parchment paper-lined tray. Drizzle with melted chocolate and sprinkle with sea salt. Let stand at room temperature for about 20 minutes or until chocolate sets. Break apart into chunks.
Melissa Cole, a U.K.-based beer and food writer created this recipe for her book, The Beer Kitchen: The Art & Science of Cooking, & Pairing, with Beer.
Makes 6 servings
Ingredients:
2 (14-ounce) cans cooked chickpeas, drained and rinsed
1 garlic bulb, roasted, with the flesh squeezed out (See Cook's Note)
2 ounces (1/4 cup) classic German pilsner or Helles
1 1/2 tablespoons ground cumin
juice of 2 lemons
1 teaspoon superfine granulated sugar
2 tablespoons tahini
1/4 teaspoon asafoetida (hing) (optional)
1 to 3 tablespoons extra virgin olive oil
fine sea salt
For the Swirly Topping:
1 teaspoon harissa
splash of olive oil
2 tablespoons finely chopped parsley
1 tablespoon toasted sesame seeds
Directions:
Reserving a few chickpeas for the topping, put the rest in a food processor with the garlic and 2 tablespoons of the beer. Blitz for 30 seconds or so.
Add the cumin, lemon juice, sugar, tahini, and asafoetida, if using, and blitz a bit more.
With the blade running, start adding the olive oil very slowly so it emulsifies and becomes smooth, adding more beer if needed (it will depend on how damp your chickpeas are). You want a smooth, thick consistency.
Taste for seasoning and acidity, adding more lemon juice and salt if required.
Spoon into a serving bowl and add an extra drizzle of olive oil. Use a teaspoon handle or chopstick to drag a deep swirl pattern in the top of the hummus.
Mix together the harissa with a splash of olive oil and carefully pour into the swirl pattern. Place the reserved chickpeas on top, garnish with the parsley, then sprinkle with the sesame seeds.
Cook's Note: Just chop the top off a garlic bulb, place on a piece of kitchen foil big enough to wrap it in, drizzle with olive oil, wrap in the foil, and pop in a preheated oven at 350˚F for 30 minutes or until the cloves will squidge out the top. It will keep for ages in the fridge.
Facebook Comments