Each month, in our Restaurants Revisited conversation, MnMo food critics Jason DeRusha and Joy Summers return to an "old favorite" restaurant and assess how it's faring.
Joy: Back in 2006, Sea Salt was among the first of the new generation of ambitious Twin Cities park concession restaurants. Two former managers of Coastal Seafoods took their love of fresh fish and turned it into a summertime tradition.
Jason: Minnehaha Park is so charming with the roaring falls and meandering river!
Joy: I love bringing my family even though I hate lines. My toddler is basically a ticking time bomb, but my kids play in the park while one parent holds our place in line.
Jason: Once you're inside the pavilion, send one person to the separate beverage line and order a pitcher of beer or a couple glasses of wine to help you pass the time. On a recent Friday night, we arrived at 7 p.m., didn't order until 8, and didn't get our food until 8:30! On top of the epic wait, in years past I've had some uneven meals at Sea Salt, so I was ready to be upset—until the food arrived.
Joy: On a Monday night, we stood in line for 15 minutes and then waited another half hour for our food. No matter what, you're going to wait—fortunately, most of the food is worth it. My must-order dish is the crawfish po' boy. The bread is perfectly squishy and toasted, and the fish is excellent with just a swipe of mayo and a glug of hot sauce. Among the specials, the buttery Louisiana-style barbecue shrimp was terrific.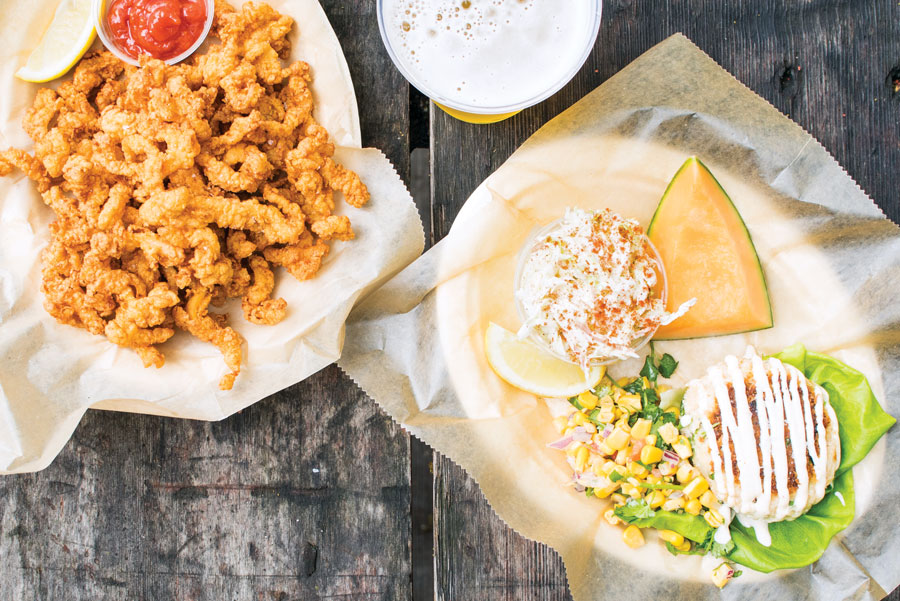 Clam fries and crabcake
photo by tj turner
---
Jason: We inhaled the clam fries—they have a textbook crunchiness and breading-to-clam ratio. The tacos are simple and rely on the owners' experience sourcing excellent fish—the grilled mahi mahi ones were lively and fresh.  Sea Salt really has the balance of fish and filling right: the crab cake tasted richly of crab but had just the right amount of breading—a good value for $12. The spendier "sexi ahi burger" wasn't well seared, yet cooked to medium, so it tasted a little dry. 
Joy: Now that there are so many places serving fresh seafood, it seems like such a casual environment—hollered orders, paper plates, plastic chairs, and encroaching wildlife—would mean slightly lower prices, but the price per raw oyster is the same as a full service, fancy restaurant.
Jason: Agreed. But the natural ambiance and good ingredients are worth paying for. 
---
Sea Salt Eatery Quick Tips:
Park Board's Cut: 12 percent of gross revenue—$415,462 in 2016
There's A Line: Don't go at peak hunger and use the wait as an excuse to make new friends
Parking: Bike, train, or plan to pay for parking
4825 Minnehaha Ave., Minneapolis, 612-721-8990, seasalteatery.com
Facebook Comments