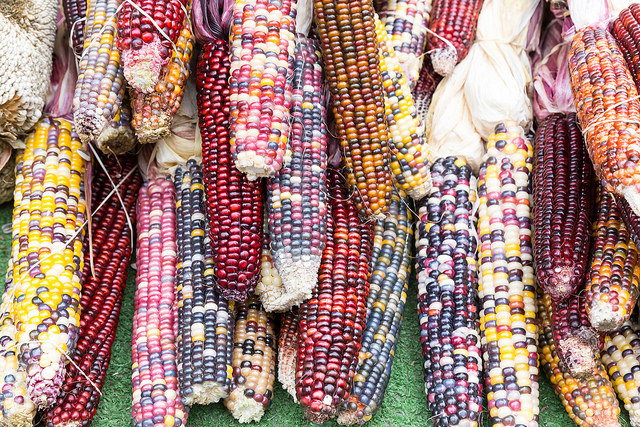 Photo courtesy of marco verch/flickr
When we picture Minnesotan heritage, many of us tend to think of the European influences, such as Scandinavian and German immigrants, lutefisk, and Lutheranism. Go just a little further back, though, and you'll find our original traditions: those of the indigenous people who came before.
This is the heritage that chef Sean Sherman is reviving through a language we all understand—food. With a nonprofit, a cookbook, and two upcoming restaurants, Sherman is challenging our definition of "local" food by bringing indigenous cooking back to Minnesota.
Born on the Pine Ridge Reservation in South Dakota, home of the Oglala Lakota tribe, Sherman started cooking as young as 13. When it came to learning about his own culinary heritage, though, it became clear to him that he'd have to teach himself. "I couldn't just go online and order The Joy of Native American Cooking," he jokes, imagining an indigenous spin on the classic Joy of Cooking, considered a staple on chefs' bookshelves. This gap inspired him, and, after moving to Minneapolis at 23, he co-founded The Sioux Chef, a local catering business, with business partner Dana Thompson in 2014, preparing indigenous cuisine for events as well as educating people about American Indian cooking through demonstrations. (Sherman recently sold his food truck—the Tatanka Truck, tatanka meaning "bison" in the Lakota and Dakota languages—to focus on education through a new nonprofit.)
What's on the menu? Nothing that Europeans brought to the area. You won't find beef, chicken, or pork. There's no wheat flour. No dairy or soy, either. Sherman says the food is typically plant-based (corn, squash, beans, wild rice), with fish, venison, bison, and other indigenous sources of protein. Sherman refers to these native foods as "ironically foreign," the type of thing you might find, quite literally, in your backyard. They also happen to overlap with today's trendy gluten-free, dairy-free, high-protein diets. Turns out Native American cuisine predated the modern Paleo craze.
Sherman's new cookbook, The Sioux Chef's Indigenous Kitchen, is another part of his effort to revitalize this culinary history. "You can't really get more Minnesotan than these foods," he says. "They've been here since before Minnesota was a thing."
Don't want to do the cooking yourself? Sherman and the Sioux Chef team have two restaurants in the works. One is in collaboration with the Minneapolis Water Works pavilion project, intended to "bring significant new historic, cultural, and recreational amenities" to the area, and will open in 2019 at the earliest. Sherman sees this location, near St. Anthony Falls and sacred to the Dakota people, as providing an opportunity to revive the indigenous culinary culture rooted there. The other restaurant has raised nearly $150,000 in a crowdfunding campaign and is currently seeking a location.
Two restaurants might sound like a lot for a first-time restaurant owner, but Sherman is no stranger to the business. He has worked as a chef consultant, helping to design new restaurants, and has more than 30 years of experience in the industry, including as an executive chef.
And the restaurants are only part of his larger vision. Sherman recently co-founded local nonprofit NÄTIFs (Native American Traditional Indigenous Food Systems), which aims to educate people about indigenous cuisine nationwide. "When people think about American food, they should be thinking about the indigenous historical background of the food that has always been here, instead of just labeling Coca-Cola and hamburgers as 'American,'" Sherman says. He hopes to work with tribal communities so they can develop their own restaurants specific to their regions, especially in areas that struggle with food access. "We're not just trying to be a restaurateur," he says. "We're trying to right a lot of wrongs."
Facebook Comments