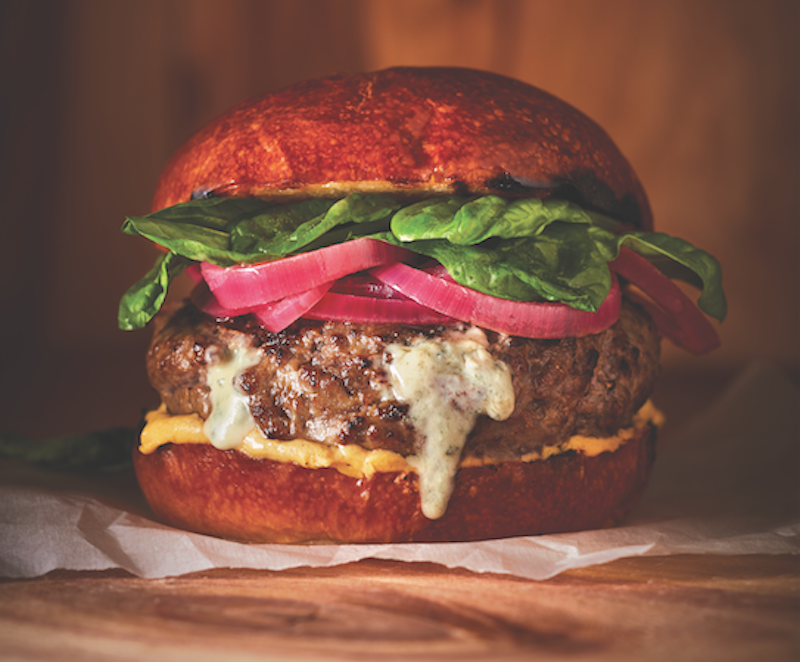 What's better than a thick, juicy cheeseburger? How about a blue cheese-stuffed burger that's seasoned with a jolt of steak sauce and topped with zesty pickled red onion? These bodacious burgers would be at home on a fancy steakhouse menu, but they are straightforward enough for a casual cookout says cookbook author and chef Molly Stevens, who created this recipe for Real Food. And with National Cheeseburger Day on September 18, you'll want to fire up the grill to make the most of the occasion—and the rest of the grilling season—in style.
Stevens notes that the goal when seasoning and shaping ground meat into burgers is to handle the meat gently and deftly without compressing since too much handling will result in tough, dry burgers.
Below the recipe, check out links to more burgers including turkey, pork, and spicy options to keep fanning the flames of burger love until the snow flies—or maybe even after.
Steakhouse Blue Cheese Burgers with Pickled Red Onions
Makes 6 burgers
For the Pickled Onion
½ cup vinegar, white or apple cider
½ cup water
1½ teaspoons sugar
1½ teaspoons salt
1 large red onion, peeled and sliced into thin rings
For the Blue Cheese Filling
2 ounces (about ½ cup) blue cheese, crumbled
1 tablespoon butter, softened, plus more for the rolls
For the Burgers
2 pounds ground chuck, preferably 80% lean
1 tablespoon steak sauce, such as A1, or Worcestershire
¾ teaspoon kosher salt
½ teaspoon freshly ground black pepper, or more to taste
6 hamburger rolls, preferably potato or sesame rolls
spinach leaves
steak sauce, ketchup and/or mustard (optional)
Make the Pickled Onion: In a small bowl, combine the vinegar, water, sugar and salt. Stir to dissolve. Add the onion and let sit for 30 minutes at room temperature. The onion can be covered and stored in the refrigerator for up to 2 weeks.
Make the Blue Cheese Filling: In a small bowl, combine the blue cheese and butter. Mix with a fork until well combined. Set aside.
Break the ground beef into 1- to 2-inch bits and drop into a mixing bowl. Season with steak sauce, salt and pepper. Mix gently to incorporate the seasonings without compressing the meat. Divide into 6 equal lumps, and then divide each portion again in half, so you have a total of 12 small portions. Lightly shape each into a thin patty, about 4½ inches across. Divide the cheese filling evenly among 6 of the patties, flattening and centering the cheese on each so it doesn't reach the edges. Top each with another patty, pinching to firmly seal the edges, and round the patties to make 6 evenly shaped burgers, no more than 1¼-inches thick. Refrigerate the burgers for at least 20 minutes, and up to 4 hours.
Heat a grill to medium-hot. Arrange the burgers on the grill and cook, flipping several times, until the burgers are done to your liking, about 6 to 10 minutes. Just before the burgers are ready, toast the rolls on the grill.
Butter the rolls and top with the burgers, pickled onions and a handful of spinach, adding any optional condiments.
Cook's Notes:
• For the juiciest and tastiest burgers, shop for freshly ground chuck, preferably 80% lean.
• Buttering the rolls is a steakhouse secret. Even a thin smear of butter amplifies the beefy taste, making the burgers even more satisfying.
• If you don't have time to make the pickled onion, make grilled onion instead. Cut the onion into ¼-inch thick rings, brush with oil, and grill the rings alongside the burgers until tender.
• For variations on the theme, substitute shredded cheddar, pepper Jack, provolone or Swiss for the blue cheese. Don't omit the butter.
• The longer you grill the burgers, the more cheese stuffing melts out, so if you prefer your burgers medium-well (or well-done), you may not see the cheese when you bite into the burger. You will, however, taste it; even if the cheese melts away, plenty of flavor remains.
• The recommended internal temperatures for burger doneness are 125°F for rare, 135°F for medium-rare, 145°F for medium and 155°F for medium-well.
Nutrition info Steakhouse Blue Cheese Burgers with Pickled Onions (Per Serving): Calories 506; Fat 29g (Sat. 13g); Chol 119mg; Sodium 895mg; Carb 26g; Fiber 2g; Added Sugars 3g; Protein 34g
Hungry for More Burger Recipes?
Kentucky-Style Turkey Burgers with Redeye Bourbon Onions and Aged Cheddar
How can you make restaurant-style "fancy" burgers at home? First-class fromage helps—and a recipe from meat guru Bruce Aidells.
Bacon Cheddar Green Onion and Greek Spinach Stuffed Burger Recipes
Jazz up your burger repertoire with juicy burgers filled with flavor
Turkey and Bacon Burger with Hickory Mayonnaise
This turkey bacon burger stuffed with cheese is a great change of pace from classic beef burgers.
Spanish Chorizo and Beef Burgers with Manchego Cheese
Fire up the grill for sizzling burgers with Spanish flair.
Mexican Pork and Chicken Burgers
Create fun in a bun with this imaginative alternative to the familiar beef burger.
Spicy Southern Italian-Inspired Burgers with Fontina Cheese
Heat up burger season with patties infused with a kick of peppers and topped with Lemon-Caper mayo.
Pair Burgers with Wine!
Burger Buddies: Sizzling burgers can find a friend in wine—a lot has to do with the toppings.
Facebook Comments