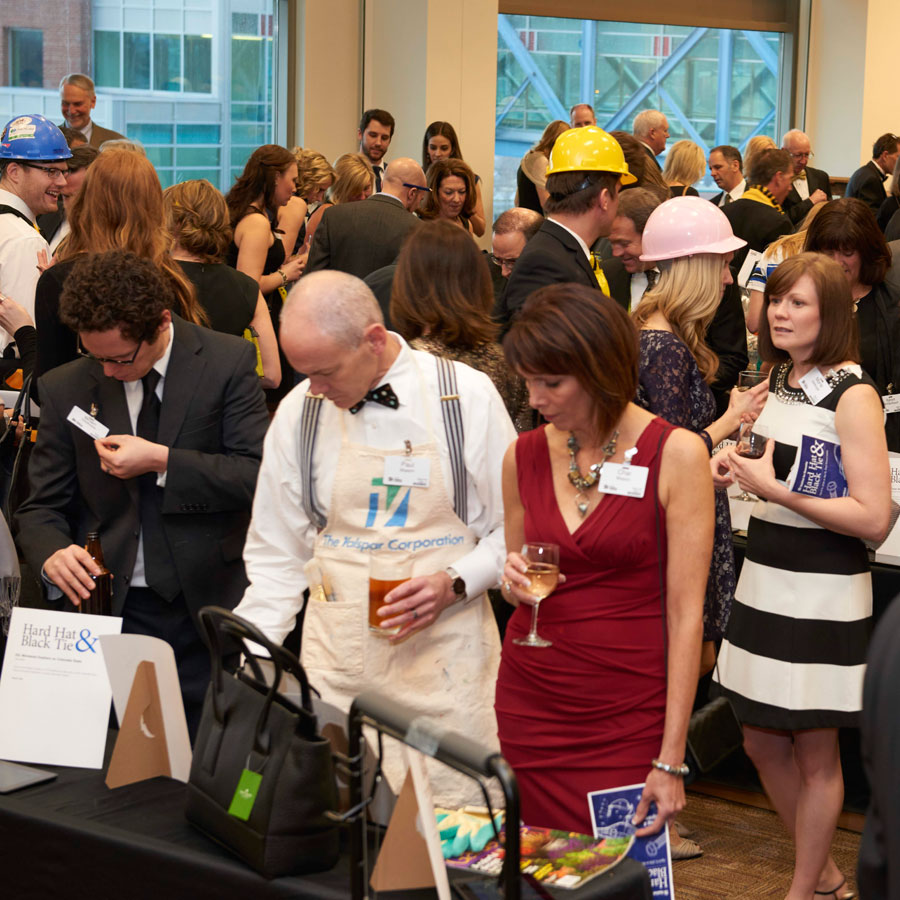 Attendees scope out items for auction at the Habitat for Humanity Hard Hat & Black tie Gala. Photo by Matthew Jenkins.
Habitat for Humanity held its Hard Hat & Black Tie Gala April 9 at the Saint Paul RiverCentre to raise money for the organization's efforts to construct and house 50+ Twin Cities families each year. 
Mike Nordstrom: My connection to Habitat started about 30 years ago when my wife and I started swinging hammers as volunteers through our church. About 10 years ago, I was looking for a board to sit on and got a call from Habitat. That's where my passion was, and the next thing you know I was on the board for six years. I'm an engineer by background. It was an easy place to do volunteerism because all talents are accepted. The first time you meet a family, that's it—you're hooked for life. 
Dan Shapiro: I've been volunteering with Habitat two days a week since I retired in 2009. I love the camaraderie, and I also love building. I was an attorney and did a lot of transactional work. Sometimes it would take two or three years to see a deal come to fruition. At Habitat, you work all day, and at the end of seven or eight hours, you turn around and you see exactly what you accomplished.
Jon Slock: I chair the young professionals committee and have taken many overseas trips with Habitat. I just got back from a trip to Ethiopia. I'm an accountant by trade, but it's great to get on a work site and do things where I have no idea what I'm doing such as putting up walls. You meet the homeowners at some point during the process. They're always great and humble, and you realize you're making a very tangible difference in their lives.
Tony Beckstrom: I've been a site supervisor for Habitat for 27 years. We're up to about 1,400 houses in our Habitat chapter in the Twin Cities. That probably represents about 6,000 children that now have safe, clean housing that their folks can afford.
Kari Canfield: I just did my first two Habitat builds this past summer, and it was awesome. Once I got there, I knew that I wanted to keep coming back. I've gone to three ribbon cuttings for homes. You get to meet the whole family—the kids, the mom, and the dad—and that just makes it really worth it. 
Facebook Comments