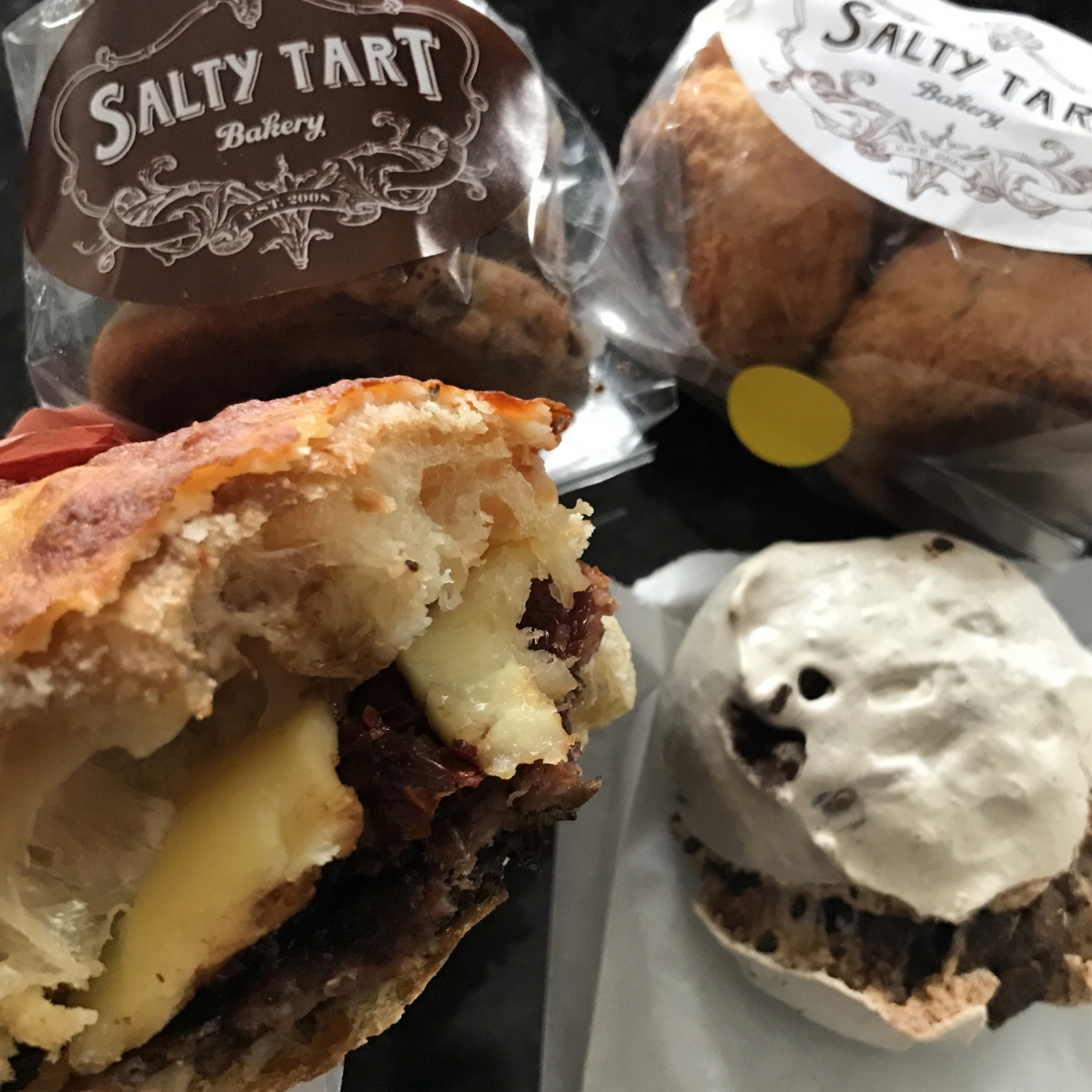 Michelle Gayer's Salty Tart bakery is truly incredible. Last week I stopped in to buy desserts for a dinner party. I got my favorite (the salted caramel tart), grabbed the best $7 sandwich I've ever had (oh the bread!), and bought the best $1 dessert in Minnesota.
I mean, what can you really get for a buck? You can get about four bites of heaven: Michelle's chocolate chewy meringues. They're impossibly light and soft and chocolatey and I really need to get over there and buy another one.

Chocolate chewy meringues. Courtesy The Salty Tart Instagram.
My week was so good, my coworkers bought me a Salty Tart cake for my birthday (made with chocolate mixed with Surly beer—truly excellent). To get a 6″ cake that served about 10 people, from a nationally-known and award-winning baker for $32 in Minneapolis, is a real treat. I expect big things from Michelle this year—her talent is too big to be just confined within the walls of Midtown Global Market. Wouldn't you love a Michelle's Bakery in your neighborhood? 
Anyway, she's one of my favorite people, so go spend a dollar and thank me for giving you something that tastes more like $10. Or try to make it at home: the chewy chocolate meringues are just five ingredients, nothing really fancy. If you've ever whipped eggs into a meringue, it just takes a little patience to make sure you don't go too far, or come up too short.
INGREDIENTS
1 cup egg whites
2 cups granulated sugar
5 tablespoons cocoa powder
4 ounces bittersweet chocolate, chopped
4 ounces cocoa nibs
DIRECTIONS
Preheat oven to 350 degrees F.
In a clean, dry, metal KitchenAid bowl, mix egg whites and sugar with whisk.
Place over a pot of simmering water (making sure the water is not touching the bottom of the bowl!) and stir constantly until you cannot feel the granules of sugar between your fingers.
Place on mixer, with the whip attachment, and mix on highest speed until the meringue is stiff and glossy.
Sift cocoa powder onto meringue, and toss in chocolate chunks and cocoa nibs. Fold gently with a rubber spatula until combined.
Drop meringue by heaping tablespoons, (or use a cookie scoop) onto parchment lined cookie sheets. Bake for 9 minutes, rotate, and bake for 9 more minutes. Cookies will be fluffy, full of cracks, and spring back when touched lightly.
Salty Tart, 920 E. Lake Street, Minneapolis, 612-874-9206
Facebook Comments