Hot dogs: they're not just for baseball games anymore, of course. Several new-ish Minneapolis restaurants have adapted the humble hot dog for more gourmet tastes, topping them with the sorts of fancy, chef-driven garnishes that don't come in bulk-sized condiment squirt bottles, such as cilantro aioli, bacon vinaigrette, or sunny-side-up eggs.
Enjoy summer's dog days with three of my favorites: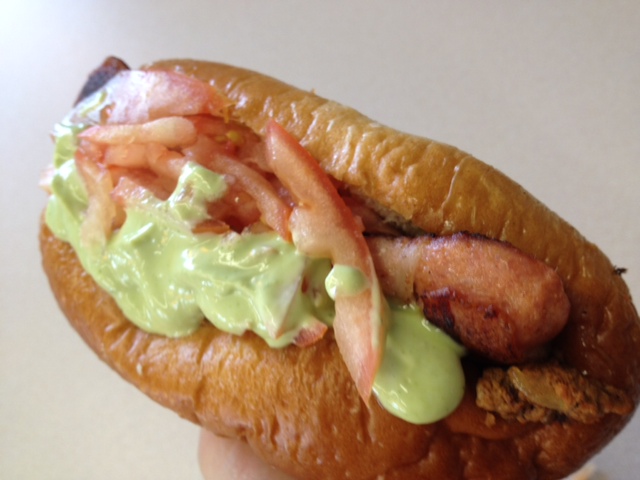 Sonora Grill's Sonoran Hot Dog
The bacon-wrapped Sonoran hot dog is an export from the coastal Mexican state that quickly crossed the border to the southwestern U.S., but is tough to come by here in Minnesota, save for the Midtown Global Market. Sonora Grill's chef/co-owner Alejandro Castillon makes a gourmet rendition of this street food snack from his homeland: take a house-made, preservative-free pork wiener, split it, coil it in bacon, and cook it on the griddle. Then tuck the meat into a Salty Tart bun and top it with crumbled turkey chorizo, sautéed onions, chopped tomato, and—the kitchen's secret weapon—cilantro aioli, before letting meaty/salty/spicy/creamy bliss ensue.
 
Muddy Waters' Bacon, Egg, and Cheese Dog
Muddy Waters' brunch wurst makes for a bang-up weekend breakfast in the Lyn-Lake neighborhood. Melted cheddar cheese fuses together spicy sausage, bacon, and bun, which is then delicately topped with a soft-cooked egg. Pile on a few of the house-made pickles and then bite through the yolk to layer creamy richness onto the spice of the bratwurst and vinegar-soaked veggies.
 
Tilia's A Couple of Dogs
Steven Brown is a bona fide hot dog geek—he's gone so far as to propose an entire hot-dog-themed eatery for the Minneapolis Park Board's new Lake Nokomis concessions. In Linden Hills, Tilia's original pickled-vegetable-topped BLT dog is presently being phased out to accommodate another bacon-themed dog. The new wiener duo is topped with a heap of mustard-and-vinaigrette-laced bacon bits with the sweet-spicy-tangy flavor profile of campfire-baked beans. Finish with a scatter of scallions, peperoncini, and garlic chips, and—voila!—an addiction is born!
 
Facebook Comments