Jason sinks his teeth into the italian bomba sandwich from mancini's
I have a strategy when it comes to new foods at the Minnesota State Fair. I look at the list, and then I don't try the things that are likely to be gross.
Let's be honest: When you see "Cheesy Nacho Corn on the Cob," do you think that's going to be good? "Cherry Bombs"—the red licorice dipped in batter and deep fried? Bacon-wrapped pork belly and mashed potato croquettes?
So, I limit myself to the stuff that looks potentially good. And a lot of this year's new food is, in fact, good! I'll update my list as I try more food, and I'm listing it in order of how much I like it:
Italian Bomba Sandwich
$8.25, Mancini's
This is straight-up delicious, and big enough that a couple people can share. Like an Italian version of a Cubano: prosciutto ham topped with 5-hour slow-cooked, beer-braised pork shoulder and a lovely giardiniera Italian relish. This is a winner.
---
Hill Country Beef Hot Pocket
$8.50, Blue Barn
Tender beef in a perfectly crispy and well-seasoned shell. A riff on a hot pocket with a black pepper mushroom sauce inside, this is what fair food should be.
---
Pork Mole Tamale
$10, Tejas Express
For those who weren't in the Twin Cities when Tejas was killing it at 50th and France, this is a reminder of how good these guys are. The mole is chocolatey and earthy and maybe the best mole I've had in Minnesota, all on a substantial corn tamale with slow-roasted pork. Nice black-bean-and-pineapple relish makes this a fabulous lunch.
---
Double Dose of Pork Belly
$7, RC's BBQ (formerly Famous Dave's)
Charlie Torgerson is one of the best pitmasters in the country, and the subtle smoke on this belly slider is quite nice. But the spicy barbeque sauce and the pickled onions put this sandwich into a different level. 100% ground pork belly burger topped with a hunk of smoked pork belly, It looks small because it's a slider, but the taste is huge. A winner.
Garlic Cream Cheese Wontons
$6, Que Viet (between the Merchandise Mart & Food Building)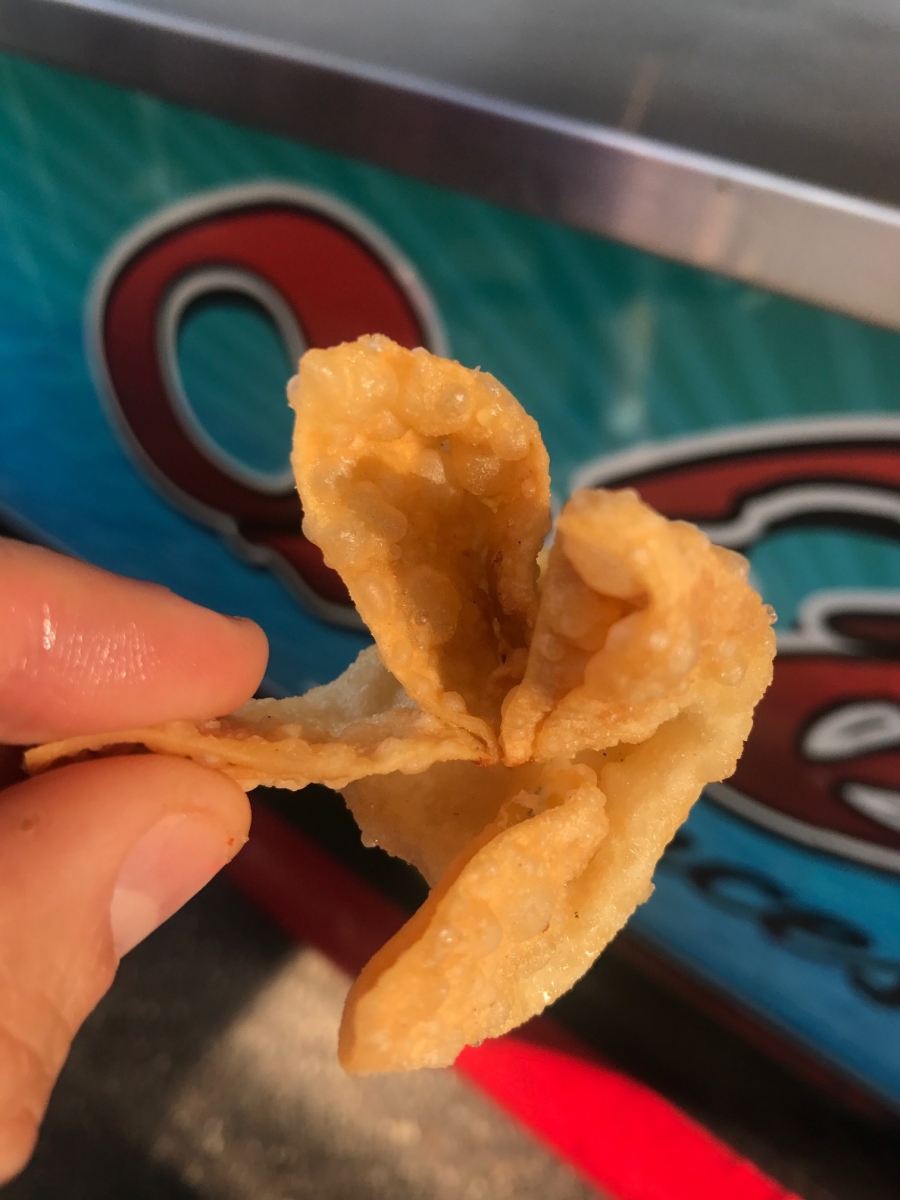 Simple, crispy, excellent wontons. The garlic cream cheese is whipped so it's light and fluffy and full of flavor.
---
Duck Bacon Wontons 
$8.50, Giggles Campfire Grill
Is this the year of the wonton? The cream cheese sauce here is much thinner than a traditional wonton, with grilled sweet corn and cubes of duck bacon inside. Excellent flavor, you get five large wontons for the money. Well done.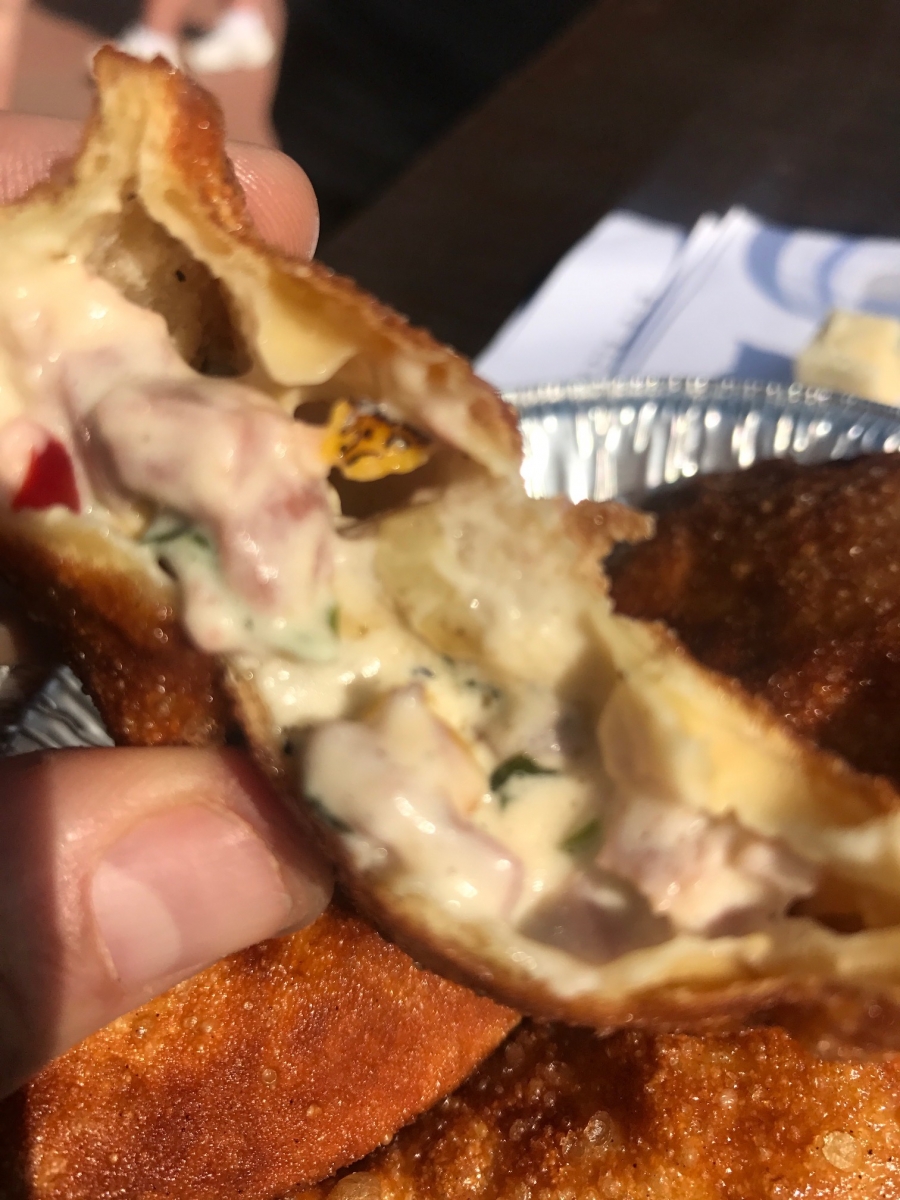 ---
S'Moresas
$6, Hot Indian Foods at Midtown Global Market (International Bazaar)
A riff on a samosa, Hot Indian uses a nice crispy shell and loads it with rich chocolate and creamy marshmallow. It's sweet, messy, and delicious. The chai dipping sauce is more like a glaze, I'm not embarassed to say I stuck my finger in it and ate a hunk, as it's awesome and I want it on a donut right now.
S'Mores Ice Cream from Izzy's
$5, Hamline Church Dining Hall
These ice creams seem to get better every year, and this one tastes just like s'mores! So Minnesotan. The charred marshmallow, the chunks of chocolate and graham cracker. Wonderful.
---
Triple Truffle Trotters Waffle Fries
$7.50, Blue Barn
I'm a Fresh French Fries guy at the Fair—but these fancied-up waffle fries are a worthy addition. Served with sliced peppers and bacon and a giant mound of what looks like sour cream but is actually a truffle aioli. Well, it's the Fair, so we'll just call it truffle mayo. Very truffley, but not in an off-putting way.
---
Giant Egg Roll
$6, Que Viet
Packed with pork flavor, this is indeed a giant egg roll. The shell is crispy and greasy, and this is a messy one to eat, so be warned. But dipped in a sweet/sour vinaigrette, you can see why the Giant Egg Roll was so popular at the Que Viet restaurants run by the same family.
---
Pizzarito
$5, Green Mill
It's pizza ingredients wrapped in a flour tortilla and baked. It's like a calzone with a tortilla. Why? Why not. For $5, it's a good value. Although I wish it didn't have the risotto inside. It was a little too crunchy and didn't add anything for me.
---
Honey Puffs
$6, Dino's
Deep-fried dough balls in a honey glaze. Too sweet, too boring—nope.
---
BEER:
Bauhaus Brew Labs: The Shandlot Lemon Shandy
Ball Park Cafe
Real lemon zest and lemon puree make this a real beer, not a lemonade beer. Refreshing, delicious. I'd have this again and again.
---
Barley John's Brewing Dill Pickle Ale
Giggles
A gimmick beer that works. The dill exists mostly in the aroma, although the flavor is there. It's balanced with a nice horseradish kick. Fun and good.
---
War Pigs Brewing Lazurite 
Ball Park Cafe
Brewed by former Surly brewmaster Todd Haug, this IPA is a knockout. Juicy, grapefruity, balanced, whoa!
---
East Lake Brewing Kirby Pucker Sour 
Ball Park Cafe
A great introduction to the sour beer format, this one drinks almost like a shandy.
Facebook Comments