"Tennessee Hot" chicken, mac & cheese, drop biscuits, and brisket from Revival in St. Paul
photo by terry brennan
---

Chicken, mashed potatoes, mac & cheese and more at The Dirty Bird
photo by Tj turner
---
Chicken
The Dirty Bird
Linden Hills
The concept: Takeout chicken joint shares a kitchen with fine-dining hotspot Upton 43. Cooks brine organic birds in chicken stock, then rub chicken fat mixed with butter under the skin and roast 'em. It's dirty…and delicious.
Must-order items: Chicken with roasted carrots and wild rice-a-roni 
Pro tip: Get the combo (whole bird plus four sides) and save three bucks
Tavern 4 & 5
Eden Prairie
The concept: Elevated bar food spot with a gorgeously tiled wood-fired oven and a centerpiece rotisserie
Must-order items: Birds are covered in rub and cooked on the oven's rotisserie so they have crispy skin, but stay moist inside. Sides are big enough for a family—try the smoke-kissed charred cream corn and campfire beans.
Pro tip: It's not on the menu, but you can get a whole chicken for $12 if you ask
Revival
Kingfield, Selby/Dale
The concept: The team behind Corner Table does elevated country food, and they're finally doing takeout
Must-order items: Southern-fried chicken: The Tennessee Hot is no joke, but so crackling-crusty-juicy good. Spice fiends will meet their match in the Poultrygeist, made with frighteningly hot ghost peppers!
Pro tip: Carryout orders must be placed in person and the kitchen is often slammed during peak hours, so plan to stop by early or late
Rooster's BBQ
West Seventh
The concept: If there's a happy cartoon animal of what you're about to eat on a restaurant's signage, there's bound to be good food inside. Rooster's specializes in broasted chicken, Coney dogs, and barbecue.
Must-order items: The broasted chicken has that unique, crispy skin and succulent interior that can only come from a pressure fryer. Get the chicken with a side of the seasoned-salt French fries.
Pro tip: There's only one booth, so dine-in isn't really an option
Holy Land Deli
E. Lake St., Northeast
The concept: Middle Eastern deli has fresh-made hummus, flatbreads, and all the trimmings
Must-order items: Whole chickens that have been twirling above an open flame until perfectly cooked with toasty, crisp skin and tender meat. Plus: tandoor-baked naan.
Pro tip: Make wraps by combining chicken and naan with a slathering of garlic-spiked mayo

Be'wiched Deli's pastrami sandwich
photo by tj turner
---
Sandwiches
Be'wiched Deli
North Loop
The concept: The original Twin Cities chef-driven deli puts a
gourmet spin on roast beef, smoked turkey, and poached chicken sandwiches
Must-order items: The tuna confit is accented with just a hint of preserved lemon and black olives. The asparagus, fennel, and fromage blanc sandwich is good enough to tempt carnivores, but it's hard to resist the pastrami.
Pro tip: Add a soup of the day, including Spanish tomato or butternut squash with jerk chicken
Manny's Tortas
E. Lake St.
The concept: Manny Gonzalez is the local king of the torta: a Mexican sandwich packed with cheese, tomato, lettuce, avocado, refried beans, and meat. Each torta weighs close to three pounds!
Must-order items: 3 Little Pigs combines pork tenderloin, bacon, and ham; the Manny's Special has steak, onion, mushroom, tomato, and jalapeño, grilled and then topped with ham and cheese; or go for a simpler Cubana with pork, ham, and cheese
Pro tip: Order a 10-sandwich tortas tray for your next party
France 44
Edina
The concept: High-end cheese shop attached to high-end wine shop serving high-end sandwiches. Think: prosciutto and fig garnished with the likes of quince and chutney. 
Must-order items: The prosciutto di Parma with Brie and olive oil is a simple delight
Pro tip: Normally, if you're getting a surprise at a meat shop, it's not a good thing, but the France 44 Surprise Sandwich is a risk well worth the reward
Surdyk's Cheese Shop
Northeast
The concept: Specialty grocery store jam-packed with incredible chocolates and cheeses and a meat counter with gourmet restaurant-grade prepared foods
Must-order items: The New Yorker is a glorious mess of pastrami, turkey, coleslaw, Swiss cheese, and coarse-grained mustard. The Minneapple melt combines creamy Brie, tender turkey, crisp apples, and lingonberries. And the ficelle is a thin baguette with organic butter and salumi for just a little over $5. 
Pro tip: Grab a few rich, intense dark-chocolate cognac brownies for dessert
Clancey's Meats & Fish
Linden Hills
The concept: Neighborhood butcher shop stocked with locally raised meats and a case filled with a rotating selection of sausages, pickles, charcuterie, and more
Must-order items: The roast beef sandwich piles blush-pink roast beef on a crusty baguette and dresses it with roasted and pickled peppers, coarse-ground mustard, mayo, a judicious swipe of horseradish, and a splash of red wine vinegar
Pro tip: The paper-wrapped sandwiches are notoriously messy, but slicing them into coin-sized pieces is tidier and makes it easier to share
St. Paul Cheese Shop
Mac-Groveland
The concept: This little gourmet cheese shop is generous with samples and full of new things
to discover
Must-order items: The Spicymonger sandwich starts with fresh bread from Breadsmith next door, spreads it with fluffy chèvre and layers it with soppressata, then tops it off with a kicky onion pepper relish and a dab of Sriracha for good measure
Pro tip: Finish with a dense, decadent Valrhona chocolate brownie
Lowry Hill Meats
Lowry Hill
The concept: The butcher behind this shop is a chef who once ran some of Minneapolis' most-lauded kitchens, including Bar La Grassa
Must-order items: Weekend mornings offer English muffin breakfast sandwiches served with eggs and house-made American cheese 
Pro tip: While you're there, stock up from the butcher case—if you want tips on how to prepare a cut, just ask

Cupcakes, tarts, and "crackaroons" from Salty Tart
photo by tj turner
---
Bakeries
Salty Tart
E. Lake St.
The concept: Nationally noted pastry chef creates flavors far larger than her tiny bakeshop 
Must-order items: A seasonally inspired sandwich on house-baked bread, the macaroons ("crackaroons" because they're so addictive), cupcakes (the Surly Furious chocolate), and the namesake salted caramel tart 
Pro tip: There are baguettes every day plus changing loaves—reserve Fridays for the jalapeño cheddar bread
Cafe Latté
Grand Ave.
The concept: A gourmet take on cafeteria-style dining, plus turtle cake 
Must-order items: Combine a trio of spreads (red pepper hummus, truffle pâté, and salmon spread are favorites), a tasty soup (look for vegetarian chipotle bean chili and quinoa asparagus) and a loaf of St. Paul sourdough or housemade crackers. Oh, and of course a slice of turtle or tres leches cake.
Pro tip: You can pick up box lunches—an albacore tuna salad sandwich with a salad and chocolate heart—for $9 each
Rustica
Eden Prairie
The concept: Tucked into a nondescript strip mall, this bakery has earned its reputation as one of the premiere bread makers
in the region
Must-order items: Does a loaf of Rustica's levain bread and a stick of butter count as a meal? How about their famous bittersweet chocolate cookie or hard-to-find pastry treat, kouign amann? Sip a cup of Dogwood coffee while you decide. 
Pro tip: Order cookies before 11 a.m. and they're shipped to your house the same day ($20/dozen)
Sun Street Breads
Kingfield
The concept: Sun-filled bakery that doubles as a café with fabulous carb-based dishes, from sandwiches to biscuits and gravy to pizza 
Must-order items: A loaf of bread (sourdough and challah are favorites) plus a few fresh-baked pastries and sweets (kolache, pretzel croissants, giant cookies). When packaged separately, the biscuits and gravy travels surprisingly well.
Pro tip: They stay open in the evenings for pizza nights Thursday through Saturday
Patisserie 46 & Rose Street Patisserie
Kingfield, Linden Hills
The concept: World-class pastry chef runs a duo of beautiful French-influenced bakery/cafés 
Must-order items: Sandwiches nestled into extraordinary bread, ham-and-gruyere croissants, and seasonal soups. The pastries rival anything found in a Parisian patisserie and the jewel-like petits gateaux cakes are true showstoppers
Pro tip: Throw in an extra chocolate croissant to nibble on in the car

Ngon Bistro's ribeye pho, duck-and-lamb wontons, and crispy rabbit dumplings
photo by terry brennan. Food Styling by Lara miklasevics
---
Global
World Street Kitchen
Uptown
The concept: Street foods from around the world created by one of Minneapolis' top fine-dining chefs
Must-order items: The Yum Yum Bowl is a perfect execution of the rice bowl trend with its succulent toppings, secret sa uce, and runny-yolk egg. Great vegetarian options, too.
Pro tip: Pick up a pint of ice cream— Fruity Pebbles, Thai iced tea, black chocolate—from WSK's supercreative Milkjam Creamery next door
Grand Szechuan
Bloomington
The concept: A mix of classic Chinese-American dishes and surface-of-the-sun spiced Szechuan
Must-order items: Ma Po Tofu and Szechuan dumplings are submerged in a scarlet chili-oil sauce 
Pro tip: It only looks like your average strip mall spot from the outside. Grand Szechuan's dining room is pretty enough for dine-in.
Ngon Bistro
University Ave.
The concept: Farm-to-table sourced Vietnamese cuisine
Must-order items: Takeout pho comes with the noodles and broth packaged separately for optimal transports
Pro tip: Start your meal with a few bites of the crispy-juicy-spicy rabbit dumplings
Pimento Jamaican Kitchen
Eat Street, Burnsville
The concept: Authentic Jamaican cuisine served fresh and fast
Must-order items: The One Love bowl with sticky coconut rice, lightly charred jerk chicken and pork, and sweet plantains.
Pro tip: Pick your sauce wisely. The Minnesota Nice is indeed nice, but the Kill Dem Wit It is a fiery, flavorful good time. Seriously, though, it's hot.
Rainbow Chinese
Eat Street
The concept: Flavorful Chinese food made with fresh ingredients from local farmers—for three decades
Must-order items: The chicken lemongrass meatballs (so good they're served at U.S. Bank Stadium), Rainbow Fried Rice with pork and shrimp, and anything with black bean sauce—especially the chicken with black bean sauce over Hong Kong noodles 
Pro tip: The restaurant sells bags of its addictive root vegetable chips made from taro, parsnips, lotus roots, beets, and sweet potatoes
Brasa
Northeast, Grand Ave.
The concept: Rotisserie meats and assorted sides inspired by the American South and Latin America 
Must-order items: Create your own sampler by starting with meats: pulled chicken, smoked beef, or slow-roasted pork sold in quarter-pound increments. Then start adding sides: grits, collard greens, roasted yams with Andouille sausage, and one of the few places to find yuca fries.  
Pro tip: Leftovers reheat beautifully so don't hold back

The Mother board at Gyst
photo by Tj turner
---
Farm-to-Table
Common Roots Cafe
Lyn-Lake
The concept: Modern take on a traditional delicatessen serving scratch-made breakfast, lunch, and dinner using many local and organic ingredients
Must-order items: Common Roots makes one of the best bagels in town—top one with egg and cheese and add on a side of cheddar grits. For lunch or dinner, try the Brussels sprouts salad with squash, greens, and lemon-tahini dressing or the curried chicken-salad sandwich with currants and tomato on challah 
Pro tip: Adults will enjoy the grass-fed patty melt on the kids' menu just as much as children
Birchwood Cafe
Seward
The concept: Stalwart of the local, sustainable food movement does down-home fare with a hint of global flavor
Must-order items: Sadly, the savory waffle doesn't exactly travel well, so go with the coconut-lime-kissed turkey and wild rice soup, or the veggies and brown rice with sambal hot sauce, or the barbecue tempeh sandwich that's so tasty you'll never miss the meat
Pro tip: For $100, you can buy a year's subscription of eight seasonally changing soup/bread takeout packages.
The Golden Fig
Grand Ave.
The concept: Gourmet grocery store inspired by Ina Garten's Barefoot Contessa specialty food shop, but with a Midwestern twist: artisanal cured meats, cheeses, salsas, farm-fresh eggs, sodas, an entire spice line, and more
Must-order items: Raid the refrigerated case for seasonal soups and a ready-to-bake pot pie from nearby Colossal Cafe. Pair with a bottle of the addictive limeade cooler (which happens to go great with a little splash of vodka).
Pro tip: The staff is generous with samples—if you see something you'd like to try, just ask
Gyst
Eat Street
The concept: All things fabulous and fermented: preserves, cured meats, pickles, cheese, chocolate, plus wine, beer, and kombucha  
Must-order items: The Mother board—a gorgeous selection of charcuterie, olives, pickles, and cheeses—will impress at any party (or make a perfectly wonderful couch dinner)
Pro tip: For DIYers, Gyst frequently hosts classes on food preservation
Lucia's To Go
Uptown
The concept: Uptown's original farm-to-table restaurant has a fantastic grab-and-go café that's open all day
Must-order items: Pair a simple prosciutto, Brie, and arugula sandwich with one of the seasonal salads. And don't forget to add something sweet (the kitchen has been known to make its own marshmallow Easter bunnies) plus a few pastries or muffins and housemade jam for breakfast the next day.
Pro tip: Uptown parking can be a challenge; walk, bike, or bus if you can, and then head to lake Bde Maka Ska (Calhoun) for a picnic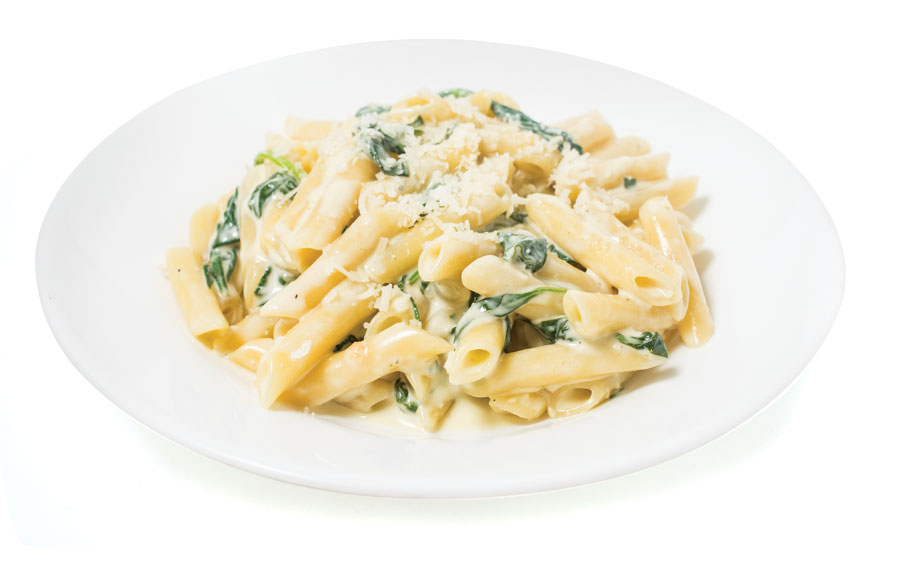 Penne with gorgonzola and spinach plus cannoli from Broders Cucina Italiana
photo by tj turner
---
Italian
Broders Cucina Italiana
Fulton
The concept: The grocery store that started the Broders empire offers Italian sauces, pastas, and more
Must-order items: The Pan Bagna sandwich is an Italian classic with tuna, olives, and capers, but let's be honest, the pasta's the real star: Italian sausage with rigatoni, penne with a creamy, rich gorgonzola and fresh spinach, or the spaghetti with the family-recipe red sauce will never let you down
Pro tip: Close out with an impossibly chocolaty flourless cake called Bestia Nera, a cappuccino brownie, or a cannoli
Morelli's Market
Dayton's Bluff
The concept: It's a rare liquor store that smells like Italian
sausage: Morelli's has liquor, wine, beer, and a selection of tasty takeout fare
Must-order items: Upgrade your frozen pizza game with these super cheesy pies, available in all the classic flavors
Pro tip: Bring cash, they don't accept cards
Sunrise Market
Grand Ave.
The concept: Italian-American market with a selection of hard-to-find Iron Range delicacies
Must-order items: Think "p": fresh or dried (or gluten-free) pasta, pasties, anything with the housemade porketta (especially sandwich or pizza), and poticia for dessert
Pro tip: Street parking can be a challenge—try the free lot in back
Cossetta
Downtown St. Paul
The concept: It's like an entire block of Italy was transported to downtown St. Paul
Must-order items: The mostaccioli and cannoli are legendary, but you can also create your own sampler of meats, cheeses, olives, and fresh bread
Pro tip: The word pasticceria roughly translates to "pastry deliciousness," and Cossetta dedicates a whole separate shop to Italian sweet treats, including tortes, cannoli, and gelato
Mucci's
West Seventh
The concept: Approachable, classic, family-style Italian pasta joint from a crew with fine-dining pedigrees
Must-order items: The menu was designed for carry-out, including frozen lasagna, pizzas, and sauces. Try the montanara pizza Beazy with deep-fried dough, meatballs, and ricotta, or the lasagna Mucci, which can easily feed six for $22.
Pro tip: Tiramisu makes great takeout and this one's a winner: light and creamy, with a perfect balance of coffee and cream
Punch Pizza
Multiple Locations
The concept: The standard-bearer in Neapolitan-style 'za: stretched-to-order dough topped with certified-authentic ingredients, cooked in seconds via an 800-degree oven
Must-order items: The Toscano pairs delicate sausage crumbles with red pepper and basil; Vesuvio matches salame with juicy-hot piparras peppers. Add a deliciously simple Punch salad with prosciutto, pine nuts, and balsamic vinaigrette. 
Pro tip: Ask them to par cook your pies so you can finish in your home oven—the wait goes quickly with a $1.50 half beer 
Facebook Comments