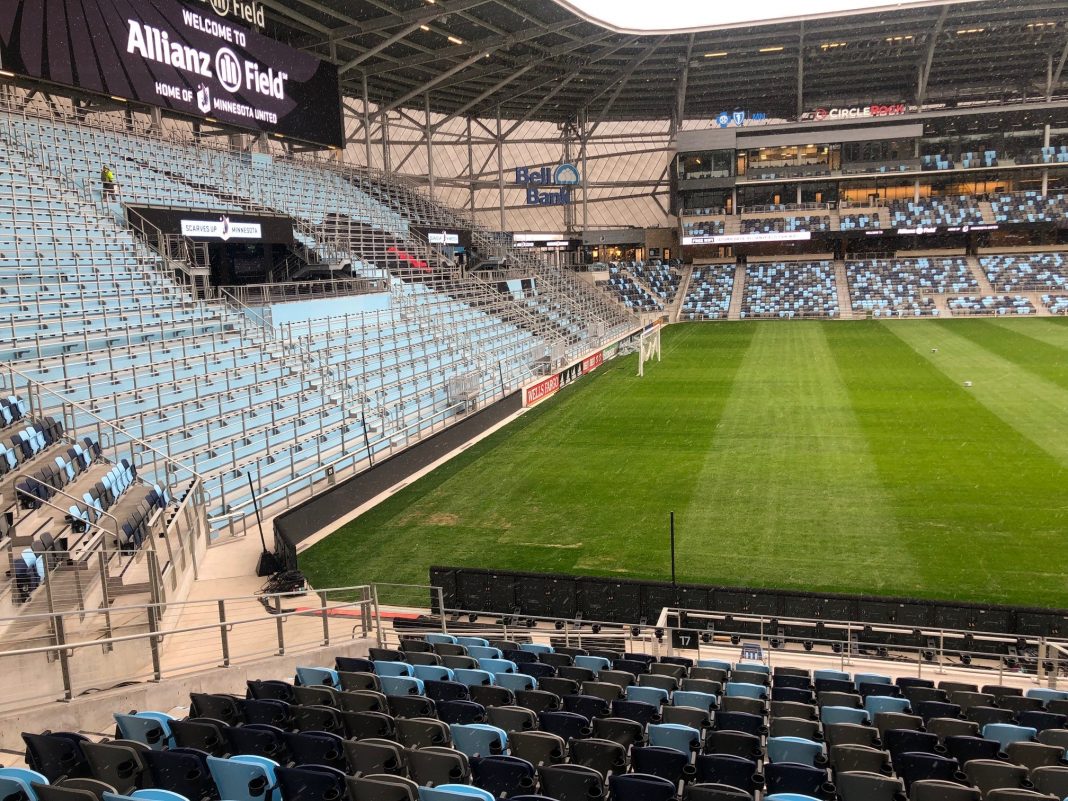 What a change from the pre-Target Field days, when a Dome Dog or a bag of popcorn were all we expected from the concession stands at a sporting venue. Today, we expect top-notch, exciting, local food from all over the Twin Cities. When a team plans out a new facility today, they have to decide what their "food story" is going to be.
Our local soccer team—Minnesota United FC—and global food-service company Delaware North just unveiled their food story for Allianz Field, and it is global, young, fresh, exciting, and crafted. Chef Justin Sutherland, from St. Paul's Handsome Hog, was tapped as a culinary consultant, and he's bringing his Carolina-barbecue roasted pork shoulder sandwich topped with a bright, vinegar-based slaw. He serves it at the restaurant, and people will love it here with chips for $14.
The Carts:
If you've tried Hot Indian Foods at Target Field, it's the same terrific menu at Allianz—chicken tikka masala rice bowl and, my favorite, the vegan channa rice bowl (it has a stronger heat).
Also exciting: Brasa is in the house! Chef Alex Roberts doesn't do burritos in Brasa's restaurants, but the mini burrito sample I tried was absolutely killer. They've got a chicken burrito and a vegetarian version with grilled poblanos at their cart for $14.
West Indies Soul brings the jerk heat: glorious chicken wings and a spicy beef patty to die for that's called a Jamaican MNi Me.
Los Ocampo also has a food cart, with a huge platter of gourmet nachos. Choose chicken or beef. Topped with refried beans, queso blanco, fresh jalapeños, and guac, this thing could feed three people or one 13-year-old boy.
The Stands:
A St. Paul original, El Burrito Mercado has a couple items at the Global Street Grill: a perfect tacos al pastor ($12) and a really fun salad called esquites ($7). It's like elotes—cut off the corn cob and topped with butter, cotija cheese, and chili powder.
Afro Deli's chicken samosa and vegetable sambusas ($12.50) will sit next to Kramarczuk's lamb merguez sausage ($11) at a stand called the World's Fare.
There will be more traditional stadium food, as well (pretzels, popcorn, hot dogs, Polish sausages), and food trucks outside the stadium on game days.
There's also a Brew Hall, which will be open Thursdays through Sundays on non-game days starting later in April. Pricing will be lower than on game days, so expect beer in the $6-$8 range on tap, compared to $11-$13 during games.
The Twin Cities' MyBurger is bringing their fab double burger—you can add bacon or do it with a vegan Beyond Burger. There's a Minnesota wild rice salad, too, if you're looking for something lighter.
For all concessions and prices, click here.