There's just something about the combination of cheese, bread, and civil rights that hits the spot. In September 2018, All Square opened its doors to the public and opened minds to the need for the incarcerated to become "all square" upon release.
The Minneapolis nonprofit functions both as a grilled cheese sandwich restaurant and as an educational institute where people who have paid their debt to society can dream again. It's a recipe for including the justice-impacted, reducing recidivism, and, of course, what Minnesota Monthly food editor Jason DeRusha calls "amped-up" grilled cheese.
All Square planted itself not only at the crossroads of Minnehaha Avenue and East 41st Street, but also where racism, classism, and charged social issues intersect, says founder Emily Hunt Turner.
The restaurant's intimate space is inviting, with square-shaped tables, chairs, stools, archways, and tiles all serving as visual reminders of the "all square" mission. The menu—full of grilled cheese sandwiches, cut into four squares—has something for everyone, with gluten-free, vegetarian, and even vegan options, like the Basil Pesto grilled cheese. There's the Back to BAC, featuring mouthwatering fillings of bacon, avocado, and cheddar. Also, the Did My Thyme sandwich is packed with popping Mediterranean flavors.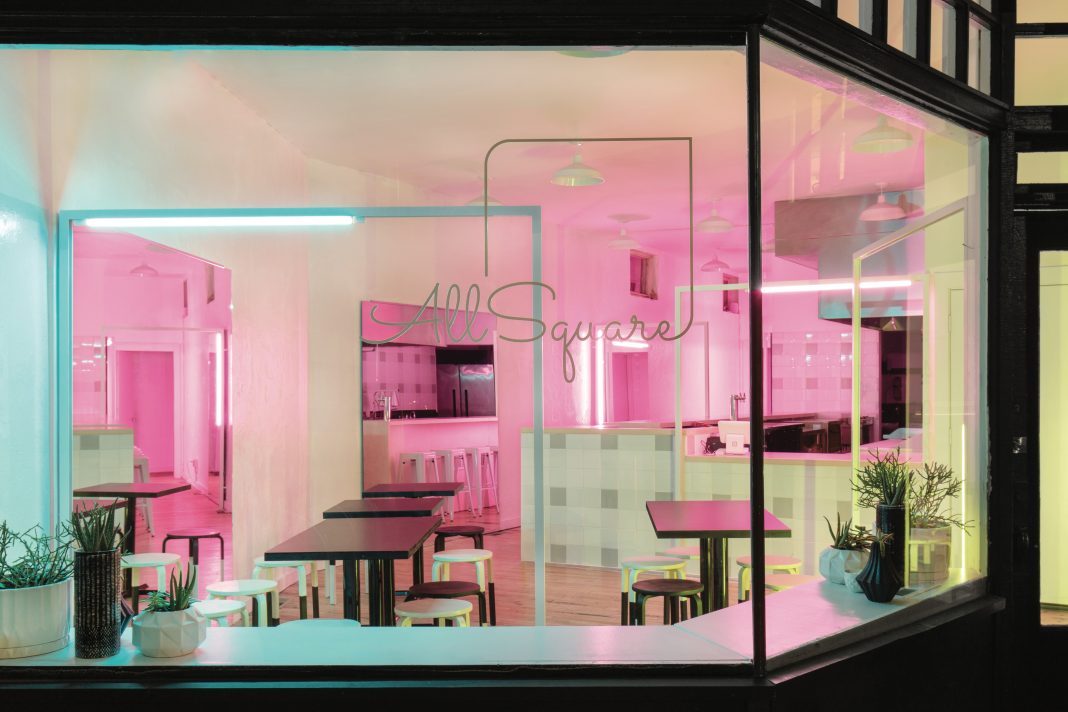 Dreaming Again
"The grilled cheese restaurant felt like a way to become an employer and pay people properly," Turner says, bubbling with positive energy. "And that was mostly because it's the only thing I can cook well."
Turner's sitting in All Square's airy Institute and Dream Lab, also at Minnehaha and East 41st. It's a casual atmosphere, with board member Bruce Reilly, in from New Orleans, working in the back on a squishy chair in stocking feet. Laughter flows easily as board members, fellows, and administration trickle in and out. When the one-year fellows, who are formerly incarcerated, aren't working in the restaurant, they're working on their professional development here. They focus either on law or entrepreneurship, with success stories sprouting from both routes.
Turner says they use the word "dream" because founding board member Tommy Franklin voiced frustration that he was never asked about his dreams after leaving prison. "We're here to develop leaders," she says. "We're here to put dreams and life back on the table."
So far, four All Square fellows have operational businesses, including an online wedding market and a soul food truck and catering business. All Square also has two fellows who earned competitive scores on the LSAT, one of whom, Chris Dolan, has been accepted at Mitchell Hamline School of Law with an 80 percent scholarship.
"In three years, I want to be graduating from law school," Dolan says. "I'll probably do maybe something with criminal defense. I feel like my background would be good for that—I've been in the system a lot, so I know that side of it."
All Square ultimately dreams of establishing a prison-to-law pipeline, and just the idea of it makes Turner even more animated. The nonprofit is already partnered with Mitchell Hamline School of Law, and for the second round of fellows All Square will be partnering with the University of Minnesota Law School.
"I'm super stoked," Turner says. "Every law school in the Cities, I believe, has been incredibly receptive and excited about All Square."
Community Engagement
The community has also been receptive to All Square, the fellows, and their mission, Turner says. This past spring, one of the fellows couldn't find a place to live locally because of his criminal record, despite having the money, the renter's history, and the references. As a lawyer who worked on issues of fair housing with the Department of Housing and Urban Development, Turner had seen this type of discrimination for years. When phone calls to housing providers didn't work, she turned to the community on All Square's email list. The response was incredible, Turner says. There were offers of all varieties, and the fellow found a place to live.
Dolan says he'll miss the sense of community All Square created for him. "It's been really nice. I've gotten bummed that we're going to be done soon. A year's almost up," he says.
When he's done as a fellow, he says he'll return for the people, the community, and perhaps to teach law.
"As a society, we're all still grappling with trying to move forward on this particular issue," Turner says. "To see the trust the community has been able to establish and also the commitment they've made not just to coming in and purchasing a grilled cheese, but giving our fellows opportunities, supporting their business ventures—to giving them business advice, to leasing to them, to welcoming them into their families—that has been just the most special piece. Once you get to know people, it's kind of like, 'We're just humans.'"
We Are All Criminals
All Square is intentional about its use of language, which involves challenging the concepts of being a criminal and criminality. Turner points to a pin she's wearing that says, "We Are All Criminals."
"We've all probably done a few things that we're not super proud of, and the name and tag 'criminal' is pretty damaging," she says. "I've done criminal things, and I've either never been caught or I've been able to walk my way out of them due to networks, privilege."
All Square avoids using other loaded terms and labels, and prefers respectful phrases like "justice-impacted" and "formerly incarcerated."
"It's not always about second chances, because, quite honestly, there are arrests that should've never happened, convictions, stop-and-frisks that should've never happened," Turner says. "The justice system, in my opinion, frankly, at times preys on people of color, and poor and Indigenous communities, and I think it's unacceptable."
Personal Growth
Going through the justice system and facing societal oppression can be traumatic, Turner says. That's why mental health is part of professional development at All Square. From the beginning, board members Calvin Duncan and Bruce Reilly saw mental health as a necessary factor.
"They're like, if mental health isn't wrapped into this … it won't work," she says. "In my mind, it's what makes this thing special."
To make it happen, All Square contracts with Minneapolis-based Creative Kuponya for wellness services, including one-on-one, on-the-clock therapy for fellows. Therapy is optional, but the weekly restorative circles are required, Turner says. Everyone—fellows, management, and board members—participates.
Nei'Yana Roby, a fellow who started Boujee Dreams, an online boutique selling accessories and clothing, says therapy helped her grow tremendously.
"[Therapy is] really key for a lot of us," Dolan says. "Because some of us just have some real s— that's going on that we're dealing with."
Turner says she'd love to establish All Square as a regional, national, and eventually global social enterprise. "Our forever vision is for everyone who's impacted to have a pipeline into actual prosperity and opportunity," she says. "And for everyone who's impacted to have choice."
The choice, the opportunity, and the support to pursue goals are real impacts Dolan says he's experienced through All Square: "I have a direction now with my life and things that I'm working towards."
Support All Square by eating a gooey grilled cheese at 4047 Minnehaha Avenue, Minneapolis. Donate or find more ways to help: allsquarempls.com/how-you-can-help
Facebook Comments