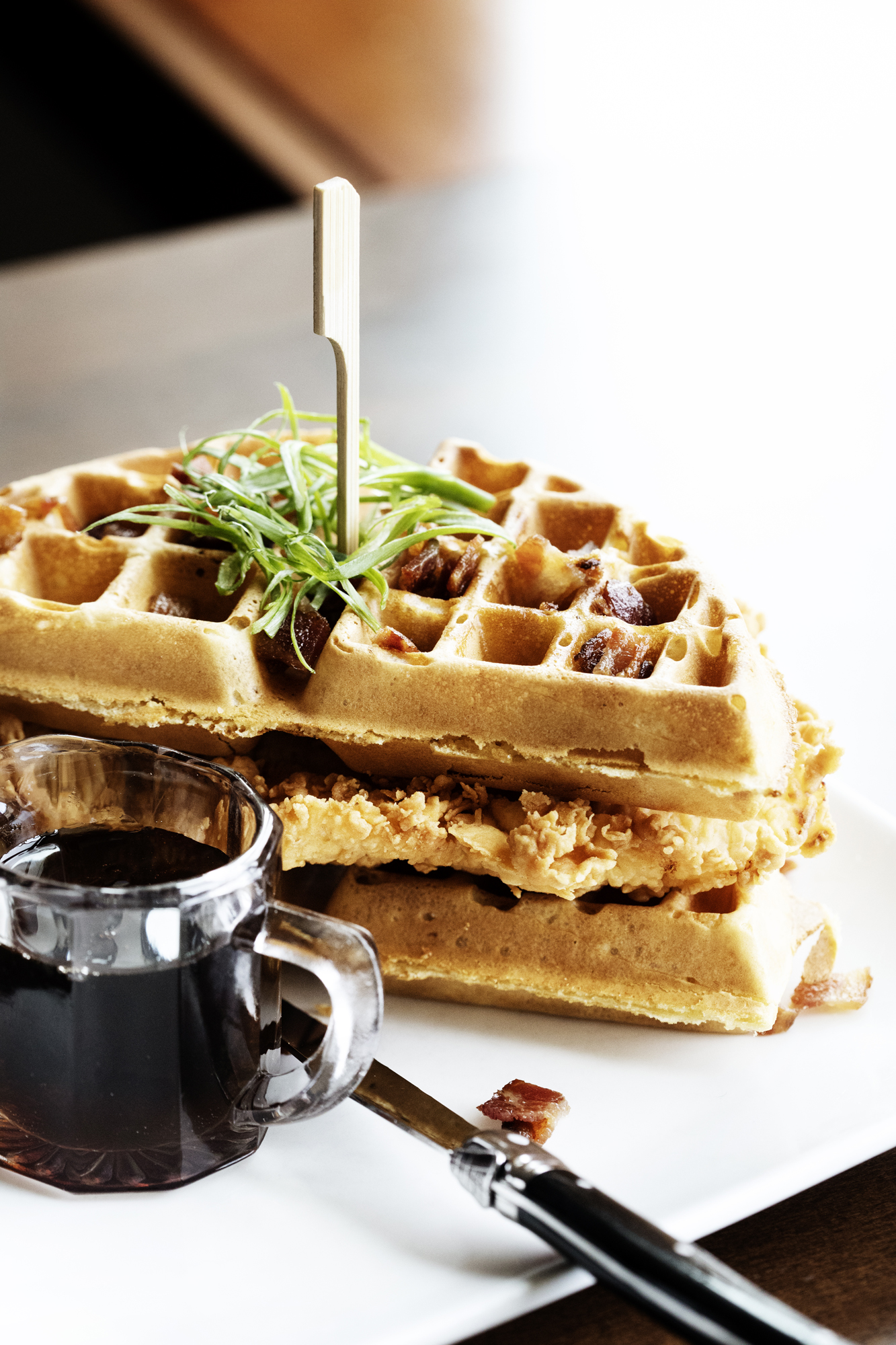 This Thursday, March 25, is International Waffle Day. It's an entire day devoted to these fluffy, syrupy, tasty treats. Many Twin Cities eateries know how to flip a serious honeycomb-patterned pastry. Here's nine that have got every kind of waffle you could wish for, from savory chicken & waffles to deep-fried churro style.
Burnsville and Plymouth
 

View this post on Instagram

 
This eatery's dozens of waffle flavors include fruity delights like Piña Colada and White Chocolate Raspberry to savory mouthfuls like Hungry Hummus and Meat Lovers. With truly unique favorites like Fruity Pebbles, S'mores, the purple Mermaid waffle, and so many more, they've got something for everyone. Plus, they can make any waffle gluten free.
411 W. Burnsville Pkwy., Burnsville (M-F 7 a.m.-2 p.m., Sat. 9 a.m.-2 p.m., Sun. 9 a.m.-2 p.m.)
187 Cheshire Lane, Plymouth (W-F 7:30 a.m.-1 p.m., Sat. 9:30 a.m.-1 p.m., Sun. 9:30 a.m.-1 p.m.)
St. Paul (two locations)
 

View this post on Instagram

 
This iconic Twin Cities staple is all about the waffles—prepping all their batter and fresh toppings in-house. Try flavors like Apple Strudel, Strawberry Cheesecake, and the Naughty Waffle (don't worry, it's just fruity with granola and whipped cream).
1500 Como Ave. S.E., Minneapolis (every day 7 a.m.- 8 p.m.)
2180 Marshall Ave., St. Paul (every day 7 a.m.-8 p.m.)
Minneapolis
 

View this post on Instagram

 
You don't need to hop on a plane to taste the savory goodness of a fluffy Belgian waffle. Hazel's has got you covered. Their breakfast menu features two malted Belgian waffles, a classic with maple syrup and whipped butter or, if you're craving a hearty breakfast, a meat waffle stuffed with bacon, ham, and cheddar jack cheese.
2859 Johnson St. NE, Minneapolis (Breakfast served Wed-Sun 8 a.m.-2 p.m. & Thurs 9 a.m.-2 p.m.)
Minneapolis
 

View this post on Instagram

 
This local classic knows how to cook up a mean Sunshine & Savory Waffle (which has ingredients that evolve throughout the seasons). It's a full breakfast in a honeycomb-patterned shape, cooked with kale, quinoa, and feta and topped with lemon rosemary butter, cranberry pear chutney, sunny egg, bacon lardoons, powdered sugar, and Tappers maple syrup. Birchwood is all for supporting your dietary needs, so you can order a gluten-free option if needed.
3311 E. 25th St., Minneapolis (Thu-Sun 4-7:30 p.m.)
St. Paul
 

View this post on Instagram

 
This breakfast joint is home to a rare find for waffle kind. The Churro Waffle is a Belgian-style creation, deep-fried, dipped in cinnamon sugar, and topped with whipped cream. Who said you can't eat churros for breakfast? Capital View also has their classic Belgian, berry-loaded, and buttery chicken waffles to choose from, if deep-fried isn't your style.
637 Smith Ave. S., St. Paul (Tues-Sun 8 a.m.-1 p.m.)
Minneapolis
 

View this post on Instagram

 
While it might be known for its burgers and whiskey, the Lowry knows how to concoct a Killer Banana Waffle. It's got brûléed banana, praline sauce, and lots of whipped cream. With their top-notch drinks and breakfasts, you can even turn Waffle Day into a brunch celebration.
2112 Hennepin Ave., Minneapolis (Mon-Sun 8 a.m.-10 p.m.)
Minneapolis and Lakeville
 

View this post on Instagram

 
What goes better together than waffles and ice cream? The Waffle Bar serves up their special "bubble waffles" that wrap ice cream in a cone like the Sundae Funday, are served flat with syrup and whipped cream like the Strawberry Whip, and craft savory treats like the Pig in a Blanket ham sandwich.
16289 Ipava Ave., Lakeville (Mon-Fri 12-9 p.m. Sat-Sun 11 a.m.-10 p.m.)
2758 Lyndale Ave. S., Minneapolis (Mon-Fri 12 p.m.-10 p.m. Sat 12-11 p.m. Sun 12-10 p.m.)
Minneapolis and Savage
 

View this post on Instagram

 
No waffle day would be complete without a true classic like Lake & Irving's chicken & waffles. Their crispy chicken is nestled between two waffles and topped with bacon bits, green onions, and syrup. Really, it's to die for.
1513 W. Lake St., Minneapolis (Mon-Thurs 4-9 p.m. Fri-Sun 11 a.m.-10 p.m.)
Or swing by their pop-up location in Savage, which provides curbside pickup:
14435 State Hwy 13, Savage (Tues-Sun 4-8 p.m.)
Bloomington
 

View this post on Instagram

 
It's not open on Thursdays, but their artisanal liége waffles are too good not to mention. This NYC-based, to-go waffle-ry just opened a new location in the Mall of America. You might be able to tell from their name, but Wafels & Dinges is Belgian through and through, so they know how to craft a mean "wafel." Add some "dinges" (toppings) like fudge, dulce de leche, or hazelnut butter, and you're all set.
Mall of America, 60 E Broadway, unit W360, Bloomington (Fri-Sat 11 a.m. – 9:30 p.m. Sun 11 a.m.-7:30 p.m.)