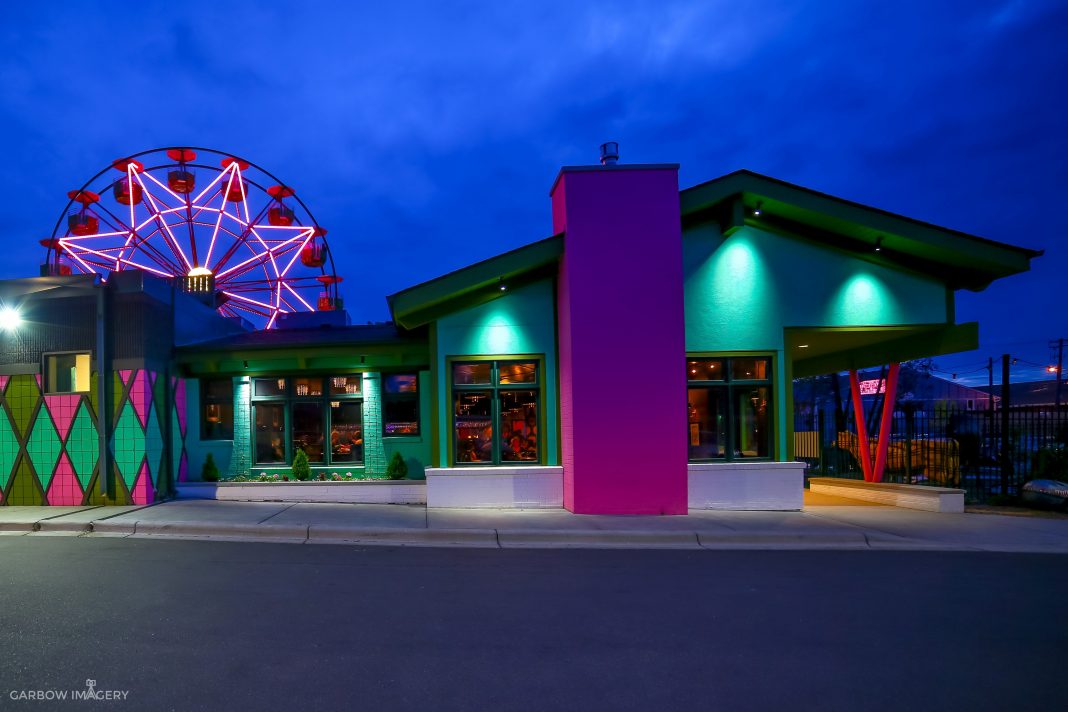 After New Year's, the tinsel and the Christmas trees came down, and the restaurants started closing shop. It's a rough time of year for restaurant owners and the servers who rely on tips.
You may have heard that Betty Danger's decided to close for the winter. The Ferris wheel out front essentially signals that this is a summertime restaurant, which is why the team there launched the holiday-themed Mary's Christmas Palace concept. In 2018, Mary's ran from mid-November through February and "did okay," according to Donny Nelson, the creative director behind Betty Danger's and Psycho Suzi's. "This past October, we informed staff that we would be hibernating for three months so they could make plans for employment," including some who will transfer to Psycho Suzi's.
I was surprised to learn how seasonal both restaurants are. Nelson told me that, combined, Betty Danger's and Psycho Suzi's lose $1 million every winter. Expenses exceed income "and that is after our yearly seasonal layoffs," he said. Part of this is undoubtedly because of the nature of these spots; both are patio restaurants. Part of it may be because of changing expectations of quality. Psycho Suzi's shut down this week for a revamp. "We are listening to what our guests and staff are saying, which is that we need to be better," Nelson said.
We have seen a handful of closings already: JL Beers closed its northeast Minneapolis spot; Sanctuary on Washington Avenue closed; the former Lyndale Tap, which became Hickory n' Hops; Mercado, inside a Lyn/Lake apartment building; Supatra's Thai in late December; Maeve's Cafe in northeast Minneapolis; Spoonriver near the Guthrie, already to be replaced; the Happy Gnome in St. Paul. Erik the Red is moving from near U.S. Bank Stadium. The Salty Tart is gone but already to be replaced, too.
Not everyone tanks in winter, of course. "Revival is kind of the anti-trend," owner Nick Rancone told me. "January starts out slower because people think fried chicken is the anti-gym, but otherwise we are pretty consistent after that."
Rancone's old fine-dining restaurant Corner Table and his current fine-dining spot In Bloom, however, fall in line with the sleepy first-quarter trend. Why? "Hibernating, health-conscious diners," he said. Dry January does have a ripple effect on diners. But the shift is even starting to hit his restaurants in December, as consumers spend on Black Friday/Cyber Monday and then hunker down to build their cash up.
Whatever's happening, it is a period of transition. Just as we all pledge to become new in the new year, so does the restaurant scene go through a renewal. Places close; others open. Hard to say if it's better or worse. All we know is that it will be different.
Facebook Comments