Just in time for the holiday gift-giving rush, here are a few products we recently sampled for consideration.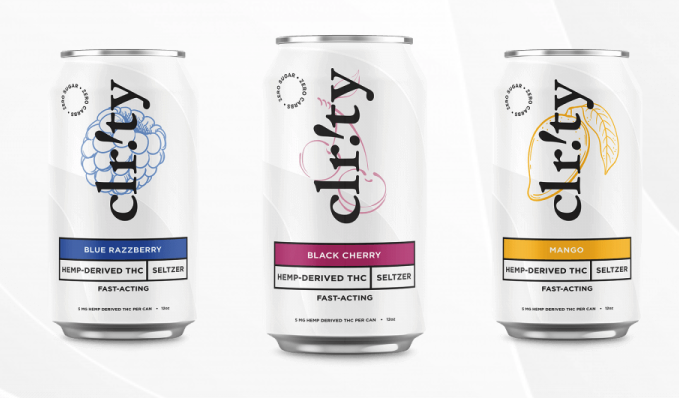 Clr!ty Seltzers
"California sober" is the hot term right now to describe people making lifestyle changes and cutting back on alcohol (and, for some, drugs). As part of Sober October and ahead of Dry January, I started drinking less alcohol earlier this fall and have been sampling a number of zero-proof and non-alcoholic beverages both at home and at restaurants and bars. The locally-made Clr!ty line of flavored seltzers technically counts because the 12-ounce cans have no alcohol and no sugars, but instead contain 5 to 10 milligrams of hemp-derived THC. So these are a no-go for those of us trying to stay strictly sober, but an alternative to alcohol. With the clever tagline "Lose your worries. Not your wits," there's yet another Minnesota-made THC beverage to sample.
I shared the pink lemonade flavor with 10 milligrams of THC with some friends, who reported they loved the subtle flavor and the drink relaxed them without making them sleepy. I tried the black cherry version with 5 milligrams of THC and noticed feeling a bit of chill followed by a very slight headache. Part of me wonders if that headache was related to the THC, which I'm not fully used to, or the drink's lack of caffeine, which I definitely have been drinking more of as I cut back on alcohol. Either way, you're going to start seeing a lot more THC-infused beverages hit the market and on menus under the "Other" beverages category as alternatives to wine, cocktails, and beer in the next few months. And Clr!ty may just become your go-to if you're seeking to be California sober. seekclrty.com; $24.99 per four-pack
Dr. Jen Toothpastes
Dr. Jennifer Eisenhuth has been a well-known orthodontist in my community for decades. I first discovered her when my kids needed braces and her practice was very active in serving the school districts in our community south of St. Paul. I marveled at her outreach and marketing. What I didn't know, however, is that she also has her own line of natural toothpastes and dental flosses based on her years of practice and medical background. It wasn't until I received a sample pack to test that I made the connection. And it's a smart combination indeed.
Her line of natural toothpastes includes fluoride-free versions and remineralizing pastes as well as a whitening kit. They include non-toxic ingredients and essential oils. I'm pretty picky about how my toothpaste tastes and liked the mint version but have a sensitivity to Xylitol, which is included in some products. Beyond the toothpastes, Dr. Jen's biodegradable silk dental floss is an alternative to the nylon floss that can clog up drains or waterways for those of us still getting used to compostable drinking straws and the problems they cause. For my dental care, I'm happy to support a local female-owned business that has continued to make a big impact in the area. drjennatural.com; $16 per tube
FactorFive lash/brow growth serum
It's holiday party time, so I'm all for getting gussied up and looking my best. I've been using FactorFive's lash/brow growth serum for the past few months on my eyelashes for a boost. I've considered lash extensions but can't seem to commit to the routine and maintenance, so this serum serves as my backup. I've tried the more spendy Rodan + Fields version before and find that FactorFive is just as effective. I brush it on my eyelashes before I go to bed each night and add just a little mascara the next day. The company claims to use stem cell technology and natural ingredients to thicken hair and doesn't add a laundry list of alarming ingredients like sulfate detergents and urea (ummm…) so I guess what I'm putting next to my eyes each night is OK? It does seem like my lashes are a bit thicker and longer and I haven't had any irritation, but like with any product, I advise testing it on a small patch of skin before fully committing. I'll likely tuck a tube of this into my kid's stocking this year as she continues to enjoy eyelash enhancements and other beauty products. factorfiveskin.com; $79
Once Again Peanut Butters
"What's one food you couldn't live without?" was the icebreaker question a co-worker posed before a recent meeting. Managing editor Erik Tormoen answered peanut butter. "He's right!" I thought. My husband also considers peanut butter the perfect food and eschews the processed versions for natural versions. When Once Again offered samples of its organic peanut butter, I knew we had to try it. Once Again's website highlights the many benefits of peanut butter, including that it is high in anti-oxidants and complex carbohydrates, but we didn't need any convincing ahead of time.
The employee-owned company out of New York has a wide selection of nut butters, including cashew, almond, and sunflower seed varieties in various forms (no stir, lightly sweetened, etc.). We tried three versions of the company's 10 offerings—unsweetened creamy, unsweetened crunchy, and lightly sweetened creamy. The first two versions are perfection, with peanuts as the only ingredient. The lightly sweetened version does include palm oil, which is OK with me but gives my peanut butter purist husband pause. All versions come in recyclable 16-ounce glass jars and hit the buzzword bingo of non-GMO, organic, sustainable, plant-based, kosher, and more. I'd add a new term: "life sustaining." Onceagainnutbutter.com; $8.39 per 16-ounce jar
Facebook Comments